Recipes
Green Chili with Chicken and White Beans
A hearty, rich stew doesn't have to take hours to prepare.
Serves

serves 6

Cook

1 hour 15 minutes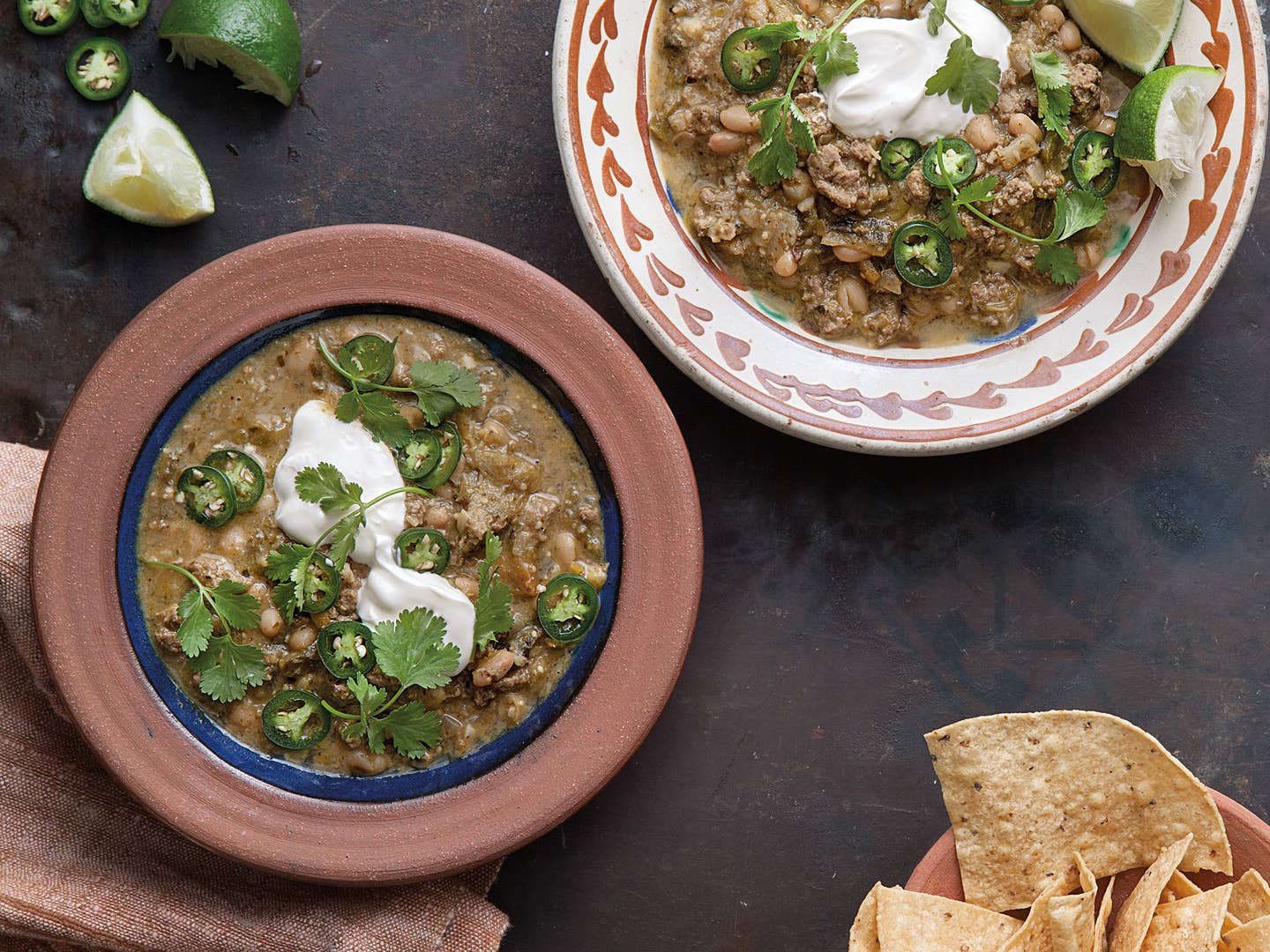 This quick tomatillo-based green chili stew from VICE culinary director Farideh Sadeghin tastes like it simmered on the back of the stove for hours and is perfect for game day or a weeknight dinner. Check out all of our hearty, warming soups and stews here.
Ingredients
1 1⁄2 lb. tomatillos (about 20), husked and rinsed
4 serrano chiles, divided: 3 stemmed, 1 thinly sliced
3 poblano chiles
1 cup chicken stock
1 cup coarsely chopped cilantro, plus more leaves for garnish
1 cup sour cream, plus more to garnish
Kosher salt and freshly ground black pepper
1⁄4 cup olive oil
1 lb. ground chicken
1 large yellow onion, finely chopped
2 tsp. ground cumin
1 1⁄2 tsp. ancho chile powder
1 tsp. ground coriander
6 cloves garlic cloves, finely chopped
One 12-oz. bottle Mexican-style lager, such as Corona or Dos Equis
One 15-oz. can white beans, such as navy or cannellini, drained
Tortilla chips (optional)
Lime wedges
Instructions
Step 1
Position a rack in the top third of the oven and preheat the broiler. Onto a foil-lined baking sheet, place the tomatillos, stemmed serranos, and poblanos. Broil, turning occasionally, until the vegetables are blackened, about 10 minutes, then transfer them to a bowl and cover with plastic wrap to steam for 10 minutes. When cool enough to handle, use your hands to remove and discard the poblanos' skins, stems, and seeds, then coarsely chop the flesh and set aside. Peel the tomatillos and serranos and transfer them to a blender along with the stock, cilantro, sour cream, and salt and black pepper to taste, then purée.
Step 2
To a large Dutch oven set over medium-high heat, add 2 tablespoons of the oil. When hot and shimmering, add the chicken, and cook, stirring occasionally to break up any large clumps, until browned, 6–8 minutes. Push the chicken to the edges of the pot and add the onion to the center. Cook until the onion is golden, 5–6 minutes, then stir in the remaining oil, cumin, chile powder, coriander, and garlic, and cook until fragrant, 1–2 minutes. Pour in the beer and cook, scraping any browned bits from the bottom of the pan, until reduced by half, about 8 minutes. Add the poblanos, tomatillo purée, beans, and salt and black pepper to taste, and simmer until the chili is thickened, about 30 minutes.
Step 3
To serve, ladle the chili into bowls and garnish each with sour cream, a few serrano slices, and cilantro. Accompany with tortilla chips, if desired, and lime wedges.