These Green Chile Enchiladas Won't Put You to Sleep
A lighter spin on a New Mexican classic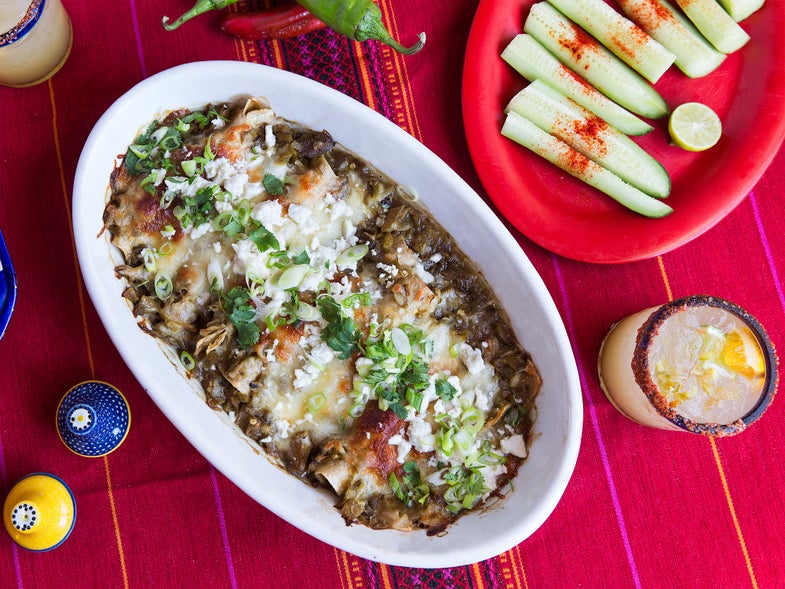 Etymologically speaking, the word enchilada simply means with chile, which encompasses all kinds of things including carne enchilada, meat draped with a spicy chile sauce. But practically speaking, the term refers to rolled or layered corn tortillas with meat, beans, cheese (or all three) and smothered with chile sauce. And realistically speaking, in most restaurants and recipes that translates to a gloppy, gooey cheesy mess.
This is not to speak ill of gloriously gooey cheesy messes—we love them as much as anyone—but should you want something a little lighter, this green chile enchilada recipe from former New Mexico resident David Tanis is just the thing. It calls for a mere seven ounces of jack cheese—enough to give you that bubbly, cheesy topping without overwhelming you with dairy—and cuts the richness with brighter queso fresco.
Where it really shines is the chile sauce—made with genuine Hatch green chiles, natch, though any roasted chile of your choice will do. This recipe calls for a lot of it: three cups, enough to imbue every bite with deep chile flavor. It's in genuine keeping with the enchilada spirit; after all, the dish isn't called enqueso.
Have some extra green chiles around after trying this recipe? Put them to work in any of these.