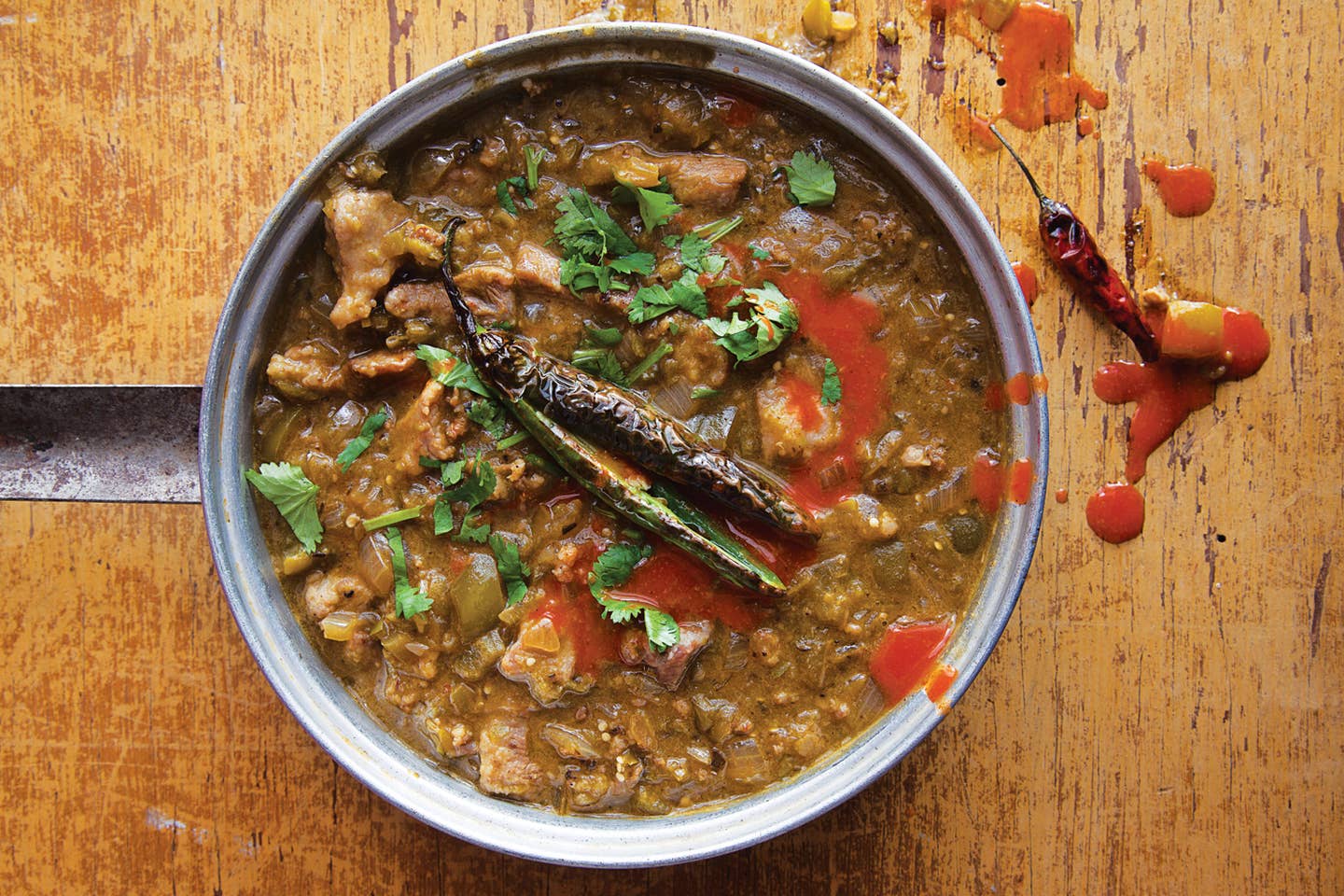 Recipes
Everything You Can Make With Roasted Green Hatch Chiles
How to cook with our favorite fiery pepper
For those of us who like it hot, there's nothing like New Mexico's Hatch green chiles. Named after the fertile valley in which they're grown—which some not-so-unbiasedly call the green chile capital of the world—these uniquely fruity, twangy, smoky peppers make their way onto most New Mexican menus and into most New Mexican homes.
The state's official question? Red or green. As in, do you want red or green chile with that? And what's the with that? Pretty much everything: eggs in the morning, enchiladas at lunch, and pork chile stew in the evening. In the Hatch valley itself, Sparky's green-chile- and pulled-pork-topped burgers are legend.
Come harvest—late summer through early September—the chiles are roasted in perforated steel drums until smoky and sweet, but don't be fooled: they are not for the faint of heart. That seasonal rush also makes them something of a rarity the rest of the year once you leave New Mexico's borders, which only contributes to the peppers' popularity. Fortunately, there's no shortage of places to get them online, year-round, in a variety of forms.
What to Cook With Hatch Chiles
If you do manage to get your hands on some fresh Hatch chiles, do yourself a favor and roast them like any other pepper. Their raw flavor is intense but not in a pleasant way, and roasting mellows the chiles out. Prepared roasted chiles, whether canned or frozen, hold up well.
To start, look no further than Green Chile Chicken Enchiladas. Our lighter version focuses on the chiles, not fat or cheese, for a leaner sauce that lets the peppers' fire-roasted flavor shine.
Cheese and roasted chiles go along perfectly; try these Green Chile Cheeseburgers, which balance the peppers' heat with mellow cheddar and Swiss cheeses.
Roasted chiles make for natural sauce thickeners, adding body while holding onto the essence of other flavors. This Chile Verde is a great start. Once you have the basics down, you'll be able to apply the chiles to all kinds of soups and stews.
Looking to start small? Canned or jarred Hatch chiles find perfect harmony in a Tomatillo and Roasted Green Chile Ketchup, which works great as a dipping sauce or as a sauce for meats. Sometimes it really is easy being green.