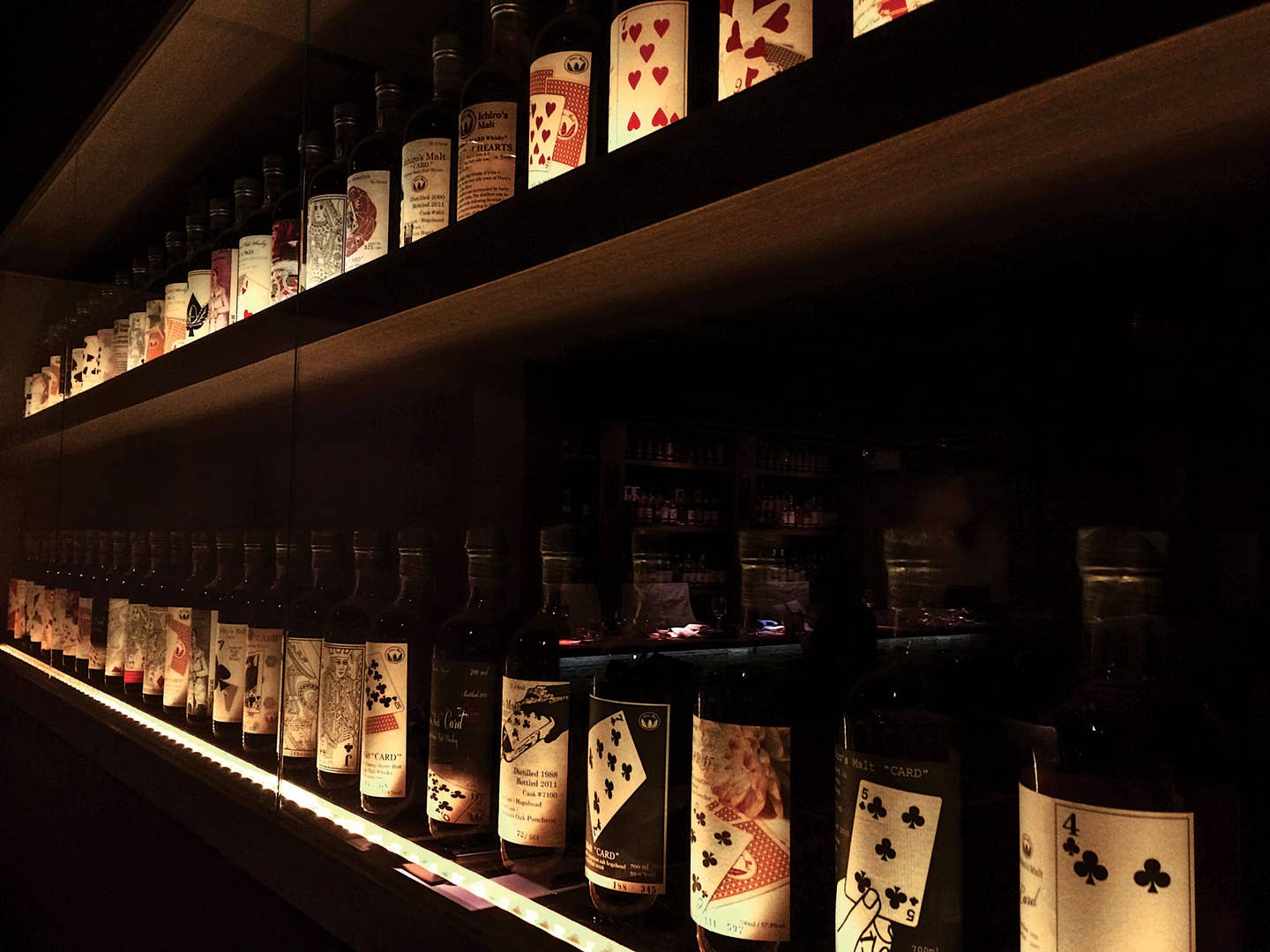 Drinks
Why Does This Japanese Whiskey Cost $70 a Shot?
The super-rare Hanyu is inspiring fervor—and big-spending—from ardent collectors
My favorite whisky bar in the world is in my adopted Bangkok. A refined and secretive Japanese speakeasy among the girly bars of Soi 33, it's called Hailiang. No sign marks its entrance. Snifters are topped with glass lids. The owner, Jay, an exile from Osaka, carves the ice into perfect spheres. I come here when I want to be alone with an obscure Japanese malt far from the madness of Bangkok streets. One night some months ago Jay and I were talking about the ascendant popularity of our drink of choice: a bottling from Nikka called Taketsuru Pure Malt 17 Years Old (named for the "Father of Japanese whisky," Masataka Taketsuru, who founded Nikka in the 1930s), which took the best blended malt category at the 2015 World Whiskies Awards. Yamazaki Sherry Cask 2013 was recently named the world's greatest whisky by the venerable Jim Murray's Whisky Bible.
But it was another, strange-looking bottle I noticed that night that intrigued me immediately and seemed far more exotic and enticing even than the Yamazaki.
It had a bright pink label showing a kind of Egon Schiele-like Joker in nightmarish lipstick and a red cap, an image suggesting a playing card. The Joker was part of the Hanyu Ichiro Card series, which I had heard rumor of but never been in the same room with, let alone tasted. And it was astronomically expensive, about $70 a shot. But I had to try it. Jay told me that among Japanese drinkers on expense accounts at Hailiang it was densetsu—legendary. I took off the dainty glass lid and peered in.
On the nose: sandalwood and flowers. I took a sip and the enigmatic world of Hanyu opened up to me. Who could imagine a whisky tasting of herbs, figs, and dates? I soon learned that bottles of the Joker go for $800 and up at auction, but it wasn't price or scarcity that hooked me immediately. What appealed was the sheer complexity and elegance of its profile. There was even a creamy caramel edge to it, like a toffee apple.
Descended from a venerable 17th-century sake business, Hanyu distillery was founded in 1941 and cashed in on Japan's postwar whisky craze. As whisky sales declined in the 1990s, however, the distillery struggled and finally closed in 2000. In this respect it was not atypical of Japan's small specialist distilleries. Karuizawa, another elite whisky from Nagano that is now perhaps the world's most expensive malt, also closed down at about the same time—though both Hanyu and Karuizawa were then revived as their old stock was newly bottled and re-marketed. Both enjoyed the cachet of being whiskies that were no longer being made—that made them finite, and therefore precious.
In 2008 Hanyu was reborn under the name of Chichibu, brought back to life by the original owner's grandson, Ichiro Akuto. Ichiro lent his name to the old stock of malts in casks that he had bottled himself: "Ichiro's Malt." The Card series comprises 54 single malts, 52 of which are labeled and named after a playing card. Two Jokers made of varying blended whiskies complete the deck. Each card is unique because it is casked twice, first in a hogshead, and subsequently in different woods—American oak, sherry casks, or Japanese mizunara oak. I learned from spirits writers that other cards in the series were even greater and rarer—and more expensive.
Living in Asia, I was aware that the region has emerged as the whisky epicenter of the world. Asian drinkers have become obsessed with the "water of life," and not only as a drink. According to the Investment Grade Scotch index, a Scottish price tracking index, the top 100 single malts have delivered an average return of 440 percent over the last seven years. By comparison, the S&P 500 stock index saw a 31 percent gain and the Liv-ex 100 Benchmark Fine Wine Index saw a 2 percent fall.
Among collectors, meanwhile, the Card series has become more obsession than mere investment. At a historic whisky auction in August of last year, a full set of Card series bottles was put up for sale at Bonham's in Hong Kong. It fetched nearly half a million dollars. Who won this treasure? Bonham's wasn't saying. The Wall Street Journal merely informed us mortals that the buyer of the Card series was "Southeast Asian" and that he had also paid $118,540 for a single bottle of Karuizawa 1960 at the same auction. Both his purchases were world records for Japanese whisky. There was, said Bonham's circumspectly, a "mysterious forest" in the Karuizawa's finish, a hint of damask roses, but this didn't quite explain the $118,540. Or maybe it did.
Only three men in the world are said to own an entire "deck" of 54 bottles. Presumably none were in Bangkok. If I were going to indulge my newfound taste for Ichiro's handiwork, I'd have to find someone with a collection of Cards and a willingness to share.
One of those outbid at Bonham's turned out to be a young Hong Kong Chinese collector named Aaron Chan. Chan owns a private members' club in Hong Kong called Club Qing, which is one of the most famous Japanese whisky bars in Asia. Though he lost out on the Bonham's set, he was, I discovered, one of the three owners of a complete Card series. (Another was a wondrously named Swedish collector called Ulf Buxrud, author of a well-known website on Japanese whisky, though my feverish research could not uncover the third man.) A few weeks after the Bonham's sale I flew to Hong Kong, curious to see how many of the Card series bottles were actually available at Chan's bar. It wasn't that I was expecting to be able to drink all 54 of the Cards, but I hoped that at least I'd be able to see them and sample, if possible, an Ace of Spades, a 10 of Diamonds, a 7 of Clubs, a 6 of Hearts, or even a rare Queen of Clubs.
The club is on the tenth floor of the narrow Cosmos Building on steeply pitching and fashionable Lan Kwai Fong in Central. It's a simple bar layout with a terrace for smoking your cigar. Chan was there at the opening hour, and as I stepped into the golden gloom alive with the twinkle of hundreds of bottles, I saw the complete Card series ensconced in 54 niches covering an entire wall and lit like holy relics. It was the first time I had ever seen all 54 editions in one place, each beautifully designed label crafted individually to complement its designated bottle. The simple near-monochrome of the Spades, the spare woodcut imagery of the royals, the tropical flower petals on the 8 of Diamonds, the spiraling red hearts and tumbling cards of the 6 of Hearts. Together they formed a visual harmony that had obviously been very carefully thought through, an austere elegance in conception that matched the qualities of the whiskies themselves. How different this is from the usual bar, with its lineup of predictable suspects wrapped in too-familiar labels. The bottles looked hand-painted, or even hand-made, like pieces of artisan jewelry.
"It's very Japanese," Chan said. "That focus and that attention to detail. You could say that it began as a marketing idea—Ichiro-san came out of marketing originally—but since each bottle is subtly distinctive and unique, it makes sense. Over many years you can begin to piece the grand narrative together in your mind."
We went to the bar and the moment of truth arrived. Not all the bottles were open and available as shots, but when I asked for the 6 of Hearts, the smile told me that my wish would be granted. A half-shot of the 6 of Hearts ran about HK$580, or $80, and about $3,000 a bottle, so I thought to myself that scoring this one would be about as close as I was likely ever to get to uncovering the enigma of the Card series after my initial love affair with the Joker.
It was poured, a gorgeous dark honey color, and a ferocious nose hit me from the open glass even before it was closer than an arm's length. The intensity made my hairs curl and Chan advised me not to touch it for at least 20 minutes while it opened. Oxygen was indispensable to a Hanyu. I could smell a whiff of vanilla.
While I waited, Chan told me why he collected. He owns an IT company and once also ran a Japanese restaurant in Guangzhou, which he later sold before devoting himself to whisky.
"Over the years I had gotten interested in Japanese malts and I began traveling to Japan to meet Ichiro-san himself. I was intrigued by how the distillery had failed as mass Japanese whisky consumption had declined but then had revived as elite malts began to ascend. It was such a strange story. Ichiro had inherited a failed business and in the early years he had to go from bar to bar in Tokyo to sell his bottling of the old Hanyu stock. Such incredible persistence! The whiskies were all from the past, from a 'silent' distillery, and sooner or later they would all disappear, but he managed to turn it into a cult. And then I began to acquire some of these Hanyus myself. What fascinates me about them is precisely what distinguishes them from Karuizawas."
There was in fact an astonishingly dark-hued bottle of Karuizawa 1967 on the bar next to the "6." Chan explained that Karuizawas were exceptionally consistent because they were casked in the same way all along. But because the Hanyu malts were all casked differently, they were infinitely variable. On the label of the "6," I saw that it had been distilled in 1991, casked in a hogshead first and then later in an American oak puncheon, a larger type of cask that allows for longer maturation, and then bottled in 2012. The change of woods gave the Hanyu malts their wonderful complexity, and the "6" was a supreme expression of the resulting individuality.
The first sip after a wait of 20 minutes revealed what the flowery writer for Bonham's had meant when he'd referred to a "mysterious forest." There was a hint of fragrant sawdust, of leaves.
The peppery nose remained but had died down a bit. The "6" was related to the Joker, as I remembered it, but there was also an orange aroma in it and, as time went by, a soft caramel of some kind.
I reflected that one of the factors that gave this whisky its power, its gravity, was the knowledge on the part of the drinker that it was finite. There are only a few bottles of it left in the world, and they are decreasing day by day, dram by dram, and this gave each sip of the 6 of Hearts a thrilling, almost guilty melancholy. In ten years' time it's possible it won't exist any more—or that what's left of it will simply be too valuable to drink. We might already be at that point, I thought, looking up at the wall and the glowing bottles in their niches. Who in future years would dare pluck one out and actually drink it?