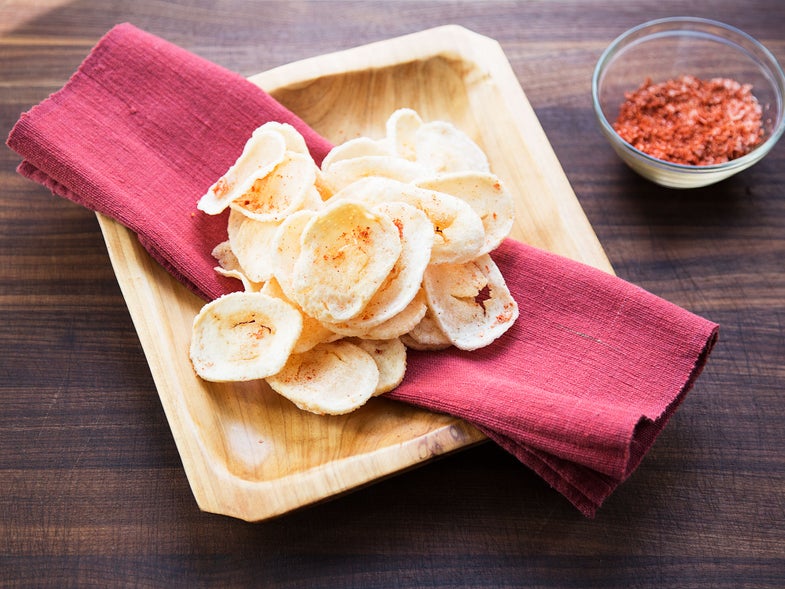 Mother-daughter chef team, Kirsten and Mandy Dixon, turn this staple of Indonesian and Malaysian cuisine into an addictive snack and appetizer served at their rural Alaskan adventure lodges, Within the Wild.
Read more about shrimp chips with Kirsten and Mandy Dixon
What You Will Need
Yield: makes about 65 chips
Time: 1 hours 30 minutes
Ingredients
1 lb. Alaskan shrimp, peeled and deveined
1 (1-inch) piece ginger, peeled and grated
3 3⁄4 cups tapioca flour, plus more for dusting
2 tsp. fine sea salt
1 tsp. freshly ground black pepper
1⁄2 tsp. sugar
Canola oil, for frying
Instructions
Place shrimp and ginger in a food processor; purée until smooth. Transfer to a bowl and stir in tapioca flour, salt, and pepper. On a lightly floured surface, roll dough into two 7-inch logs, about 2-inches–thick each.
Boil 2 inches of water in an 8-qt. saucepan fitted with a steamer basket. Transfer shrimp rolls to the saucepan; cover and steam over medium-high heat until cooked, 15 minutes. Using tongs, remove shrimp rolls from steamer; chill completely until firm.
Thinly slice shrimp chips, 1⁄8-inch–thick. Transfer to a parchment paper-lined baking sheet and air dry 45 minutes.
Heat 2 inches of canola oil in a 6-qt. saucepan until a deep-fry thermometer reaches 375°. Working in batches, cook chips until puffy, 2–3 minutes. Using a slotted spoon, transfer to paper towels to drain. Serve immediately, or cool and store in an air-tight container for 1–2 days.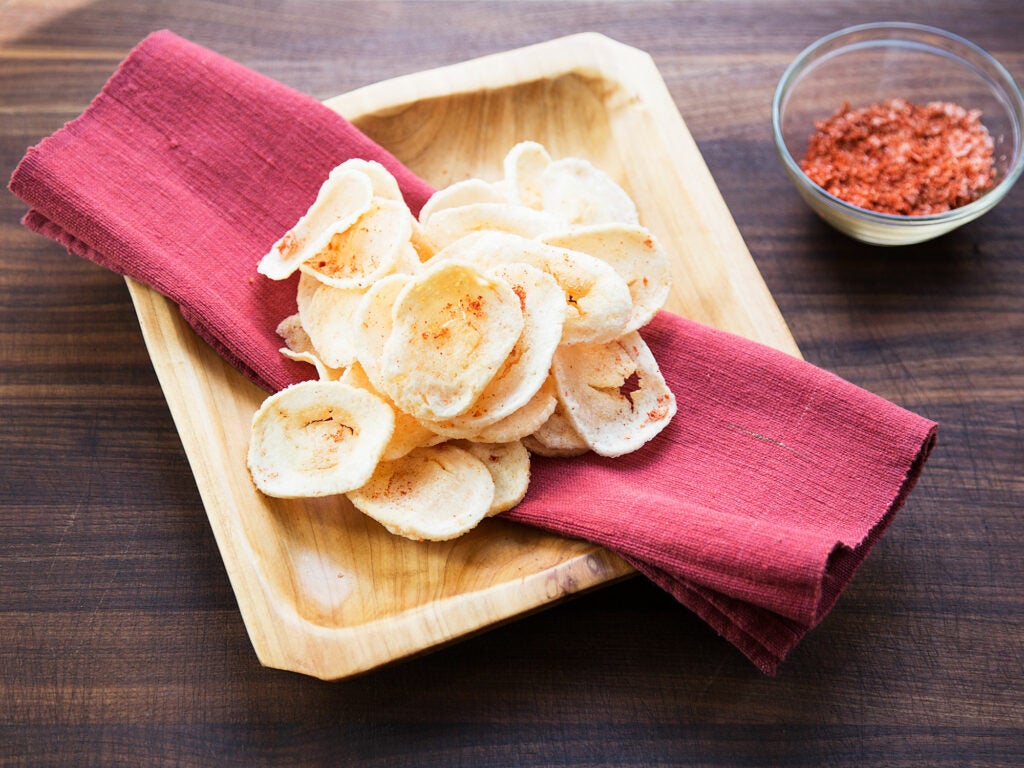 Alaskan Shrimp Chips
Mother-daughter chef team, Kirsten and Mandy Dixon, turn this staple of Indonesian and Malaysian cuisine into an addictive snack and appetizer served at their rural Alaskan adventure lodges, Within the Wild. Get the recipe for Alaskan Shrimp Chips