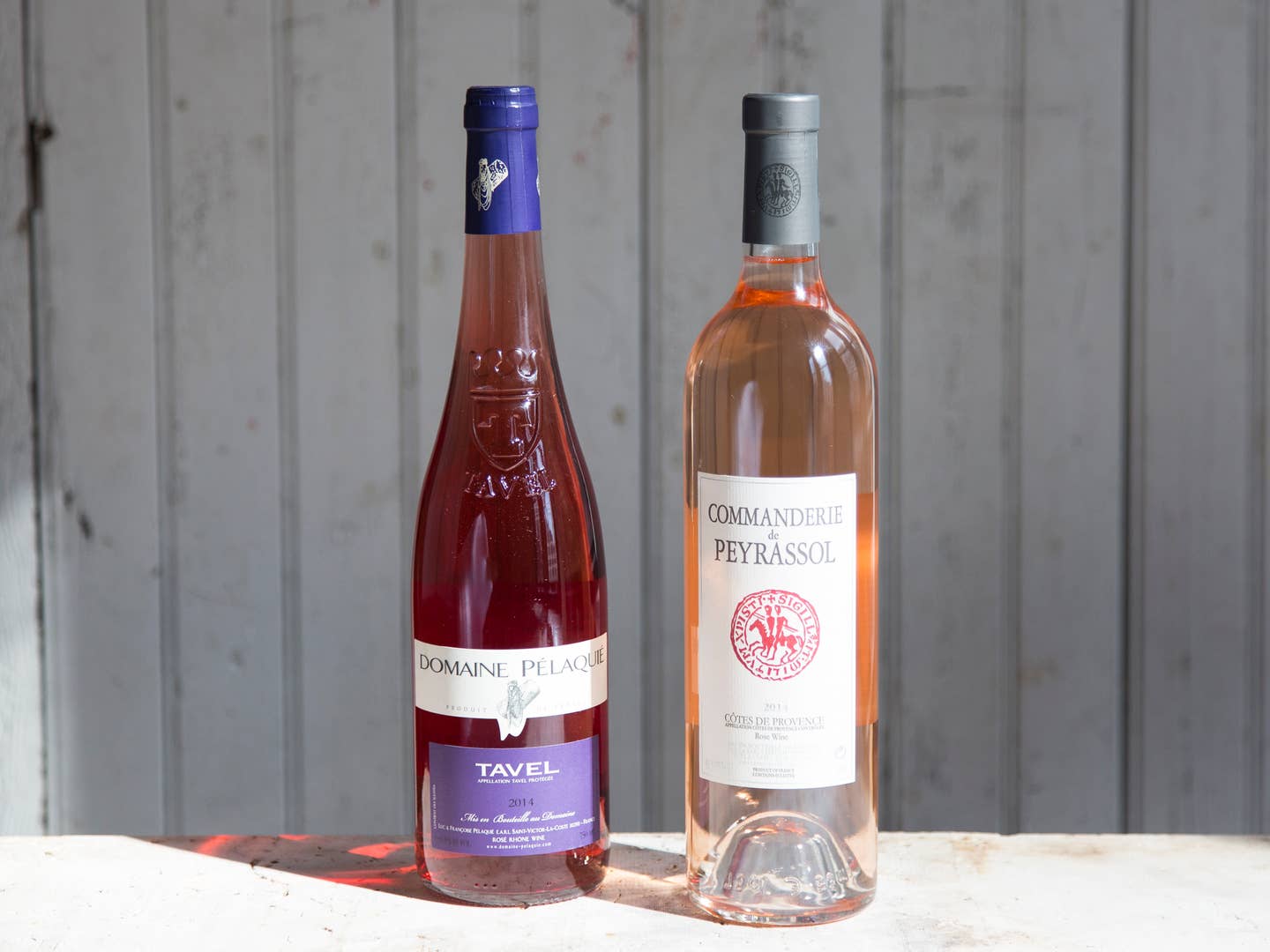 Drinks
How To Judge A Rosé By Its Color
Darker doesn't necessarily mean sweeter—but color can still tell you a lot about your rosé
Rosé is more likely to solve your problems than create them; it's easygoing, the sort of thing to sip on while relaxing in the shade, and amenable to a wide range of foods. But there's one issue that wine drinkers everywhere confront: decoding rosé's color, which can range from the palest blush to full-bloom azalea. The first question most people have upon seeing a darker rosé is: Will this wine be too sweet?
In short, the answer is most likely no. Darker rosés may bring to mind pink drinks like the artificially flavored, sickly sweet Boone's Farm, but the reality is that a quality rosé, even if it is dark, will contain neither added nor residual sugar. A rosé's color can, however, give you some important information on how it was made, and how it will taste; in general, lighter rosés are bright and crisp, darker rosés have more fruit and body. It all depends on skin and time.
As David Keck, wine director of Camerata at Paulie's in Houston, Texas, explained, one of the main factors in a wine's color is skin contact. This refers to the amount of time that winemakers allow the juice to remain on the red skins before removing them—it can be as little as a few hours, or as much as several days, depending on the producer and regional style.
Perhaps the best example of the differences between lighter and darker rosés can be found in southern France, where pale pink Provençal rosé and deep ruby Tavel wines from the Rhone Valley are produced with special care and pride. These regions are known for their pink wines, and they even plant grapes specifically for rosé, which is not the case everywhere. "In a lot of places, people make rosé as a byproduct of their red wine production," said Keck, referring to the saignée technique in which winemakers briefly macerate red grapes with the skins, "bleed" some juice off for rosé, then use the more concentrated juice to make a red wine. Because of Tavel and Provence's focus on turning out top-quality rosé, he added, "they're harvesting the grape when it's at the perfect balance of fruit, acidity, and ripeness to make a beautiful, balanced rosé" with just enough richness and acidity to satisfy the thirst that a great meal generates.
In Bandol, a sub-appellation of Provence, rosé is made with a heavy dose of the grape Mourvèdre, which lends a slightly darker hue to the wine. Bandol rosé must be made with between 20 to 95 percent Mourvèdre. "Mourvèdre makes a rich, dark, super tannic red wine," explained Patrick Cappiello, wine director at New York City's Rebelle and Pearl and Ash restaurants. In rosé, he said, Mourvèdre provides a "rich texture," but also a "razor-like acidity, which can make for a light, crisp, refreshing rosé." Mourvèdre, Keck added, is a "richly colored grape." And climate plays into such varietal characteristics; Cappiello pointed out that grapes growing in warmer climates tend to have "thicker skins, so the rosés will be darker." Because of the high proportion of Mourvèdre in Bandol rosé, it can be slightly darker than the broader Côtes de Provence rosé, which can include a wider variety of grapes from all over the appellation, Keck pointed out.
All of these factors affect a rosé's color, but when it comes to a winemaker exercises his or her judiciousness—and expressing a regional style—it's about determining the amount of time that grapes sit on their skins, In Tavel, winemakers typically "let the juice sit on the skins for more time," up to 48 hours, "which gives the wine more tannin and structure, and as well a more intense fruit profile," explained Keck. This style of rosé, which is known rosé d'assiette—meaning "rosé for the plate," as in for a meal—displays a more savory quality, and concentrated fruit.
Pale Provençal rosé, meanwhile, "has a flavor profile somewhat closer to white wine," explains Keck. "It's more floral, with gardenia and white blossoms, bright high-toned fruit, and often more delicate flavors." The juice is frequently removed from the skins within the first 12 hours during maceration.
For foods with stronger flavors—like grilled or smoked seafood—Keck recommends a bottle of the richer Tavel. "Whereas for something lighter, like sushi or poached salmon, I'd lean toward the lighter style of rosé," he advises. A Provençal style rosé is also great for drinking on its own, without food.
While Provence is famous for its pink wine, France isn't the only country producing great darker-hued rosés. Lee Campbell, wine director for all of Andrew Tarlow's Brooklyn restaurants and rosé fanatic, is particularly fond of Italian rosato. It is often darker-hued and "pairs fantastically with food," she says. In the central Italian region of Abruzzo, they call this style of rosé Cerasuolo, which translates to "cherry"—and is also a good description of the wine's color, often similar to that of a light red. It can be found not only in Abruzzo, but in Tuscany and Sicily as well.
Regardless of where your wine comes from, it's important to keep an open mind—after all, there are no hard-and-fast rules to wine pairing, and sometimes an unlikely wine can be a surprisingly good fit. Dana Frank, wine director at Portland, Oregon's acclaimed Ava Gene's, suggests we forget about the sweetness question, and instead get excited about the range of rosé wines out there. "I ask guests [whether] they want a richer, fuller rosé, or something bright, light, and easy drinking," she said. Once you know how to judge a wine by its color, you're well on your way to enjoying the variety of rosés out there, either with a meal or while relaxing on a patio.