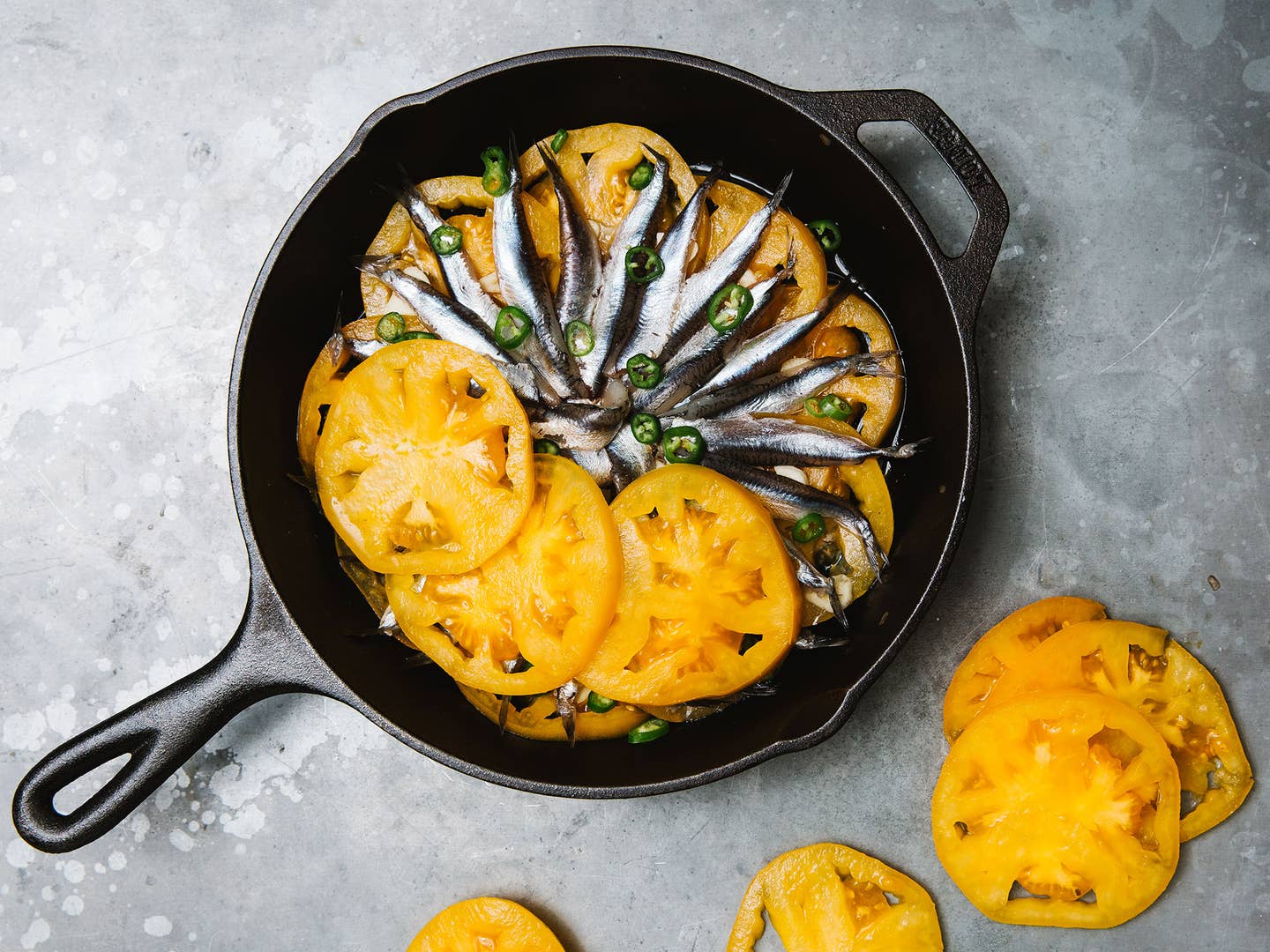 Techniques
How to Cook With Fresh Anchovies
If you've only had them cured, these fresh fish may be your new favorite thing
Slippery, silver-skinned fresh anchovies, or hamsi in Turkish, are the holy grail of Robyn Eckhardt's annual pilgrimage to the Black Sea. Unlike the cured ones, fresh anchovies are sweet, delicate, and just barely briny. They're great battered in cornmeal and deep-fried, or marinated in white wine vinegar and herbs to use on sandwiches, but one of the best ways to enjoy them is with juicy, flavorful summer tomatoes.
To test Tunan's recipe, we called in heaps of fresh anchovies, and found ourselves with countless ways to cook with them. The whole fish are small, no longer than four or five inches, and they're much easier to fillet and clean than larger fish (even if you have to prepare more of them). First, scrape off the scales under cold running water with your fingernail or a small knife, then, gently twist off the head, pulling out most of the innards with it. Slide your finger or a paring knife along the anchovy's belly, rinsing out any remaining innards. From here, you can flatten the fillet and gently pull out the spine, leaving you with a perfect butterfly. The fins and tails are edible, but you can remove those as well if you prefer.
The fresh anchovies are delicious in any application in which you would use fresh fish: Bread the raw fillets in cornmeal and shallow-fry them, marinate them in white wine vinegar and herbs and use them to top tomato and mozzarella sandwiches, or skewer and grill whole, cleaned anchovies with vegetables and lemon wedges as you might do for sardines à la plancha.