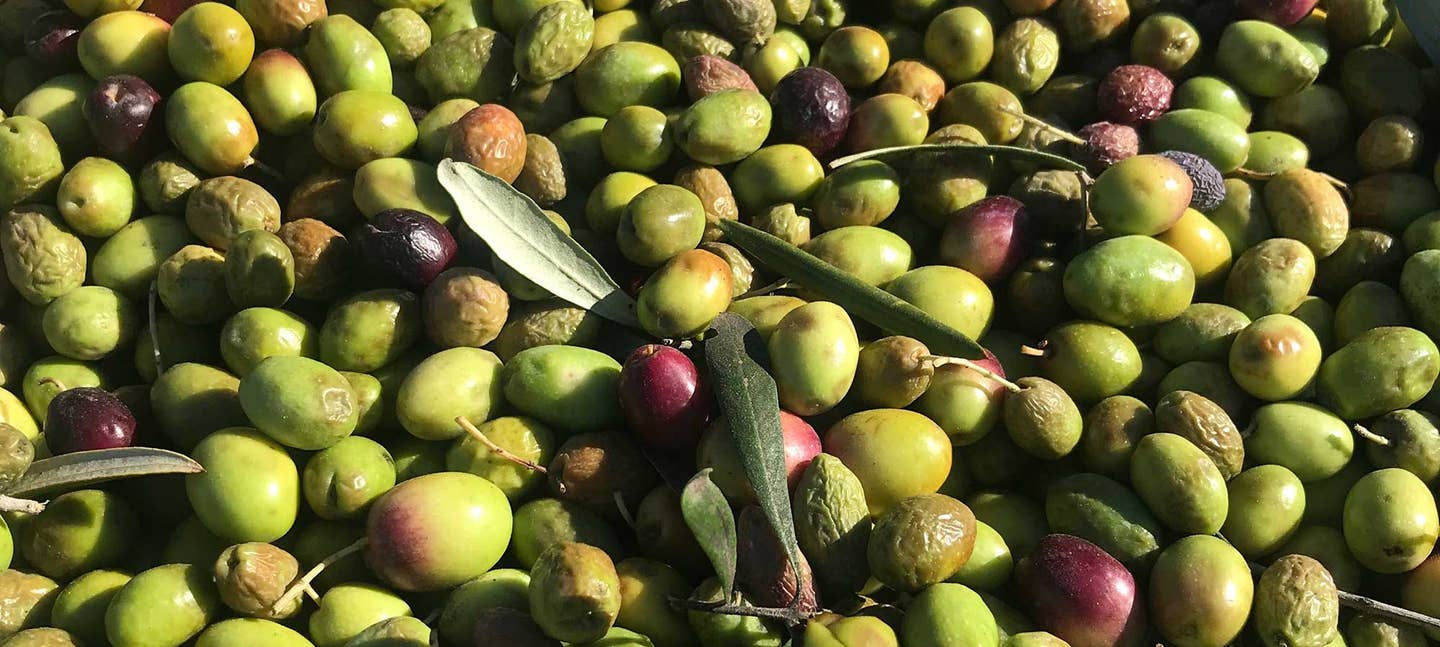 Techniques
Olive Oil 101: Everything You Need to Know About Cooking With Olive Oil
From how it's made to how to cook with it
Mmm, olive oil. While you probably have a bottle in your kitchen right now—stored in a cool, dark place, hopefully—you might not be an expert in all of the behind-the-scenes action that goes into producing and cooking with the stuff. (On the off chance you are an olive oil aficionado, skip ahead to making some delicious dishes of your own.) For those who aren't well-versed in the various uses, health benefits, and processes that go into producing olive oil, we compiled a quick rundown of the basics.
Olive oil is made from extracting the oil from whole olives, and comes in several different varieties. If an olive oil is "virgin," that means the oil was extracted from the olives by mechanical means only—in other words, no chemicals or solvents were used in the extraction process. Olive oils that are exposed to chemicals during extraction are referred to as "refined olive oils," and typically have a slightly higher smoke point than virgin and extra virgin oils.
The color of different olive oils can range from a deep green to a more yellow-gold, depending on the olives used, the method of oil extraction, and the ripeness of the olives during the time of extraction. The taste of the oil depends largely on the quality, the varietals used during production, and the area where the olives are grown—similar to the terroir of different wine regions.
Olive oil, thankfully, isn't all that bad for you. It contains lots of healthy fats and antioxidants, and is even known to reduce the risk of heart disease. In fact, because of its nutritional properties, olive oil is frequently used as a component in various skincare, haircare, and beauty products.
Olive oil has a medium-high smoke point of around 375°F, which makes it great for sauteing and limited high-heat cooking. However, as with many oils that have a strong taste, olive oil tends to lose flavor when exposed to high heat. If you want to get the most flavor possible out of your olive oil, stick to drizzling it over dishes or adding it to your meal later in the cooking process.
And while there's no shame in enjoying plain olive oil on a hunk of freshly baked bread—it's one of our favorite ways to consume the stuff—olive oil can provide an extra layer of flavor and balance to a variety of dishes. It's most commonly used in sauces and dips like Black Olive Tapenade, as a component in various dressings and marinades, or simply drizzled over a dish as a finishing oil. It's also delicious when used as a cooking oil, like in Jose Enrique's Ramp Escabeche, and can add a beautiful roundness to a dish like Nick Anderer's Spaghetti With Garlic and Olive Oil.