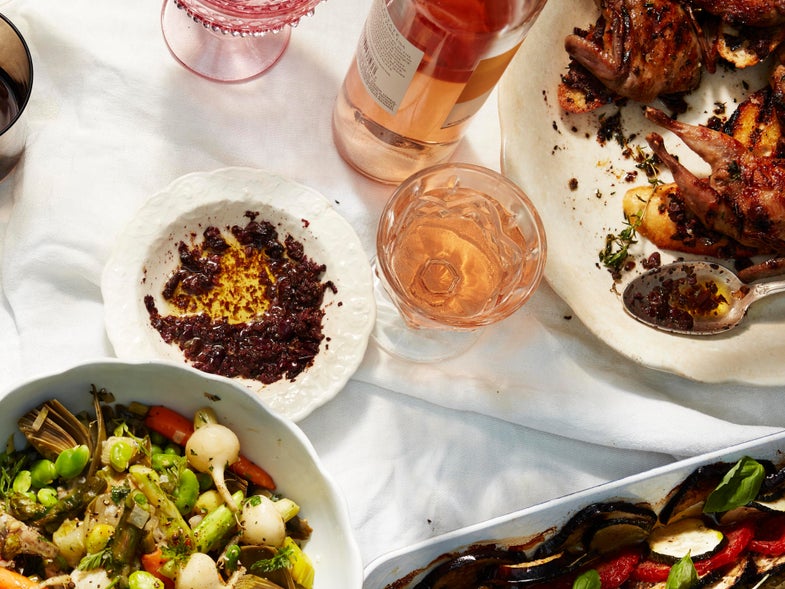 Tapenade, the traditional Provençal condiment made with black olives, is a versatile staple. Delicious when spread on little toasts for an aperitif, a spoonful also makes a great accompaniment to grilled fish or any kind of roast. The tapenade can also be thinned with olive oil and drizzled or used as a base for vinaigrette. Tapenade will keep in the fridge for a month or more, topped with a thin layer of olive oil.
Featured in: Remembering Lulu Peyraud, the Cooking Queen of Provence
Black Olive Tapenade
Tapenade, the traditional Provençal condiment made with black olives, is great on toasts, grilled fish, and roasts.
Time: 30 minutes
Ingredients
2 small garlic cloves
Kosher salt
1⁄2 cup niçoise olives, pitted
1⁄2 cup oil-cured Mediterranean olives, pitted
2 tsp. capers, rinsed, optional
1 tbsp. lemon juice
1⁄2 tsp. lemon zest, grated
1⁄2 tsp. chopped thyme or winter savory
2 anchovy fillets, well rinsed and chopped
1⁄2 cup extra-virgin olive oil, plus more
Freshly ground black pepper
Cayenne pepper
Instructions
Mince the garlic, then sprinkle with a pinch of salt and press and smash into a smooth paste with the side of a knife.
Put the garlic paste, olives, capers, lemon juice and zest, the thyme, and anchovies in a food processor and grind to a rough paste. (Alternatively, use a large chef's knife to chop the ingredients. For a smoother texture, purée for a while longer in the food processor.) Transfer to a small bowl and stir in olive oil, salt, pepper, and cayenne to taste. Thin with more olive oil if desired.