Recipes
Indian Lamb Curry in a Bread Bowl (Bunny Chow)
Serves

serves 4

Cook

1 hour 30 minutes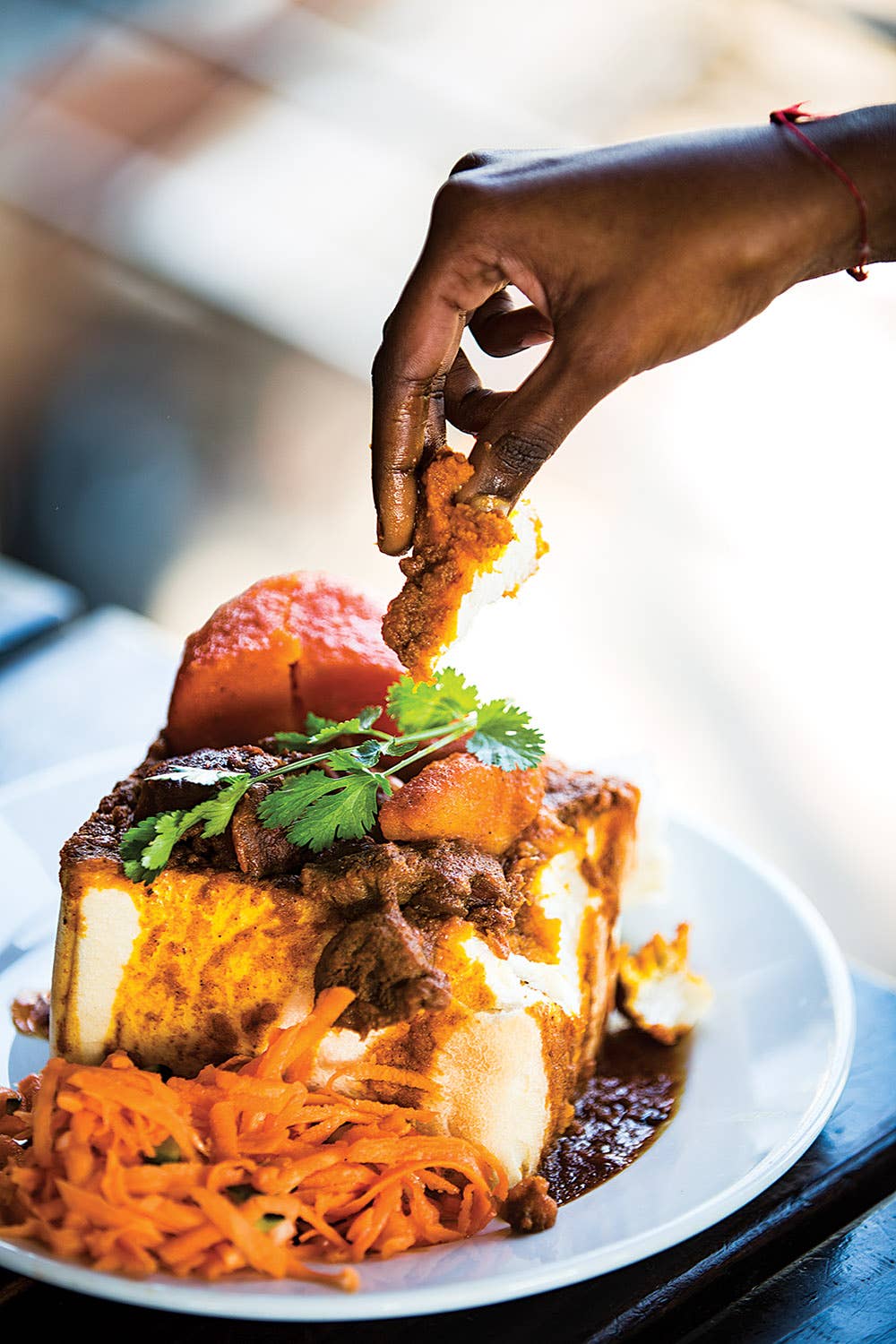 Bunny chow, a hollowed out bread bowl with a spicy, meaty curried filling, is as delightfully messy as it sounds. You can eat every last morsel of this version from Hollywood Bets in Durban, including the curry-soaked bread from the bottom and sides.
Ingredients
6 large cloves peeled garlic
One 3-inch piece peeled fresh ginger
1⁄4 cup plus 2 Tbsp. canola or olive oil
2 large white onions, chopped (about 3 cups)
4 bay leaves
2 small cinnamon sticks
1 tbsp. ground turmeric
1⁄4 cup plus 1 Tbsp. garam masala
3 medium tomatoes, chopped (2 cups)
2 1⁄4 lb. boneless mutton or lamb shoulder, cut into 1-inch cubes
2 tbsp. kosher salt
3 medium russet potatoes (1 3/4 lb.), peeled and cut into 1-inch cubes
Leaves from 12 sprigs fresh cilantro
One 1-pound loaf unsliced white bread, cut crosswise into quarters
Instructions
Step 1
In a small food processor or mortar and pestle, add the garlic and ginger and pulse or pound until a paste forms. Set aside.
Step 2
In a large (8-quart) Dutch oven or heavy-bottomed pot, heat the oil over medium heat until it shimmers. Add the onions, bay leaves, cinnamon sticks, and turmeric and cook, stirring occasionally, until the onions are softened, about 5 minutes. Stir in the garam masala and 1⁄4 cup of the garlic-ginger paste (reserve any remaining paste for another use); cook for a few seconds, stirring to prevent the spices from burning. Add the tomatoes and bring to a simmer; let cook for 5 minutes. Add the mutton and salt, stirring to coat the meat in the sauce and distribute the seasoning. Simmer, stirring occasionally, 15 minutes. Stir in the potatoes and 2 cups water; bring to a boil, then reduce to a simmer. Cook, uncovered, until the meat is tender and potatoes are soft, about 40 minutes.
Step 3
To serve, cut out most of the center of each bread quarter and reserve it whole, making sure to leave some bread at the base of each. Divide among 4 plates and fill the bread bowls with the curry mixture. Garnish with the cilantro, and top or serve with the reserved bread pieces.