Recipes
Injera (Ethiopian Sourdough Flatbread)
Serves

makes Five 10-Inch Flatbreads

Cook

1 day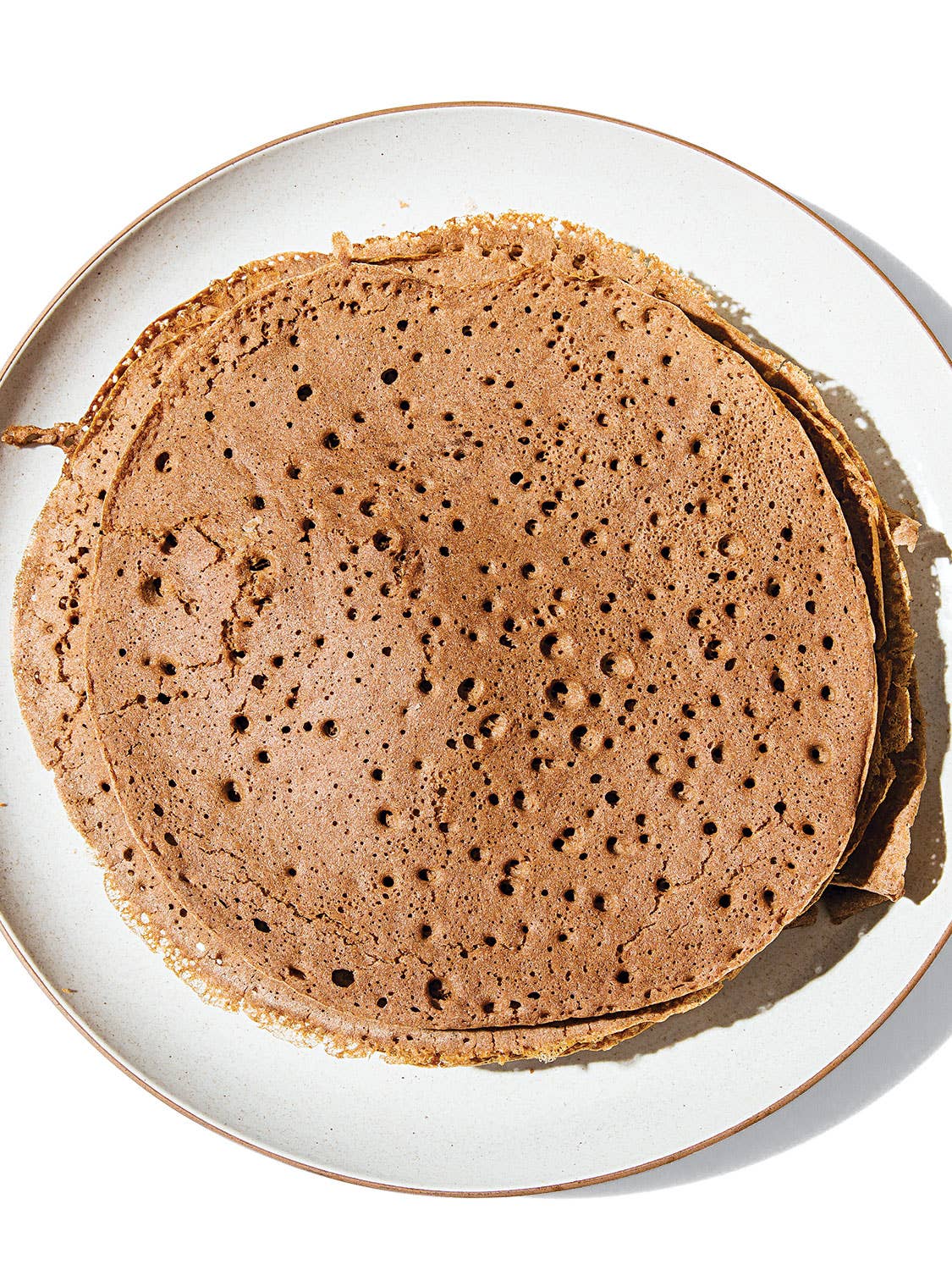 Teff, an ancient grain is the basis of Ethiopia's daily bread. The flour comes in dark and light varieties, but either will work in this basic recipe, meant to turn out enough for two to four diners. Most injera batters ferment for two to three days to achieve their signature bubbles and tang. This one can be made in about one day, thanks to a bit of baking powder. It's adapted from a recipe by Ethiopian griddle-maker WASS Electronics, which makes tools for cooking injera.
Ingredients
1½ cups teff flour
1½ tsp. baking powder
½ tsp. kosher salt
Vegetable oil, for greasing the pan
Instructions
Step 1
In a large bowl, add the flour. Slowly whisk in 2 cups of cold water, then cover the bowl with a clean towel. Set aside at room temperature until the batter is slightly foamy, about 24 hours.
Step 2
Prepare all of the injera at least 30 minutes before serving. Whisk the baking powder and salt into the batter. (The batter will deflate slightly.)
Step 3
Heat a 10-inch nonstick crêpe pan or skillet over medium-high heat. Moisten a paper towel with vegetable oil and rub it across the pan's surface to very lightly grease it. When the pan is hot, portion out ¾ cup of batter in a spouted measuring cup. Starting at the outside edge—working clockwise if you are right-handed or counter-clockwise if you are left-handed—pour the batter in a thin stream in one continuous motion in a spiral formation, until you end at the very center. Swirl the pan as needed to evenly distribute the batter, then cook, undisturbed, until bubbles have begun to form on the surface of the injera and the batter begins to set. When about 75 percent of the surface batter has changed color, about 45–60 seconds, cover the pan with a large lid. Cook until the edges of the injera begin to curl, the top is quite dry, and the injera has released from the bottom of the pan, 30–45 seconds. (Do not flip.)
Step 4
Use one or two large spatulas to transfer the cooked injera to a wax-paper-lined flat basket or large plate. Wipe the pan clean with the oiled paper towel, then continue to cook the remaining batter in the same manner, waiting at least 5 minutes before layering each injera on top of the last as they come off the stove.
Step 5
Set aside the bread to rest at room temperature for at least 30 minutes before serving. Leftovers covered in plastic wrap will keep for about 2 days.