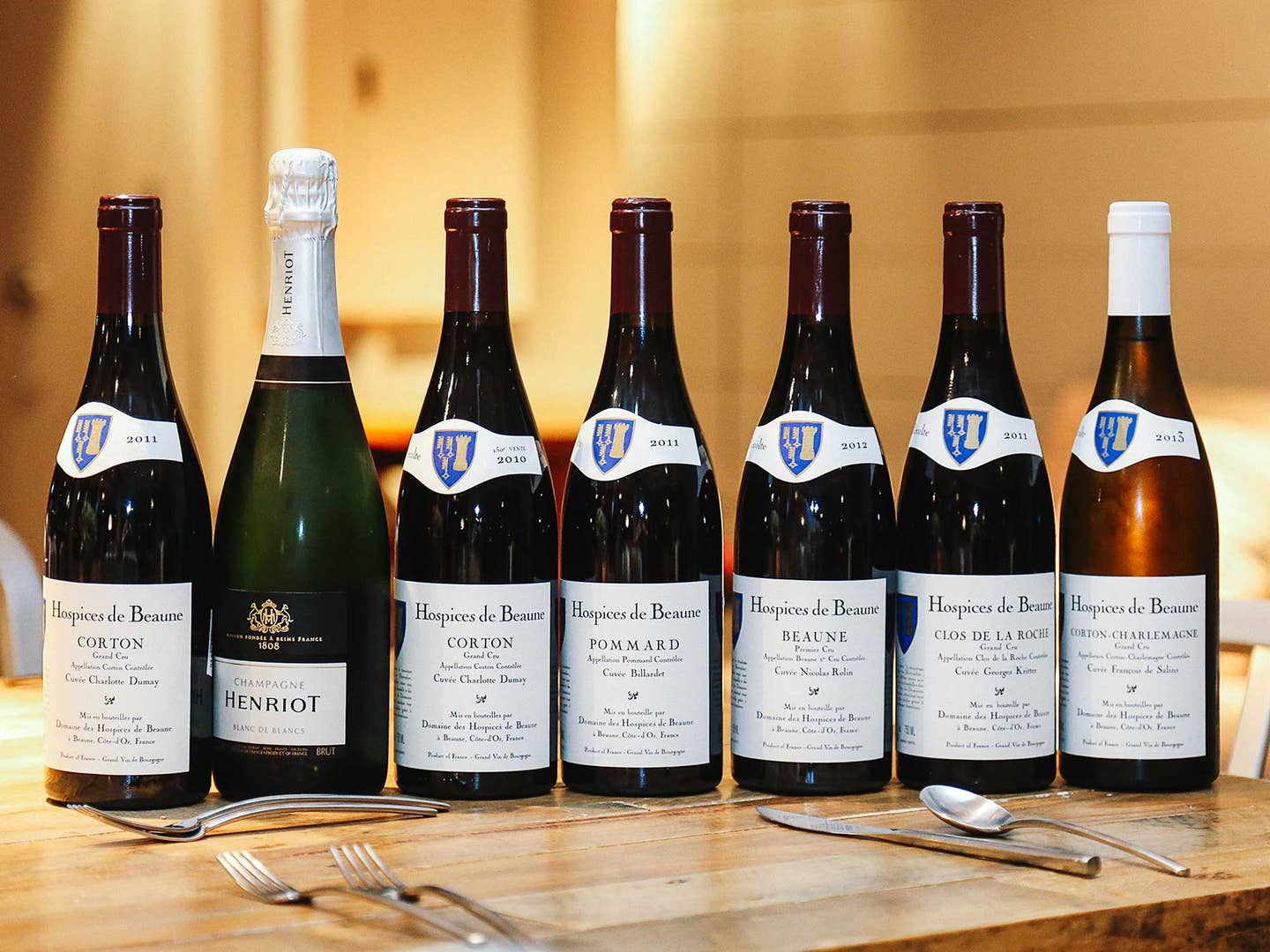 Drinks
Inside the High-Stakes World of Six-Figure Wine Auctions
How Christie's wine department finds, appraises, and sells off some of the world's rarest liquid assets
It hits the news all the time: A bottle of wine gets auctioned for a seemingly absurd five- or six-figure amount to some serious collector. Would could possibly make a wine worth that much?
Christie's Auction House—arguably the most renowned art business in the world—also happens to be a major player in the high-end wine scene. Holding nearly 20 live wine auctions a year, along with an packed schedule of online events, the company must vet, organize, and appraise countless bottles of rare and super-old wine (the auction house hit a world record last year when they sold the Domaine de la Romanée-Conti, Romanée-Conti 1990 five-magnum lot for $269,500).
The auction house recently hosted an intimate dinner at the SAVEUR Test Kitchen to familiarize event attendees with some of their newer offerings, specifically previewing wines from the upcoming annual Hospice de Beaune sale on November 20th. To understand how a bottle of wine makes it from a private collection to the auction floor, and how it gets its hefty price tag, we spoke to Per Holmberg, head of the department at Christie's Wine.
How do you source and vet the wines that come into the Christie's inventory?
At Christie's, we primarily source from private collectors and estates, along with trade. We find that consignors are selling their inventory for a variety of reasons, including a shift in collecting interest or they simply might have excess quantities that need to be cleared for storage purposes.
What do you look for when new product comes in?
Our specialists look at the totality and the condition of the collection in a consignor's cellar. Upon initial evaluation, we specifically look for things like ullage, or how much wine is left in bottle, and seepage, or whether or not the wine has leaked, which indicates a change of temperature. The composite of the collection is of course important as well: what type of wines, whether the totality is mostly expensive or inexpensive, the various regions, vintages, and more.
What is the appraisal process like, and who is responsible for appraising them?
The appraisal process is based on the actual recent hammer prices realized at auctions. Our global team of specialists follows and understands the market and the wines. They are really an overall authority on the topic, but not sommeliers.
How are different auction lots organized?
We aim to sell primarily by individual wines and vintages, for example, a lot that contains wines by just one producer from the same vintage. Sometimes we do have mixed lots and, in this case, we look for themes like wines from the same region, vintage, and producer, or the same color.
What makes these wines so expensive, and what do auction houses do to make them go for even more?
Supply and demand is the benchmark in terms of prices realized for the wine.
Who buys and sells these four- and five-figure wines, and how much are they spending on average?
Private collectors and trade. The average live auction lot is close to about $4,000. Our bread-and-butter for daily live sales is Bordeaux first-growth, which averages between $5,000 and $10,000.
What can people expect if they attend an auction in person? Is it still the traditional wave-the-paddle process?
Yes, if you register to bid and attend an auction, you receive a numbered bidding paddle for that sale. All registered bidders in our sale receive a number, whether you are online, in-person, absentee or on the phone.