Warm Up With Polenta and Sausage Gravy
Sausage + tomatoes + polenta = a classic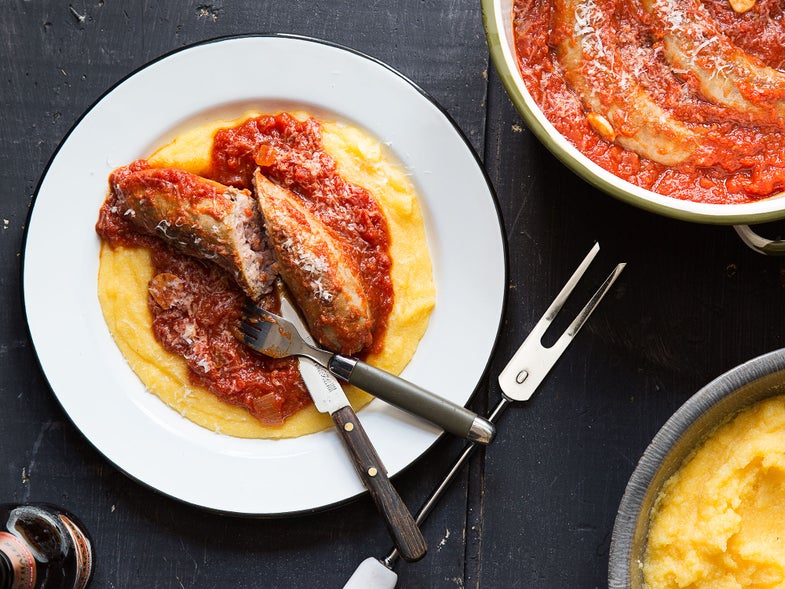 Classic Italian recipes become classics for a reason. This dish, which brings together the power trio of fennel sausage, creamy polenta, and zesty tomato sauce, deserves a spot in the hall of famous Italian cuisine, if there was such a thing. As we move into a cooler season, we're looking to keep warm any way we can, and we can't think of anything more conducive to warmth than rustic Italian. This recipe comes from Ada Boni's The Talisman Italian Cook Book, which is packed with plenty more rustic Italian recipes worth holding onto.
The sausages, which are cooked right in with the tomatoes, are left to simmer for an hour to develop their spicy-sweet flavor. If you're feeling uncertain about the polenta, don't be: slowly whisked over medium heat, the cornmeal becomes super creamy and flavorful, the perfect match for slowly cooked sausage. Garnish with fresh herbs, like torn basil or parsley, to balance out the heaviness of the rest of the dish. Top off with freshly grated Romano cheese and call it dinner.
For more warming Italian classics, test drive our Classic Meatballs or Risotto alla Milanese, both guaranteed to warm you all the way through.