Find Inner Peace With This Soba Salad
Japanese buckwheat noodles set the perfect stage for crisp lettuce and a bright miso-lemon-ginger vinaigrette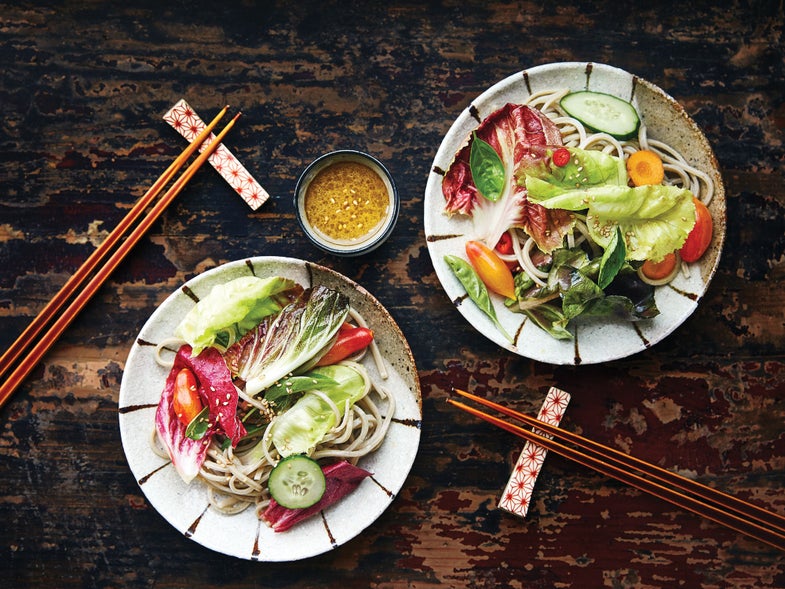 The best thing about a Soba noodle salad is everything. It's simple, sophisticated, and so very easy to put together—not to mention delicious. Soba, the Japanese buckwheat noodle that is notoriously difficult to make (though worth the effort) (and very easy to buy already made), is also frequently associated with contemplation and serenity. It is not a tangled, anxious noodle; unlike its more rowdy cousin ramen, soba dishes can be peaceful, almost serene.
This salad is a natural extension of that perspective. It is the meeting point of hearty lettuce, herbaceous dill, bright grape tomatoes, and a lemon -miso dressing that provides just the right level of salt and acidity. It's all about balance.
Get the recipe for Soba Salad with Lemon-Miso Vinaigrette »
The simplicity and elegance of the ingredients are matched by the ease with which the salad is assembled: the lettuce and vegetables are tossed together first while the dressing, made zingy with ginger, is whisked until emulsified. Serve the vegetables over the noodles with the dressing on the side, allowing diners to determine their own level of flavor.
Eat these noodles, feel at peace, repeat. If you're as hooked on these as we are, try taking on some other Japanese dishes, like Home-Style Chicken Ramen or Japanese Tea Leaf Salad.