Recipes
Soba Salad with Lemon-Miso Vinaigrette
This plant-based noodle dish is summer in a bowl.
Serves

serves 4

Cook

30 minutes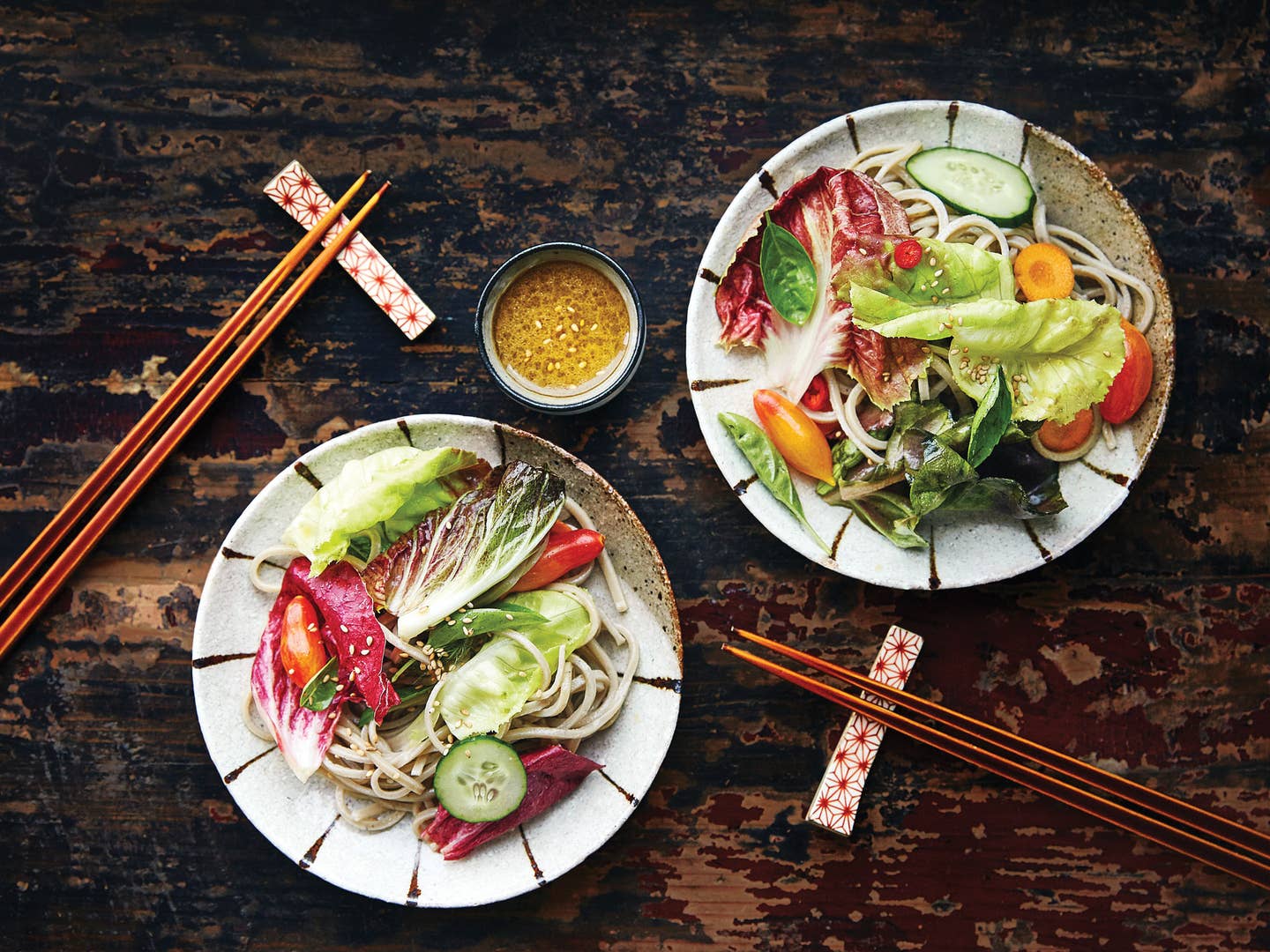 This noodle-based salad comes from Sonoko Sakai, a Japanese American film producer turned cooking teacher and writer. Whether using fresh soba noodles or dried, take care to cook gently, as they go from perfectly cooked to overdone in a matter of moments. Don't walk away from the pot! For the greens, use any hearty, strongly flavored lettuces, such as arugula, endive, or chicory, to balance the earthy noodles.
Ingredients
2 cups small radicchio leaves (about 2½ oz.)
2 cups small red leaf lettuce leaves (about 2½ oz.)
24 small shiso or basil leaves
16 grape tomatoes
Torn dill fronds, to taste
2 small carrots, sliced into ⅛-in. coins
1 Persian cucumber, sliced into ⅛-in. coins
1 small red chile, such as red finger, seeded and finely chopped
One 2-in. piece ginger, finely grated
⅓ cups extra-virgin olive oil
3 tbsp. fresh lemon juice
1 tbsp. plus 1½ tsp. rice vinegar
1 tbsp. plus 1½ tsp. soy sauce
1 tbsp. white miso
2 tsp. sesame oil
½ tsp. sugar
Kosher salt and freshly ground black pepper
1 tbsp. Toasted sesame seeds, for garnish
8 oz. fresh or dried soba noodles
Instructions
Step 1
To a large bowl, add the radicchio, lettuce, shiso, tomatoes, dill fronds, carrots, cucumber, and chile and toss to combine.
Step 2
In a small sieve set over a bowl, place the ginger and press until you have 1 teaspoon of juice; discard the solids and reserve any remaining juice for another use. Add the olive oil, lemon juice, vinegar, soy sauce, miso, sesame oil, sugar, and salt and black pepper to taste and whisk until sheeny and thickened slightly, about 1 minute. Pour into 4 small ramekins and sprinkle with sesame seeds; set aside.
Step 3
In a large pot of salted water, boil the soba noodles until al dente, about 3 minutes for fresh noodles and 4–6 minutes for dried. Pour into a colander to drain, then rinse under cold running water until the water runs clear.
Step 4
To serve, use tongs to divide the noodles among 4 serving plates. Top each portion of noodles with one quarter of the lettuce mixture, then sprinkle with sesame seeds. Serve with the dressing on the side.