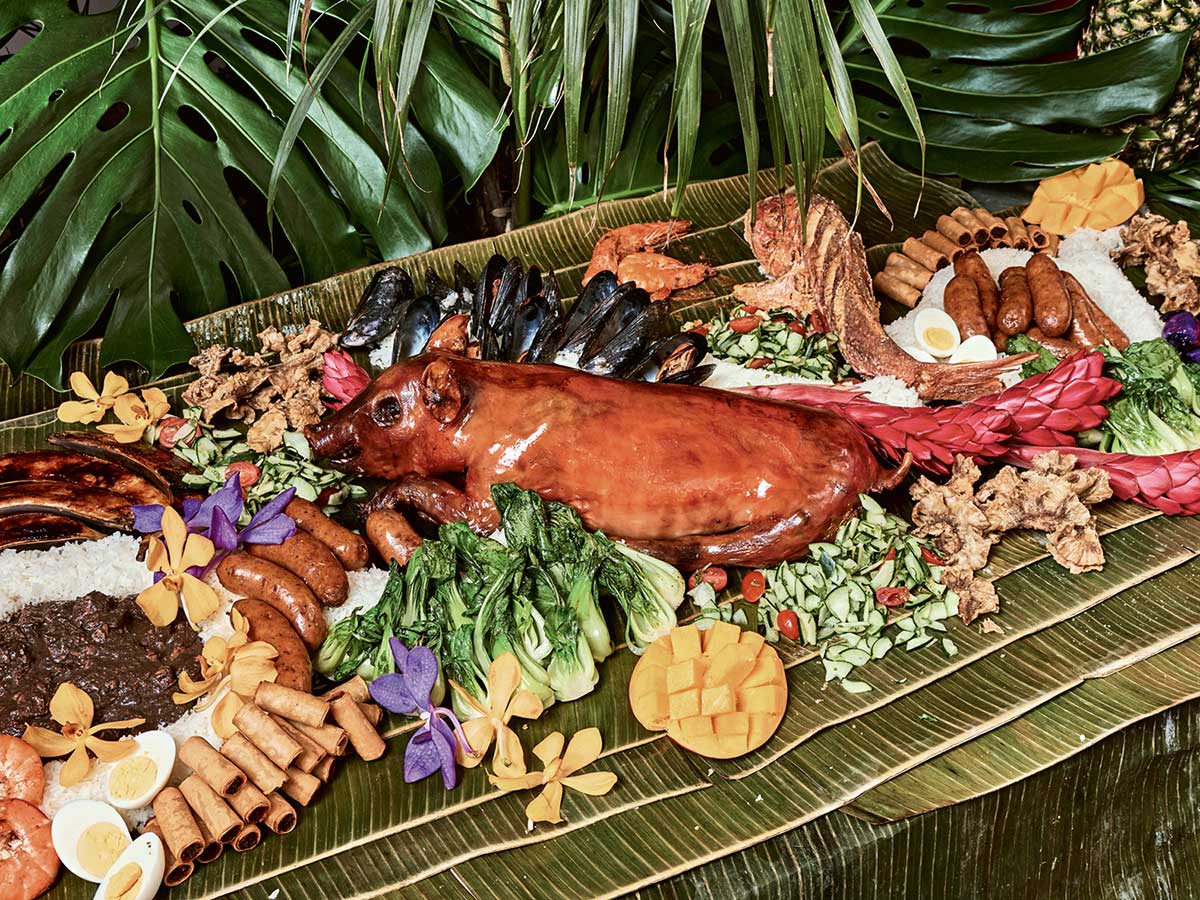 Culture
Cooking for the Kamayan
This massive, hands-on feast is what Filipino cuisine is all about
Every shared Filipino meal already feels like feast. A typical table looks something like this: Hearty adobo or crispy lechon kawali as the ulam (main dish), a bowl of laing or ginisang sayote for gulay (vegetables), and, of course, the most essential, rice. But the king of all Filipino feasts is the kamayan—a communal yet intimate meal, shared with family and friends, and the soul of Filipino cuisine.
When you imagine a grand, formal feast, you might imagine fine silver, delicate china, trays upon trays of entrees, and dainty portions. But the finest way to dine in the Philippines is a more pull-up-your-sleeves, (literally) hands-on kind of experience. The kamayan is centered around a long table, lined with lush green banana leaves; a mountain of food— a mound of fluffy white jasmine rice, piled high with myriad savory dishes like grilled tilapia, lumpia (Filipino fried spring rolls), a soupy dish like adobo or tinola (chicken stew), steamed vegetables, and fresh fruit —runs down the center. A group of people—maybe even as big as an army—surround the spread, ready to dig in.
Kamay" is literally translated to "hand," and kamayan refers to the traditional Filipino practice of eating with the hands. The term is also used to refer to a specific type of Filipino feast known as the "boodle fight". The kamayan has roots in Philippine military feasting—soldiers, regardless of rank, would gather around the table and engage in "food combat."
A boodle fight shows the colorful variety of Filipino cuisine. It typically includes mounds of rice, grilled fish, squid, pork, and chicken, steamed shellfish, and salted eggs; tomatoes and a variety of other vegetables like okra, bok choy, cucumbers; fresh mango, pineapple, watermelon; and sweet desserts like flan, kakanin (steamed rice cakes), or maja blanca (coconut milk cake).
Sawsawan, or sauces, are another necessary component in this interactive feast. In kamayan, and Filipino meals in general, each person creates their own dipping sauces that cater to their personal tastes—whether it be soy sauce with a splash of sour calamansi juice, fish sauce with a bit of suka (vinegar), suka with chilis and fresh garlic, or a dish of funky bagoong (shrimp paste). To step into another person's sense of taste, to experience the meal the way they do, one need only taste their sawsawan.
"In kamayan, you really just strip yourself of everything, sitting there with friends and family catching up on life," says chef and cookbook author Miguel Trinidad [in an interview with SAVEUR. "It's humble because you're using your hands."
Jeepney, one of the two NYC restaurants Trinidad runs with Nicole Ponseca, serves a grand kamayan feast that includes mussels, dampa (flash-fried red snapper), longganisa, dinuguan (pork offal and meat cooked in pig's blood), and lechon de leche (roast suckling pig).
Eating with hands has long been part of the Philippines' history. "There are numerous accounts written by Spanish missionaries of Filipinos eating with their hands throughout the islands," René Alexander Orquiza, Jr., a history professor at Providence College, tells NPR. But according to the Philippine-American relations specialist, this was actually something that American colonizers tried to erase from history.
"The move toward forks and spoons was a central goal for teaching American etiquette and domestic science in the early 1900s… Kamayan may have been fine under the Spanish period, but the American drive to reform and 'civilize' Philippine culture was all-encompassing."
Obviously, the Filipino tradition has been resilient, and it remains strong not only in the Philippines, but also wherever Filipinos find themselves. Kawali Filipino Kamayan Cuisine in Hong Kong offers the communal-style feast, as does Carinderia Ni Tandang Sora in Dubai, and ISLAS Resto & Grill in Riyadh. In the US, Jeepney and Ihawan in New York, Bonifacio in Columbus, Perla in Philadelphia, Villa Manila in San Diego, and Isla in San Francisco serve kamayan meals. The mobile SALO pop-up dinner series, based in San Francisco, brings the meal everywhere from Austin to Kansas City. Chef Yana Gilbuena organizes dinners in borrowed spaces like local restaurants and shops—even an Urban Outfitters—to allow people to try Filipino food in the most authentic way possible.
Kamayan isn't just a way of eating; it's a shared experience, and a powerful means for building and fostering community—which is the purpose of all meals, but also the whole of Filipino cuisine. The food of the Philippines brings people together, in the same way that it brings different cultural influences and cuisines—Mexican, Spanish, Chinese, and American—together. In the sensory overload of today's tech-driven world, kaayan is especially effective; it requires people to put their phones down, engage with one another, and enjoy the food—and the company—in front of them.