Deep-Fried Pork Spring Rolls (Lumpia)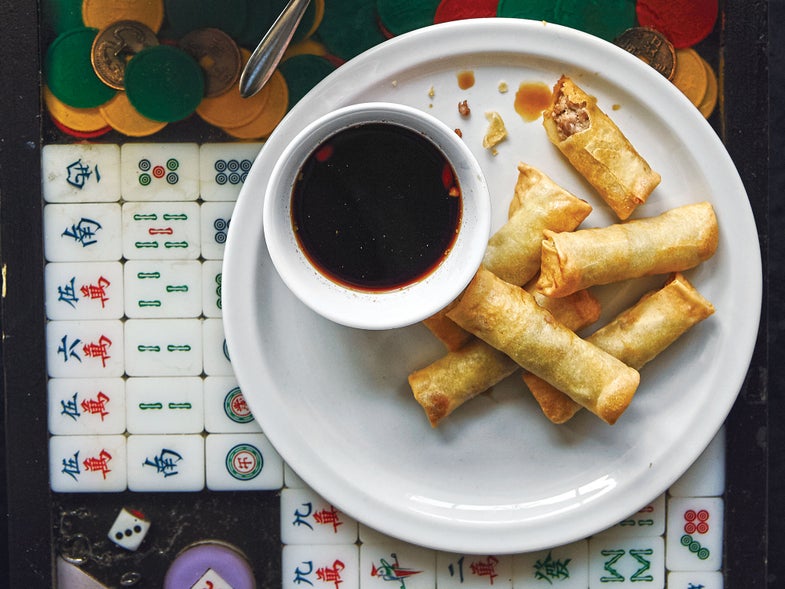 Best known in their deep-fried iteration, lumpia often crackle beneath the teeth. But not always; some come wrapped in fresh egg crepes, while others are wrapper-less. Connoisseurs pine for a version made with shrimp, pork, and shredded coconut palm. The freshly fried version is a marvel, the wrapper crisp, the filling's texture delicate and yielding. Instead of the common sweet-sour dipping sauce, chef Dale Talde opts for the condiment he used growing up—a mixture of vinegar and soy sauce spiked with raw garlic and fiery chiles—which he likens to the salt and pepper of Filipino food.
Featured in: Dale Talde Would Like to Show You the Manila of the Midwest
Deep-Fried Pork Spring Rolls (Lumpia)
Crisp spring rolls with a pungent dipping sauce.
Yield:
makes about 2 dozen
Time: 45 minutes
For the rolls
1 lb. ground pork
1⁄2 cup minced yellow onion
1⁄2 cup minced carrot
3 garlic cloves, minced
1 1⁄2 tsp. kosher salt, plus more
1⁄4 tsp. freshly ground black pepper
1 14-oz. package 6-inch square spring roll wrappers, preferably TYJ brand
1 large egg, lightly beaten, for egg wash
Vegetable oil for frying
For the dipping sauce
1 cup white vinegar
1⁄4 cup soy sauce
2 tbsp. sugar
3⁄4 tsp. black peppercorns
2 garlic cloves, minced
2 red Thai chiles, stemmed and thinly sliced
Instructions
In a medium bowl, combine the pork with the onion, carrot, garlic, salt, and pepper and mix with your hands until evenly combined. Position 1 spring roll wrapper in front of you like a diamond (so that a point is facing you), and place 1 tablespoon of filling on the diamond's bottom half. Lift the point nearest you and wrap it around the filling. Fold the east and west corners in toward the center, brush the north tip with some of the beaten egg, and continue rolling into a tight cylinder. Transfer to a parchment paper—lined baking sheet and repeat with the remaining wrappers and filling.
Make the dipping sauce: In a small jar, combine the vinegar, soy sauce, sugar, peppercorns, garlic, and chiles. Shake to mix.
Pour oil to a depth of 2 inches in a 6-quart Dutch oven, attach a deep-fry thermometer to the side of the pan, and heat to 350°. Working in batches, add the spring rolls to the oil and fry until golden brown and the filling is cooked, about 8 minutes. Using a slotted spoon, transfer the lumpia to paper towels to drain. Season with salt and serve while hot with the garlic-chile vinegar sauce.