Philippine Vinegar-Braised Greens (Kangkong Adobo)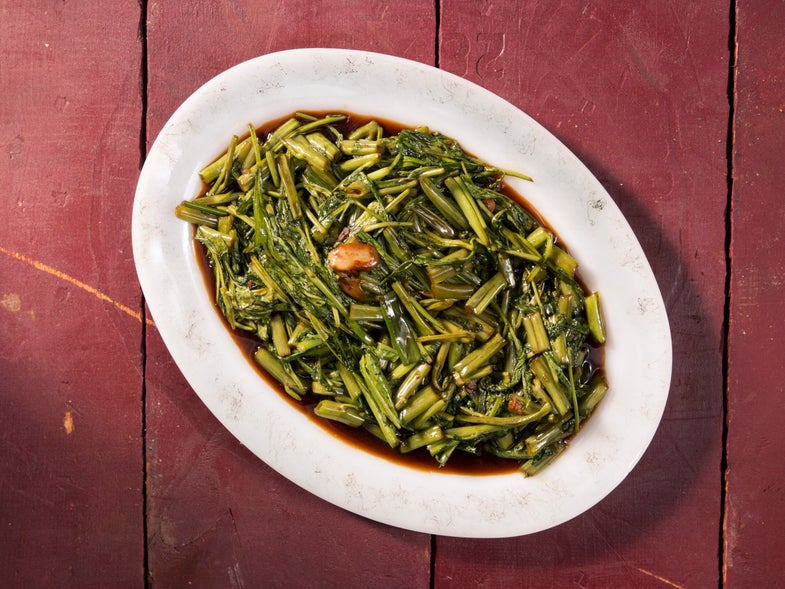 "Filipinos love anything with adobo sauce, and kangkong is one of my favorite vegetables to eat." – Leah Cohen of Pig & Khao
Featured in: A Feast for Filipinos
Philippine Vinegar-Braised Greens (Kangkong Adobo)
Morning glory, or water spinach is popular in Filipino cooking, here it's braised with vinegar, soy sauce, and coconut milk in a traditional preparation.
Time: 30 minutes
Ingredients
1 cup soy sauce
2⁄3 cup coconut milk
1⁄3 cup coconut vinegar
1⁄4 cup canola oil
2 tbsp. sugar
1 tsp. freshly ground black pepper
3 bay leaves, finely ground
5 cloves garlic (2 smashed, 3 thinly sliced)
1 bunch morning glory or spinach, cut into 1-inch pieces
Instructions
Combine soy sauce, coconut milk, vinegar, 1 tbsp. oil, sugar, pepper, bay leaf powder, smashed garlic, and 2⁄3 cup water in a small saucepan over high; boil, then reduce heat to a simmer and cook 20 minutes. Cool.
Heat remaining oil in a wok over high; cook sliced garlic until golden, 1 minute. Add morning glory stems and cook 2 minutes. Add reserved sauce and morning glory leaves and cook until the leaves wilt, 1 minute more.