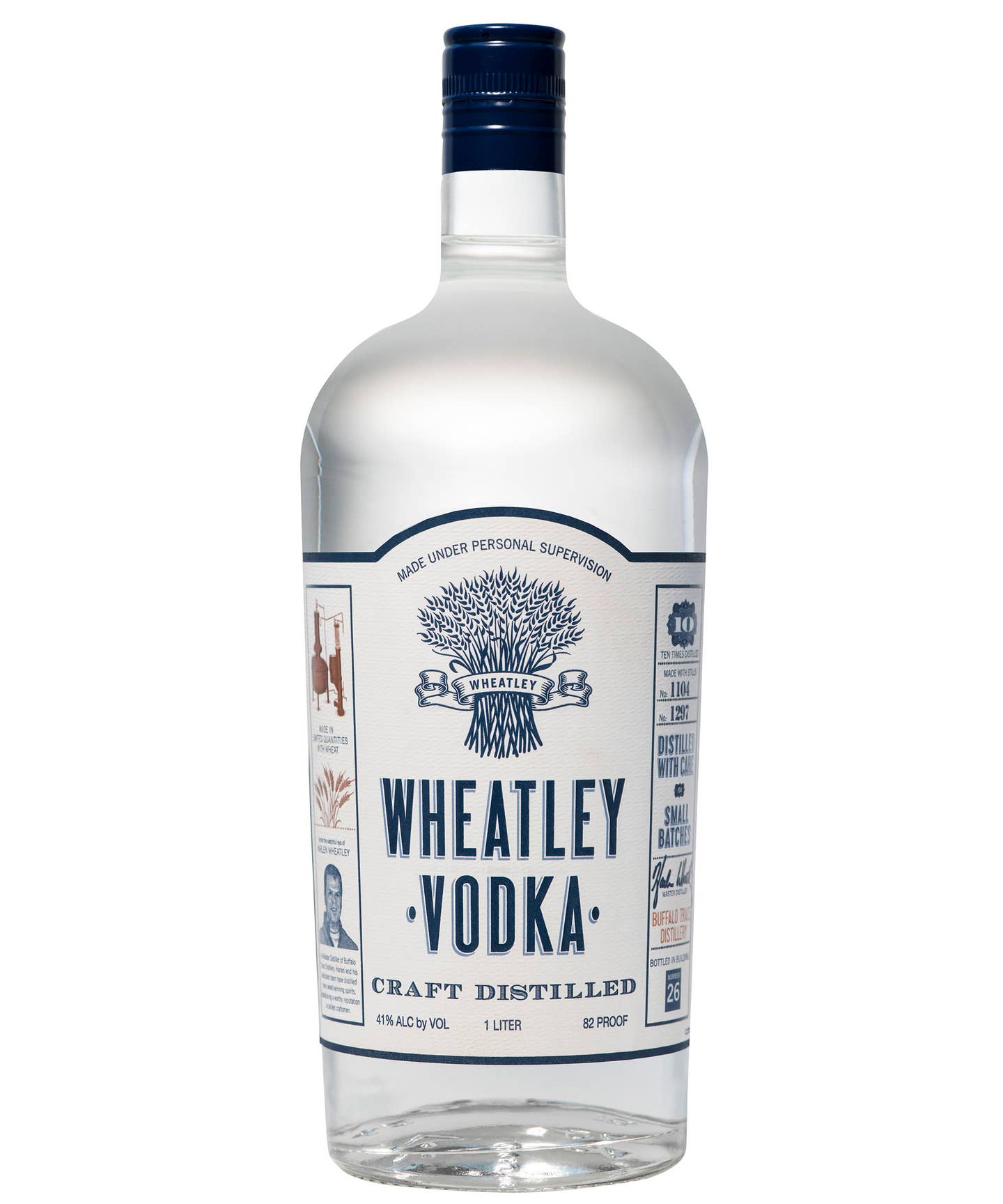 Drinks
The Van Winkle Family Would Like You to Try This Vodka
Kentucky vodka worth seeking out? Yes, actually—and some local caviar to go with it, too
"I told Harlen that I'm gonna make him vodka-famous someday!"
"Harlen" is Buffalo Trace Distillery's master distiller, Harlen Wheatley. The person who wants to make him "vodka-famous" is none other than Julian Van Winkle, III, who selects and oversees the barrels of bourbon destined to receive the coveted Van Winkle moniker. (In case you don't know, "Pappy" Van Winkle was Van Winkle III's grandfather.)
Julian Van Winkle, bourbon icon, is talking about vodka?
This conversation came about when I ran into Julian at our local liquor store in Louisville. He was picking up a special order of gourmet tonic water to mix with Wheatley Vodka. Even though I appreciated that it was perfectly appropriate white-spirits-and-tonic season given it was 90 degrees outside with corresponding humidity, I raised an eyebrow. Julian Van Winkle is drinking vodka?
In response, he shared a glowing tribute to Wheatley's clear spirit. It is made in a custom-designed still (there's a drawing of it on the bottle label). It is based on wheat (had to be given the distiller's name). And it is distilled 10 times and triple-filtered (for exceptional smoothness).
A crisp, frosty shot of Wheatley Vodka, bottled at 82 proof, has a telltale sweet note right at the very end of the finish. Not sugary, mind. Just a sweet tap like you would get from a very fine, smooth bourbon. The mash bill contains "other grains," which no doubt include corn. This is bourbon country, after all.
Kentucky vodka. So, what's next, Kentucky caviar? As a matter of fact, yes.
Tucked away in the riverside Portland neighborhood of west Louisville is Shuckman's Fish Co. & Smokery. It just happens to have a Van Winkle connection, too, since proprietor Louis Shuckman uses barrels in which Pappy Van Winkle bourbon was aged to smoke the company's trout. Shuckman's also processes and sells Kentucky Spoonfish Caviar.
Do not scoff at the notion of Kentucky caviar. Such renowned chefs as Chicago's Rick Bayless, Atlanta's Ford Fry, and New York's Wylie Dufresne have all served it in their restaurants. (Though, to date, Dufresne has not used it in his new Brooklyn doughnut shop.) The eggs are harvested from Kentucky farm-raised paddlefish, an ancient species that is related to sturgeon (the traditional source of caviar) and native to the Mississippi and Ohio Valley river basins. It is also known as the spoonfish, for its prodigiously prominent flat snout.
I mentioned to Julian that Wheatley Vodka would be a natural accompaniment to paddlefish caviar and he was enthusiastic. After all, the tiny black caviar spheres, coming from a freshwater fish, are not the salt bombs other domestic caviars can be. In fact, they're rather mild, but not bland. Julian provided a further insight into a prominent chef's creativity: "Sean Brock likes to serve it [paddlefish caviar] with hot chicken."
Admittedly, there is not a long tradition of caviar consumption in the Bluegrass State. Unless you count pimento cheese, also known as "the caviar of the South," or the black-eyed pea salad sometimes called "Texas caviar." Vodka certainly doesn't enjoy the pride of place allotted to bourbon. But with some 40 recently opened craft distilleries in the state, vodka, which does not have to be aged like bourbon, is providing cash flow for the start-ups while they wait for their whiskey to mature.
Meanwhile, the best news about this rather unlikely Kentucky combination is that it can be described as an affordable luxury. Search the internet and you will find premium Russian beluga caviar, straight from the Caspian Sea, for about $150 an ounce. But you can visit Shuckman's Fish Co. & Smokery's website and find the far less costly, but still indulgent, Kentucky Spoonfish Caviar. It's about $30 an ounce and sold in two- and four-ounce tins.
Wheatley Vodka, which is pretty widely distributed and far easier to obtain than Julian Van Winkle's eponymous whiskeys, sells for about $20 for a 750 mL bottle.