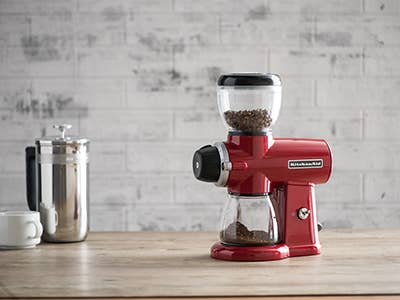 Drinks
Changes Brewing
The KitchenAid Craft Coffee line is a complete range of home brewing options for coffee lovers
This article originally appeared in issue #7 of Roadbelly Magazine and is brought to you by our sponsor, KitchenAid.
If we play a little word-association game, and I say "KitchenAid," I think I know what you'll come up with.
Big company. Shiny mixers. In all pretty colors.
All of which are appropriate responses, but that's just a small part of the picture.
There's something you should know about KitchenAid: Mixers and blenders may remain their calling card, but in the past couple years, they've gotten serious about coffee. Really serious.
"It's always been KitchenAid mixers, right? That's what people know us for," says John McConnell, senior design manager for KitchenAid smalls. "It's only relatively recently, like the last few years, that the business decided to go-full bore with craft coffee."
Inspired by the recent American renaissance of craft coffee houses, the KitchenAid design team looked to time-tested manual brewing methods and set about infusing them with thoroughly modern engineering and the well-loved, distinctly American aesthetics of KitchenAid design.
The result is the KitchenAid Craft Coffee line of products, which includes the Pour Over Coffee Brewer, Siphon Coffee Brewer, Precision Press Coffee Maker, the Burr Grinder, and a few products that will arrive later this year: These brewers join the KitchenAid Pro Line Espresso Maker to create a complete range of home brewing options for craft coffee lovers.
To create KitchenAid's new line of craft coffee brewers, the KitchenAid design team for the project consulted with top baristas and brewing experts from deep inside the coffee industry. But perhaps more importantly, says KitchenAid product designer Brandon Mock, the team came to terms with and embraced the opinionated coffee junkies that were lurking inside each of them.
"We're all coffee people [here]," Brandon says. "I think we thought about good coffee before, but just not in terms of automated machines, and the kind of technicality that goes into reproducing manual processes in a home automated machine. So getting down to that level of technicality in terms of exact temperatures and stuff like that — it was really cool for all of us to dive into it."
"What's cool with our group is we all kind of have our individual projects, but we're kinda like a family because there's only eight of us," John McConnell adds. "So everyone that's back here has had their hands in the process at some point. We have big tea drinkers, big French press users — but you know, we all have our different little nuances. And during critiques it's very interesting. Everyone has their own take on it."
The KitchenAid Pour Over Coffee Brewer, which retails for around $180, is the brewer that may make the biggest mark among home coffee drinkers; the machine faithfully replicates the loving hand-pour of an experienced barista to capture the rich freshness of a pour-over brew inside a compact, automated package.
Let's look at KitchenAid's craft coffee brewers a little closer, namely the Pour Over Brewer.
In creating the Pour Over Coffee Brewer, KitchenAid designers had to marry aesthetic design and engineering from the moment of conception in order to create a countertop machine that addresses the various problems — like water temperature issues and inconsistent water saturation — that plague low-end automatic drip brewers and create your typical, sad cup of dorm-room drip coffee.
To that end, they carefully designed the Pour Over Coffee Brewer's water hosing system with special attention to heat retention, and created a showerhead-style sprayer for the brew basket that mimics the pattern of the manual pour over process, completely saturating and agitating the grounds with water throughout the brewing cycle.
"[We're] automating some of the processes that normally leave room for human error," says Brandon Mock. "I think the overarching theme is taking authentic coffee house brew methods and trying to remove some of the uncertainty and increase repeatability, so that people can make a barista quality cup at home."
To find out whether their final designs stayed true to the craft processes that inspired their work, the KitchenAid team submitted the Pour Over Coffee Brewer for consideration by two of the very toughest grading organizations in craft coffee: The Specialty Coffee Association of America (SCAA) and the European Coffee Brewing Centre (ECBC). The result was an endorsement from both, a difficult feat to achieve by any estimation in the coffee industry.
"If you can achieve those [endorsements], you know you're making some serious coffee," says John McConnell. "And in our first pass of the Pour Over Coffee Brewer, we got both of 'em. I'm not gonna lie: it was kind of a cool win for us."
Like craft beer, craft coffee is having a bit of a moment, with local specialty roasters and retailers cropping up in local markets both large and small. But while the craft beer revolution has been fueled as much by avid home brewers and their under-the-radar brewing clubs as it has by bars and microbreweries, most people still think they have to truck out to the local coffee shop to get a real taste of craft coffee. KitchenAid hopes to address that disconnect with their line of craft coffee brewers for the home.
"Granted, you can bring a whole group of people out to the cafe if you want, but it's about gathering people around your kitchen and making it a conversation place," says Brandon. "You could probably make the argument of cost over years of buying coffee, that this will save you money, but to us it's really about bringing craft coffee to people and having them share it in their home space.
To their credit, the KitchenAid design team aren't interested in acting like they're the only game in town, or that they came along and invented this market. They're just happy, as fellow coffee nerds, to get the signal that people are finally interested in drinking better coffee at home.
"I think there's already a huge culture behind [these products]," says Brandon. "If anything, we're just fitting in with the trend. We're seeing now that people aren't afraid to nerd out. They want to be a part of that process, and to a degree they want to understand how they can change things to make them better or different."
"The fact that good coffee is more prevalent now, like craft beer — once people are exposed to it, there's kind of no turning back," he adds. "Once they know what good coffee tastes like, they kind of wonder what they've been doing all these years."
This article originally appeared in issue #7 of Roadbelly Magazine and is brought to you by our sponsor, KitchenAid.