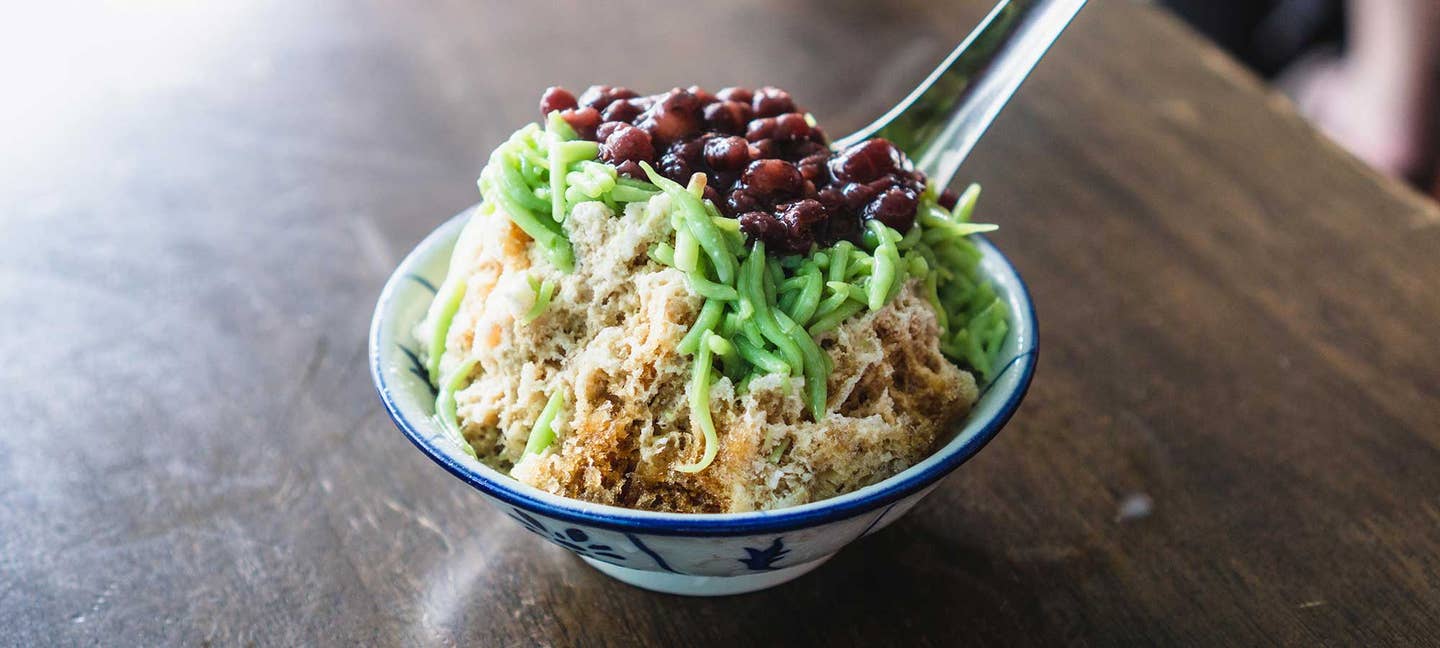 Recipes
Cendol Is the Signature Sweet of Malaysia
Often misattributed to its neighbors throughout Southeast Asia, the origins of this shaved ice and coconut milk dessert are distinctly Malaysian
If you travel to Malaysia—and many parts of the Malay Archipelago—you'll be sure to find someone serving cendol. Despite being little known outside of Southeast Asia, it's an icon in the region, made from a mound of coarsely shaved ice topped with neon green squiggles of pandan jelly and drizzled with coconut milk and palm sugar. Cendol (sometimes spelled chendol or chendul) is commonly sold under the faded parasols of pushcart vendors parked at bustling intersections, under the rickety roofs of ramshackle restaurants, and at the many unfussy hawker centers around Malaysia, always providing an icy respite from the tropical heat.
Due to the limited recordings of food history in Southeast Asia, though, the true origins of cendol can be a little contentious. While the earliest mention of cendol was found in a piece of Malaysian text—a 1932 article from the Malaysian newspaper Saudara—the dessert has gone by many other regional names. Indonesians, for one, have claimed that cendol is really a spin-off of their dawet, a drink made from the same ingredients as cendol, but without the shaved ice. Then there's Thai lot chong and Burmese mont lat saung, both of which are dessert-style drinks with the same constituent ingredients. With or without the shaved ice, the coconut milk is always fresh, the palm sugar is thick and dark like molasses, and most crucially, the little strings of rice-flour jelly are tinged electric green by pandan, a leafy Southeast Asian shrub with a nutty, grassy flavor.
But it's not just Southeast Asians taking sides on cendol; in 2018, CNN added their voice to the fray with their "50 of the World's Best Desserts" list. They attributed cendol to Singapore, though even with the country's distinguishing scoop of sweetened red bean paste, the flavor and variety of cendol in Singapore pales in comparison with that of its neighbors. It's turned cendol into something of the "Henry Golding of desserts"—sweet, humble, born in Malaysia, but thanks to mass media, often misconstrued as being from Singapore. (Golding's breakout role was playing the hunky Singaporean Nick Young in Crazy Rich Asians.)
Some believe cendol to have been invented at Malaysian ports, coinciding with the rise of commercial refrigeration in the early 20th century. In British-ruled Malaya (the country's name pre-independence), leftover ice used for refrigerating cargo in the trade ships would be broken down and shaved into snow, serving as the base for a variety of drinks and desserts—some of which became the cendol we know today. In 2013, Malaysia's own Department of National Heritage classified cendol as an "Intangible Heritage Object", further cementing its place in the country's history.
Though the squabbles about cendol's true origins will probably never come to a close, it's safe to say that the dessert is cherished in all its various homes. In the pockets of Chinese diaspora dotted throughout the archipelago, cendol is served icy and heaped high with adzuki beans and green pandan jellies. In Malay and Indian versions, the palm sugar tends to be sweeter, and the coconut milk richer, lending an aromatic, almost savory quality to the dessert. You'll find some cendol topped with creamed corn, jackfruit, or pulut (glutinous rice), or with tapioca pearls folded into the ice, while others are served with the funky, pungent flesh of the durian fruit.
In the port cities of Penang and Malacca, where cendol allegedly first spawned, it isn't just a dessert—it's become a way of life, with businesses like Penang Road Famous Teochew Chendul that have served hordes of sea traders and tourists since the 1930s. So despite cendol's many names, and despite the chagrin and contention the dessert has managed to draw, one thing's for sure—it's not going anywhere.