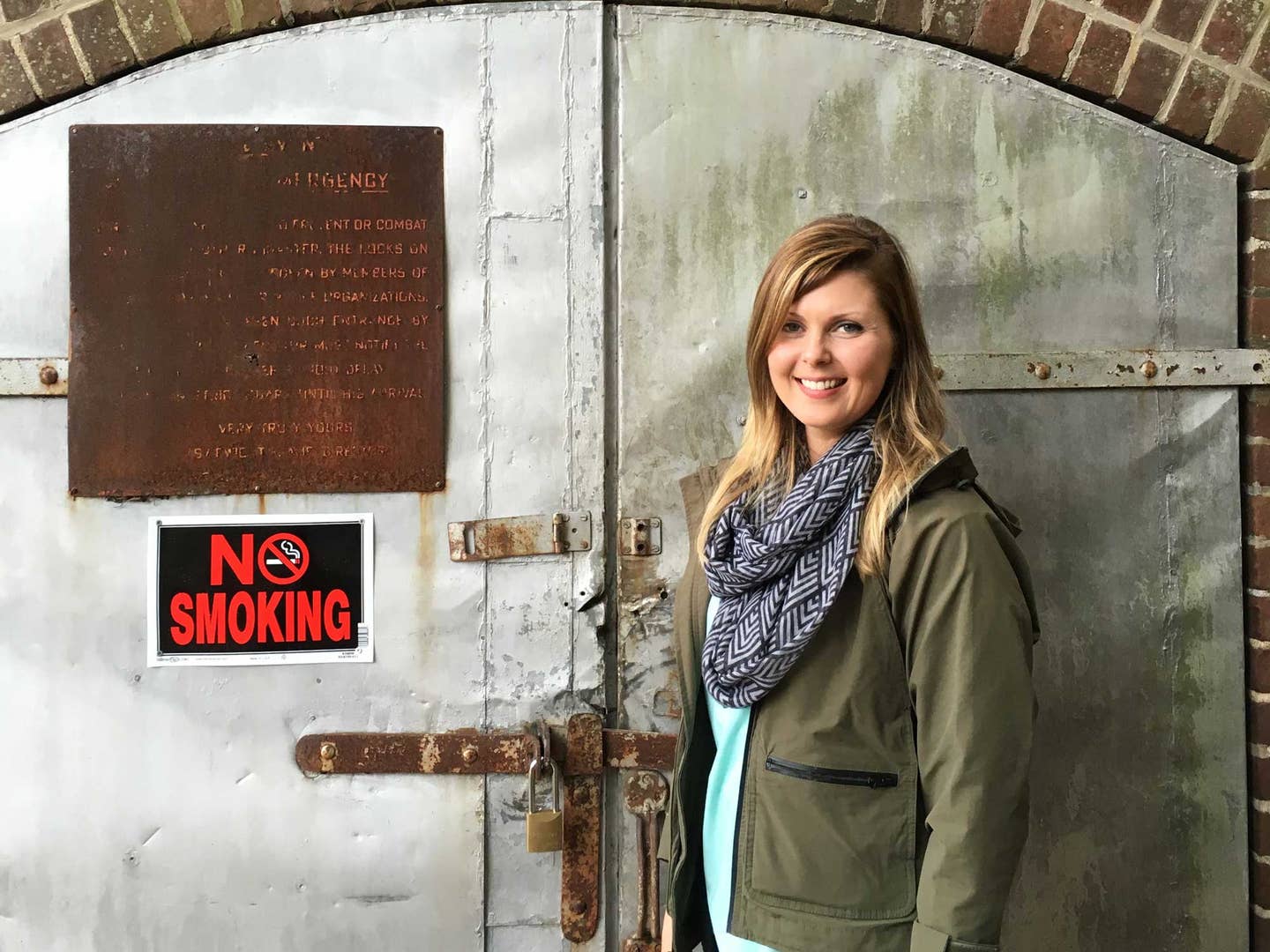 Drinks
Meet Kentucky's First Female Master Distiller Since Prohibition
Marianne Barnes, a 28-year-old vegan bookworm, is making history inside a crumbling old distillery
In Louisville, even pizzerias are blessed with a deep bourbon list, and on a recent Friday night I'm negotiating the 105 names printed on the menu in front of me. The print is small, and I am torn between Stagg Jr. barrel-strength and Willett Pot Still Reserve. I am also very confused about my choices. A 28-year-old vegan named Marianne Barnes sitting across from me is not. After a quick glance at the roster of brown she orders a couple fingers of Aberlour A'bunadh Scotch, which amuses given that we are sitting at the buckle of America's bourbon belt.
But Barnes, a blonde bookworm with a toned build that hints of a passion for jiu jitsu, is not your average drinker. She's also not your average thinker, admitted to Duke University in the 4th grade (she politely declined), she's overachieved many times over during her life. As a chemical engineering undergraduate at the University of Louisville, she stumbled upon the region's sacred craft: distilling. In short order she secured a highly selective co-op with Brown-Forman—the company behind Woodford Reserve, Old Forester and Jack Daniels—and was placed in the storied research and development lab, working under the watchful eye of Woodford's master distiller Chris Morris. And she is now Kentucky's first female master distiller since Prohibition.
Which leads back to that glass of Aberlour she's inspecting at the table. "I've never tried this one, but it's good for research," she says sniffing the amber liquid before taking a pull. While working as a master taster at Woodford, the title Barnes elevated to during her nearly five years with the company, the role primarily was to look inward—days spent sampling barrels samples and taking notes. Essentially, keepings eyes on the home supply. To some, it was the ultimate job. Working for one of the most prestigious brands in the business, and under the godlike Morris—all with an eventual path to the top. But all of that abruptly ended last year when Barnes announced she was exiting to launch a brand new bourbon—called Castle & Key—at the decaying 83-acre Old Taylor Distillery located outside of Frankfort, a historical site that had been out of commission since 1972.
"It was a huge risk, an absolute huge risk," says Fred Minnick, a respected spirits journalist and author of several books, including Whiskey Women: The Untold Story of How Women Saved Bourbon, Scotch, and Irish Whiskey. Minnick, like many in the clubby spirits industry, has followed Barnes through her years at Brown-Forman. He describes the company as "rolling out the red carpet" for its young talent, all pointing with a trajectory towards the top. He says the risk wasn't only in leaving a steady, if not slightly cushy—in the world of hard hats and protective eyewear—job. But also in Barnes taking on the heady Master Distiller title, which is essential for a brand's marketing and promotion purposes. "There are a lot of people watching her to see how it's going to go, and I venture to say some people want to see her fail," he says flatly. "But I would say that mostly people want to see her succeed. The bourbon world is very supportive of Marianne, and I know many people who have gone out there to help her out. She's earned her place where she is."
Andrea Wilson is the general manager at Michter's, America's first whiskey company, with over 25 years of experience in the bottle business. She points out that if you look around the landscape of distilling, it's a job many at the top hold on for many years, if not decades, pointing to Jim Rutledge of Four Roses and Jimmy Russell at Wild Turkey. "You just don't send in an application for those jobs," she says adding that early on it's critical for the young distillery employee to know what you want to go after. "Marianne knows what she wants, and it takes a lot of courage to walk away from something to embrace that. It's a journey for her."
Before meeting up with Marianne, I hit the streets of Louisville to see what others in the industry thought of her ascension into history. "People like her, it's that simple," says Corky Taylor, chairman of Peerless Distilling Company, a family company that, like Old Taylor, is in the process of re-launching in downtown Louisville. "Marianne is really educated and worked at the brightest and the best."
I ask Louisville farmer and restaurateur Ivor Chodkowski what it means to have a woman in charge of a major distillery in Kentucky for the first time in decades. "Bourbon is about storytelling, and the better story you have, the better off you are," he says. Chodkowski runs the restaurant Harvest with two other partners, in addition to Field Day Family Farm located twenty minutes outside of town. As a farmer, business owner, podcaster and community activist, Chodkowski always has his ear close to the earth. "Having a young woman being a master distiller, that's a great story."
Our story here continues the next day inside the rusted gates of the Old Taylor Distillery, where Barnes is wrapping up a special behind-the-scenes tour with a group called the Bourbon Mafia, middle aged men with wiseguy-emblazoned polos and a thirst for the brown (we were fast friends). After the Bonannos of bourbon depart, Barnes walks me around the grounds for a quick tour. I find out that the distillery was built in 1887 by Col. E.H. Taylor, a decade-long mayor of Frankfort, grand nephew of 12th President Zach and a kind of Steve Jobs figure of the age—both marketing master and innovator. He was the first to put his signature on the bottles, and helped pass the Bottled-in-Bond Act, a law that required distillers to state the contents of their bottles and follow guidelines that helped root out widespread adulteration.
While Col. Taylor owned a couple distilleries, the grounds we are walking on was his showpiece, featuring ornate gardens, the world's longest aging rackhouse (heated with steam and the size of nearly two football fields with a capacity of an astonishing 31,000 barrels) and a limestone castle at its gate that still stands today, some 40 years since the last bottle rolled off an assembly line. Taylor famously described his rackhouse as the "most perfect warehouse erected for bourbon." (Also, a quick point of clarification: the Old Taylor brand might sound familiar, which make sense because you can buy bottles of Old Taylor today. It's modestly priced bourbon produced by Buffalo Trace, which operates independently from Barnes.)
And here we are, walking around this crumply place, which will open to the public later this summer, first releasing gin (scheduled to hit shelves this June and featuring Kentucky botanicals like wild juniper), then rye, wheated, and malt whiskey by 2020. A 24-inch Vendome Column Still, 17-inch Vendome Vodka Still, and 375-gallon doubler were all installed last fall (via crane) and Barnes has been busy working on smaller scale distillations in an effort to formulate a recipe.
Barnes takes me to her lab, showing off a bag of "experimental" corn sent to her by the University of Kentucky. There's a miniature desktop facsimile of mash boilers and a bag of wood chips to replicate the aging caused by charred wood barrels. If the company were a new tech venture, you could call this period before production stealth mode—few reporters have been invited into tour the grounds.
"It takes a lot of tasting and training to figure out what flavors should be there," she says, pointing at a row of glassware she uses to create her samples of the base spirit lovingly referred to as white dog or moonshine. "There are a lot of chemical reactions taking place with the yeast strains and the base grains, so it's my job to continue with the testing and testing and testing and tasting."
I ask her how she logs her experiments and she walks over to small table with a stack of papers and picks up a notebook with "001" writing in Sharpie, the first of many to be filled out before she releases her first gin in the spring of 2016, using botanicals grown in the garden. She points to another notebook with the axiom Trust Your Crazy Ideas printed in block letters. "If I think of something, I jot it down, and sometimes the ideas are crazy." But in the game of professional distilling, crazy doesn't mean throwing some corn, rye, and malt in a pot and hoping it all turns out. It's more Dmitri Mendeleev than Miles Davis, and one of Barnes' essential roles during the early experimental phase is figuring out the control, how to test the results and making sure the distillation process is repeatable.
During my time in Louisville, there's a voice in the back of my head that I can't get rid of. It questions if Barnes, though obviously qualified and competent, was hired partially, if not fully, for the buzz factor. An upstart distilling company looking to make a splash by forging some history with a fresh face and easy smile. "It doesn't hurt that she's a good-looking girl," says Corky Taylor, repeating himself a few times during our ten minute talk. Barnes is diplomatic. "I do think that one thing that drew them to me was that I was a woman," she admits with a smile that pretty much never leaves her face during our two days together.
Her partners agree. "She was by far and away the best possible candidate with her training, her abilities, the way she articulates herself," says Will Arvin, a "recovering lawyer" who had dreamed of getting into the distilling game and first saw the Col. Taylor Distillery on a real estate website before mustering up the courage to visit with his wife. "Gender wasn't so much a consideration, but it's not a bad thing," he says, pausing. "Let me rephrase that—it's a really good thing."
Peggy Noe Stevens is the founder of the [Bourbon Women Association])http://bourbonwomen.org/index.php), an organization with the mission of bringing women together to "share our bourbon affinity." Having worked with Woodford Reserve on a consulting level, she's familiar with Barnes rise through the ranks at Brown-Forman. "It is certainly overdue," she says of the history being made. "However, the great quality of Marianne is that she is not focused on being the first; she is focused on making great spirits. She is bright, energetic and technically savvy and has the credentials to run a first-rate facility, no matter the gender."
And true, in the hyper-competitive world of distilling, it's the juice in the bottle that ultimately does the smiling. "At the end of the day, it's not going to matter if she is first female master distiller or not," Minnick explains. "What's going to matter is do people like her whiskey or not, and are people going to a liquor store in Detroit to buy her bourbon, time and time again."