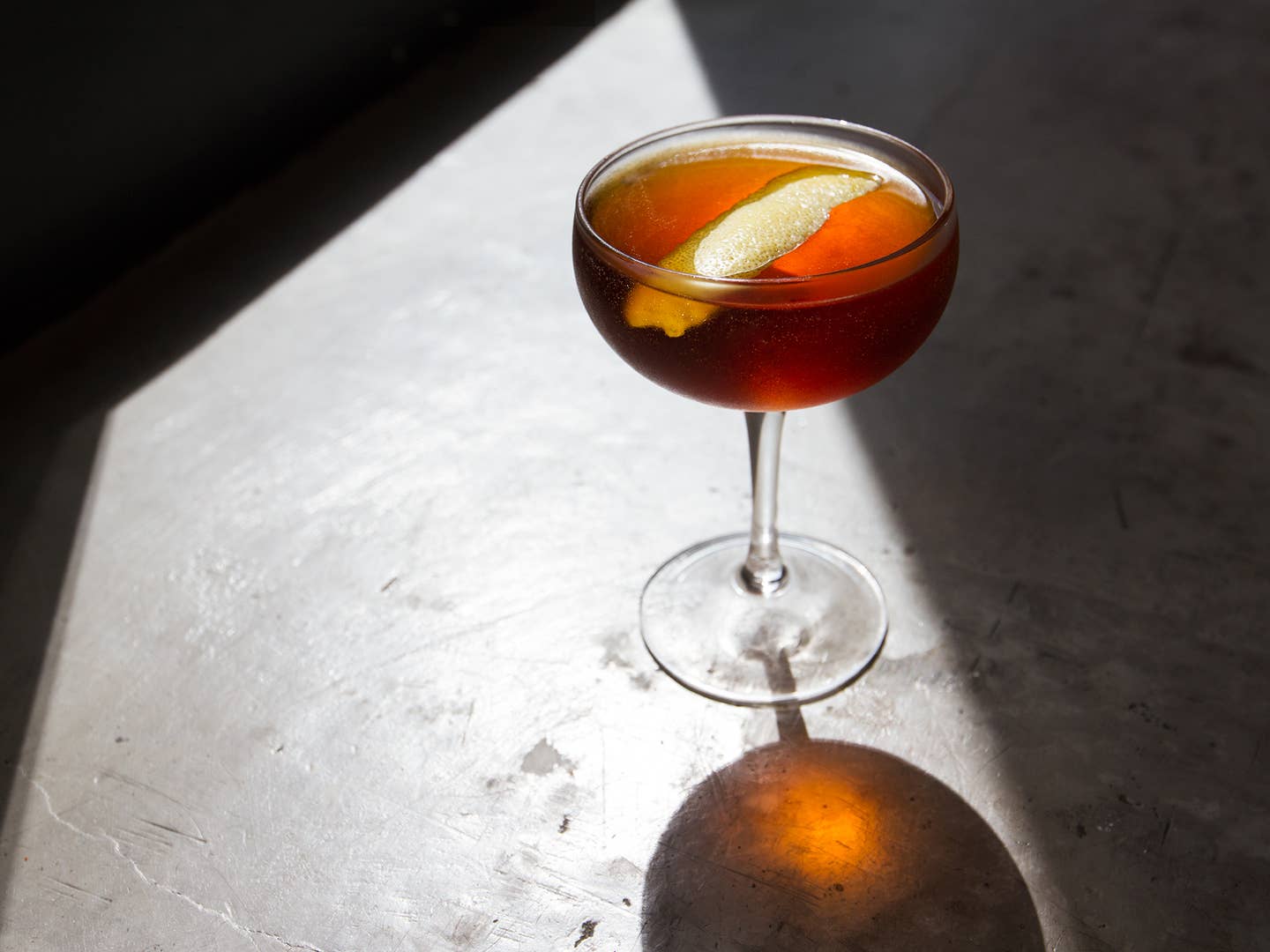 Drinks
The Martinez: The Classic Cocktail that's not a Manhattan or a Martini
A look at the cocktail that defies description
Can a classic cocktail be a classic if there is no consensus on how to make it? In the case of the Martinez cocktail, the answer is unequivocally yes. I travelled to Tales of the Cocktail in New Orleans—the town where cocktails were invented—to examine why and how the Martinez endures.
Steeped in tradition, the Martinez is the evolutionary missing link between the Manhattan and the Martini. So what's in it? I asked cocktail historian and master distiller, Jared Brown, who responded playfully, "the first mention of the Martinez in OH Byron [Modern Bartender's Guide (1884)] gave two recipes, not one."
And so Martinez makers have had to embrace the philosophy of uncertainty that has characterized the life of this enigmatic drink.
You want a better answer? The most recognized version of the classic recipe, as printed in an 1887 revised (and posthumously published) edition of Jerry Thomas' book How To Make Drinks or the Bon Vivant's Companion, substitutes Old Tom Gin for whiskey to create something approximating a gin Manhattan: 1 oz. Old Tom Gin 2 oz. sweet vermouth 2 dashes of maraschino liqueur 1 dash of Boker's Bitters 1 quarter slice of lemon
As the Manhattan begat the Martinez, the Martinez begat the Martini (drop the maraschino liquor, substitute dry vermouth for the sweet variety, swap proportions of gin and vermouth, and you've got the classic). Yet a definitive recipe for the mother of the most popular vermouth and gin-based libation has eluded even the biggest cocktail nerds.
None of the Martinez recipes published since the 1880s agree on the ratio of gin to vermouth: is it 1:1? 1.5:1 gin to vermouth? 2:1 vermouth to gin? Several recipes printed in the early-to-mid 20th century actually call for equal parts gin and dry vermouth.
If the Martinez recipe cannot be pinned down, how should we enjoy the drink? Start by trying some different variations and tailor the cocktail to your personal taste.
"The Martinez is a really personal drink like a Manhattan or Martini," says Jillian Vose, Head Bartender and Bar Manager at the award-winning The Dead Rabbit in Manhattan. "Everyone will have a particular way that they like to drink it. In the case of the Martinez, all the components and how much of each including the modifiers are important. It can be fun to… play with different vermouths and gins. Sure, the more modern version won't taste as it did back in the day, but you can get pretty close if you use your imagination."
With dozens of popular gins on the shelf and a growing number of vermouths, bartenders are taking creative license. So I solicited Martinez cocktail recipes from some "Top Guns" and discovered a variety of unique and sophisticated takes on the classic. At Clover Club, cocktail bar trailblazer Julie Reiner opts for slightly more gin than vermouth, using a traditional Old Tom Gin like Ransom which has a slightly sweeter disposition than a London Dry. Others, like Sipsmith Master Distiller, Jared Brown, prefer a junipery overproof (Navy strength) London Dry in smaller proportion to the vermouth so the drink is strong, but not overpowering. Brown also adds one DROP of absinthe, which, combined with the overproof gin, makes for a "boozier" cocktail. Like Reiner, Jillian Vose uses Old Tom Gin, but her recipe is heavy on the gin, calling for mostly Hayman's (a sweeter variety Old Tom) with a lesser amount of Ransom (which is spicier). Vose adds a teaspoon of Massenez Kirsch cherry brandy as well. Similar to Jared Brown and others, Zach White, Bartender at Fort Defiance in Brooklyn, uses a bit more sweet vermouth with a "stiff" gin like Old Raj. Not a fan of maraschino liquor, White substitutes .5 oz Pierre Ferrand Dry Curaçao (which appears in place of maraschino in some old recipes).
Invariably, when I ask for a Martinez, I am greeted with a smile and a story of how the bartender likes to make it.