Recipes
Caldo de Pollo (Mexican Chicken and Vegetable Soup)
Keep this simple, spiced Pueblan broth on simmer for constant comfort this season.
Serves

serves 8-10

Cook

2 hours 30 minutes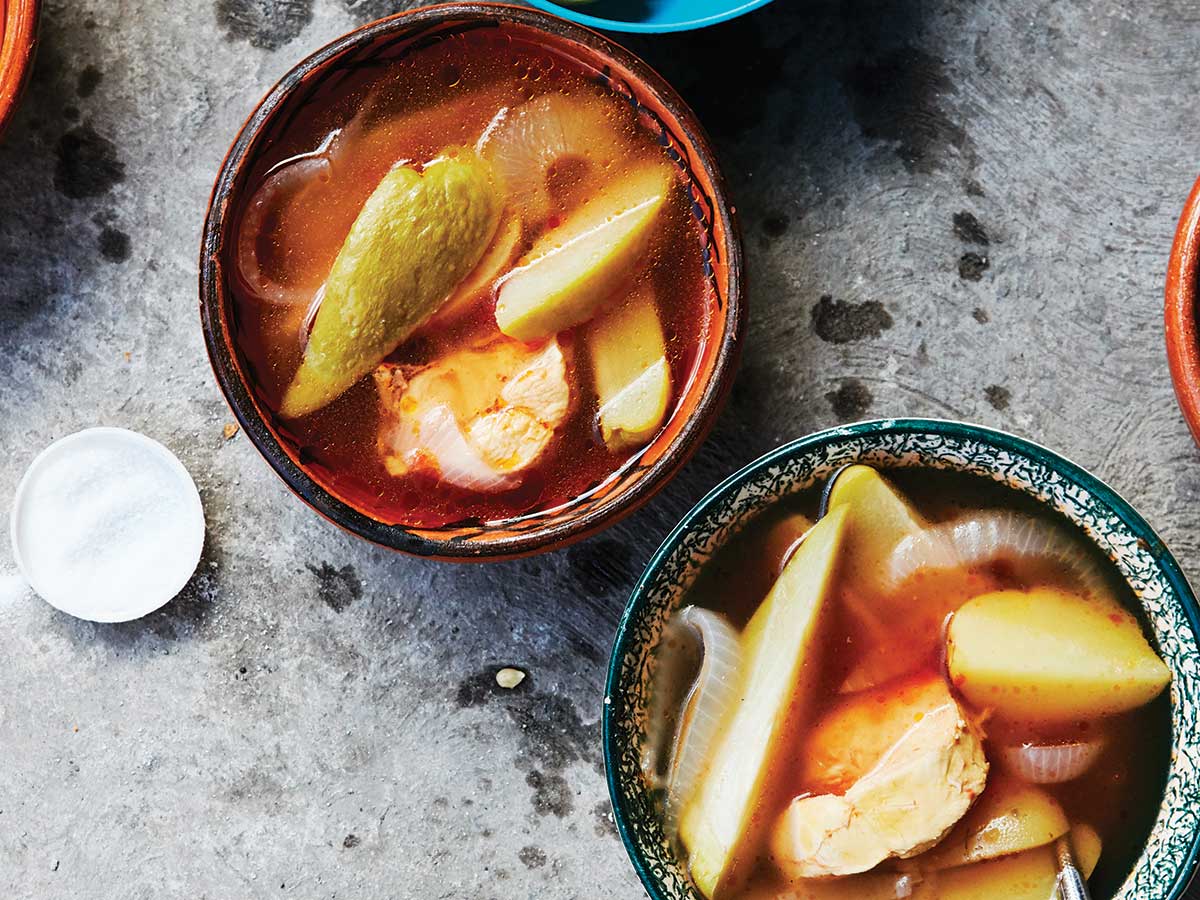 Using a whole chicken contributes to the intensity of this soup from the indigenous Tsotsil Maya of Puebla's Yo'on Ixim, so if sold with the bird, definitely add the backbone, organ meats, and feet to the pot. The mainstay vegetables for this southern Chiapas caldo de pollo is chayote, an edible gourd, as well as tomatoes and onions.
Ingredients
1 large chicken (5 lb.), cut into 10 pieces
8 carrots, peeled and cut into 1-in. chunks
4 chayotes, cut into 1½-in. wedges
8 small red potatoes, quartered
2 medium yellow onions, peeled and sliced
1⁄4 cup kosher salt
4 oz. medium ripe tomatoes, skinned, seeded, and coarsely chopped
2 cups cups trimmed green beans
1 poblano pepper, stemmed, seeded, and cut into 1-in. strips
Fresh cilantro, for serving
Lime wedges, for serving
Corn tortillas, warmed, for serving
Instructions
Step 1
To a large Dutch oven, add the chicken pieces and cover with 6 quarts of cold water. Bring to a boil over high heat, then turn the heat to medium and cook for 20 minutes.
Step 2
Add the carrots, chayote, potatoes, and onions. When the liquid begins to boil, add the salt, tomatoes, green beans, and poblano. When the liquid returns to a boil, turn the heat to medium-low and cook until the vegetables are soft and the chicken is easily pulled from the bone with a fork, 60–70 minutes.
Step 3
To serve, use a slotted spoon to divide the chicken pieces among 8–10 bowls, then ladle over the broth and garnish with the cilantro. Accompany with lime wedges and tortillas.