Scrambled Eggs with Asparagus and Crab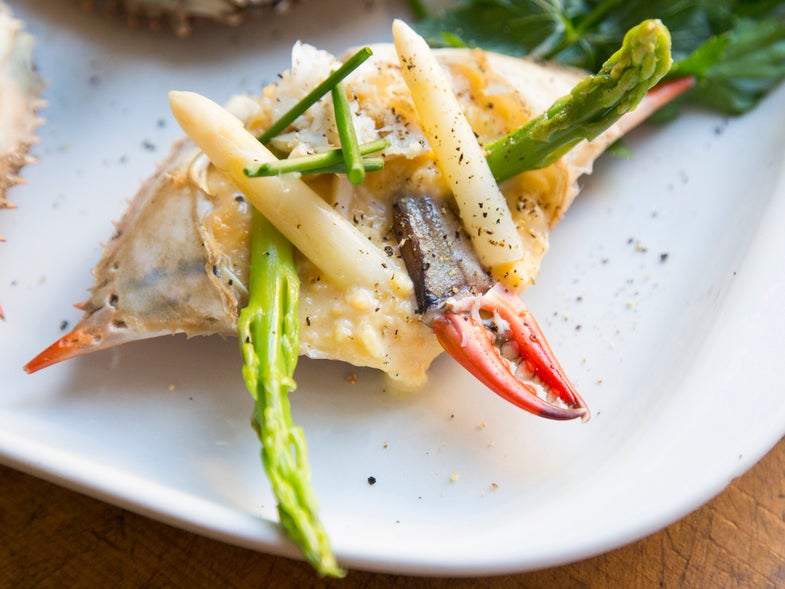 Michel Roux's trick to perfect scrambled eggs is cooking them slowly, and adding asparagus and crab for flavor and textural contrast.
Featured in: Give Your Scrambled Eggs a French Twist
Ingredients
4 medium blue crabs (about 1 lb.), cooked and meat picked form claws and bodies, top shells reserved
1⁄4 cup heavy cream
Kosher salt and freshly ground black pepper
16 medium asparagus spears (preferably a mixture of green and white), peeled and trimmed
6 tbsp. unsalted butter
8 large eggs, lightly beaten
8 chives, cut into 1-inch pieces
Instructions
In a medium bowl, combine the crab body meat with 1 1⁄2 tablespoons cream and season with salt and pepper. Rinse the reserved top shells and set aside on a serving platter.
Bring a pot of lightly salted water to a boil, add the asparagus, and cook until tender, about 3 minutes. Drain and cut into 2-inch pieces.
In a 10-inch skillet, melt butter over medium-low heat. Season the eggs with salt and pepper and cook, stirring constantly, until soft-cooked, 8 to 10 minutes. Pour in the remaining 2 1⁄2 tablespoons cream and stir to combine.
Divide the eggs among the crab shells and top with the asparagus and crab mixture. Garnish the eggs with the crab claw meat and chives before serving.