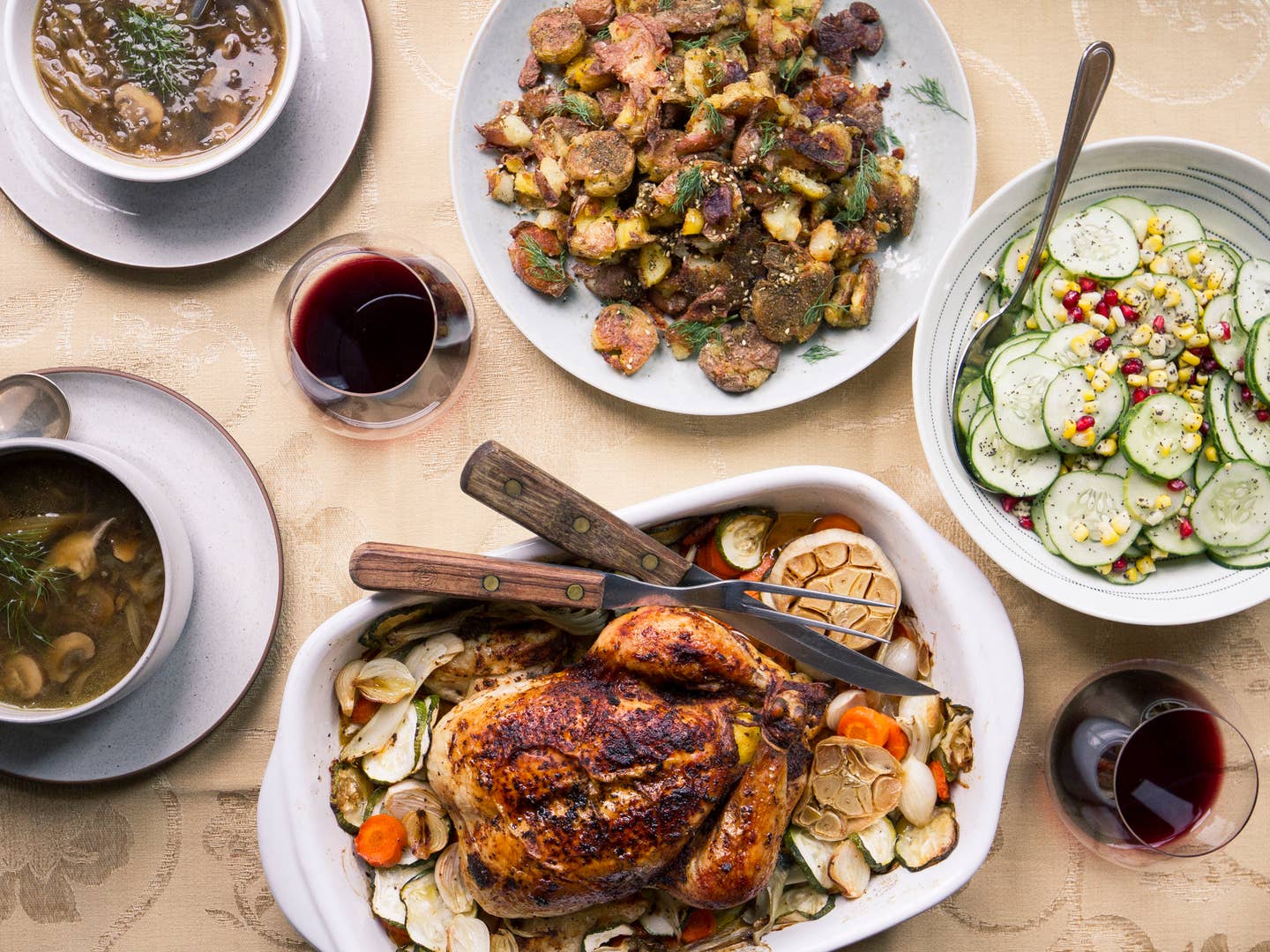 Recipes
A Modern Rosh Hashanah Menu
Cookbook author Kim Kushner brings the Jewish New Year celebration into the new year
"There's so much more to kosher food than pastrami and knishes," Kim Kushner writes in The New Kosher, her newly-released cookbook that seeks to prove that kosher food can be exciting and, above all, modern. With inspiration from her family heritage and travels, Kushner's recipes have a distinct North African and Middle Eastern twist, giving life to a cuisine that can easily fall victim to monotony. Therefore, her menu for Rosh Hashanah, the holiday that celebrates the Jewish New Year, doesn't include challah or apples dipped in honey; instead, she tells you to smash potatoes and roast them with za'atar, and sprinkle pomegranate seed on top of almond granita. And the best part? None of these dishes take more than three hours to make, leaving you plenty of time to recite the kiddush, the blessing over wine, with plenty of wine.
The Morning Of: Cook the corn for the salad, which can be kept in the refrigerator up until you're ready to serve it.

A Few Hours Before: Make the granita and put it in the freezer, stirring the mixture every 30 minutes to scrape the edges and break up any ice chunks as the mixture freezes (this will take about 3 hours). Boil the potatoes for the smashed potatoes. Chop the vegetables for the chicken.

An Hour Before: Put the chicken and potatoes in the oven. Start the soup broth, sautéeing the mushrooms the stock reduces.

When Ready to Eat: Toss the cucumber and corn with the dressing, and let sit while you start the meal with soup. Then, bring all the dishes to the table.

After The Party: Have leftovers? The corn and cucumber salad is delicious over basmati rice for lunch the next day. The chicken can be piled onto sandwiches, thrown over a salad, or made into chicken salad.