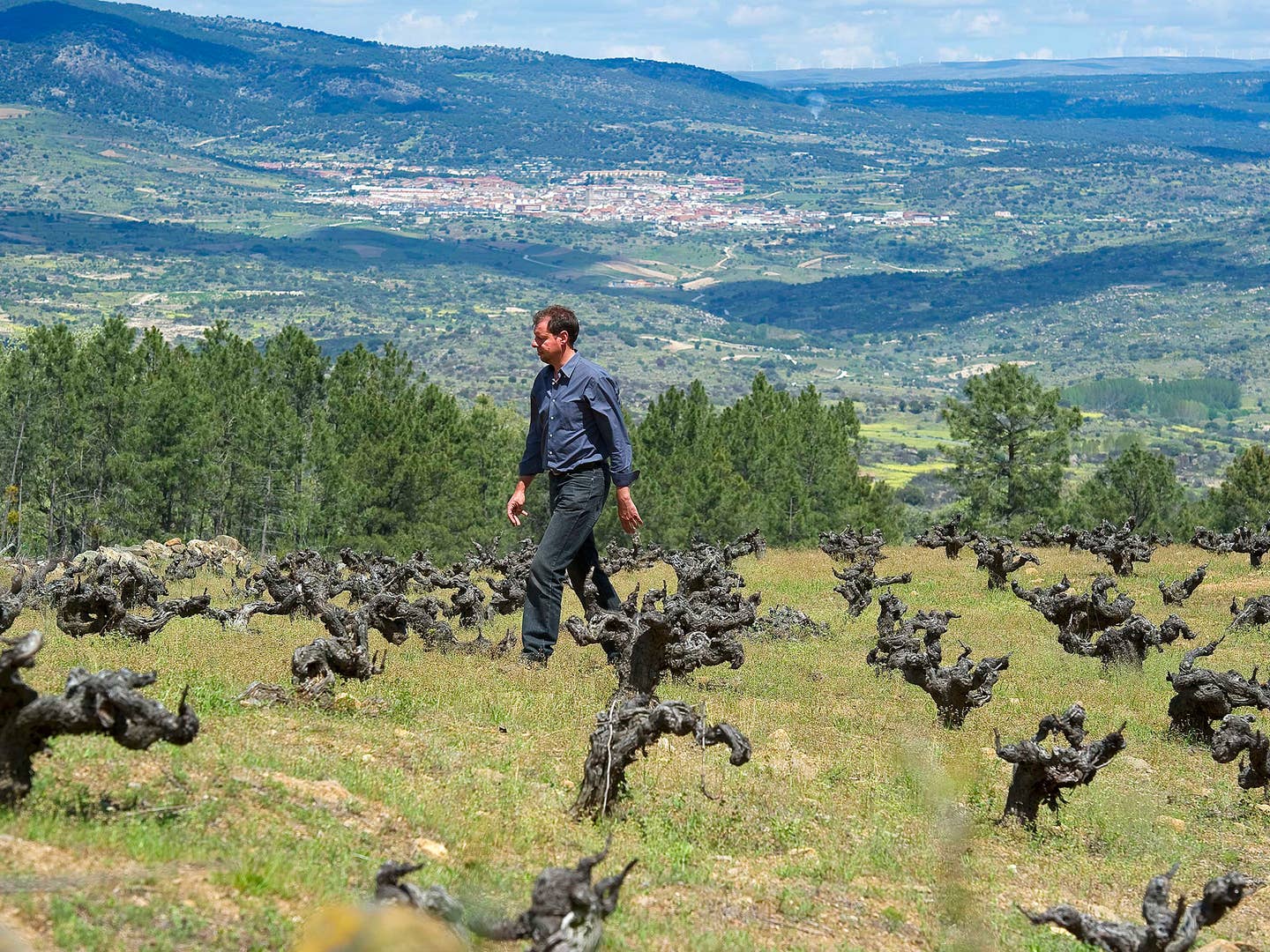 Drinks
Natural Spanish Wine: Meet The New Vanguard
Spain is no longer just a land of fruit and oak. Here are five fresh bottles to try
Natural wine enthusiasts have never looked fondly on Spanish wine. They usually consider the wines of Spain heavy, oaky, and too high in alcohol, and instead prefer the fresh-tasting, organically-produced, terroir-expressive wines you're most likely to find in France, where this sort of wine is so popular it has a name: glou-glou.
But the jammy, heavily-oaked style known in Spain as "alta expresión" was mostly a product of modern winemaking, which Spain dove into headfirst in the post-Franco years, after decades of stagnation. And this trend toward fuller-bodied, high-alcohol wine was also a defense mechanism for Spanish producers who wanted to ensure their share of the global market.
Originally, "our grandfathers [made] natural and artisanal, elegant wines," explained U.S.-based importer of Spanish wines Alvaro de la Viña. They used a wide variety of native grapes, too—not just the Tempranillo and Garnacha we're used to seeing at our local wine shops. Then, phylloxera—a common and devastating pest that destroys vines—hit. "Native grapes were ripped up," said de la Viña, and winemakers planted more marketable grapes, hoping to regain some of their losses.
And so Spain became known for its rich, oaky Garnachas and Tempranillos. But now, partly due to the success of France's natural wines both in Europe and abroad, a generation of younger vintners in Spain has gained the confidence to shrug their shoulders at the mainstream market. This new wave has started producing lively and bright, easy-drinking wines using organically farmed, indigenous varieties that hearken back to Spanish wine's origins.
Here are five natural Spanish winemakers to look out for:
Although this movement toward more natural wines isn't specific to one region in Spain, it does seem to have achieved a certain level of strength in Catalonia, where in 2009, winemakers Laureno Serres and Joan Ramón Escoda founded Productores de Vinos Naturales, an association committed to making natural, unsulfured wines. (Sulfur is often added to stabilize wine, but many drinkers and winemakers believe that when a wine loses its unpredictability, it also becomes less interesting and less flavorful.) Escoda in particular has become well-known as a champion of unsulfured wines among natural wine drinkers and buyers, including Lee Campbell, who manages the wine program at Andrew Tarlow's Brooklyn restaurants.
Campbell first tasted Escoda's wines during a visit to leading natural winemaker and importer Thierry Puzelat, at his home in the Loire Valley. She became increasingly enamored by them, and began seeking them out back in New York. Now, at Diner and Marlow & Sons, Campbell has included Escoda's wines on a list of mostly French bottles. "They're really expressive, beautiful, joyful," said Campbell about Escoda's wines. "Like sunny Mediterranean wines, these are still really natural without being all carbo-ed out," meaning they didn't use carbonic maceration, a technique commonly employed in France to make fruity, low-tannin wine.
Escoda's "Nas del Gegant" ($25) is an unlikely blend of Cabernet Franc, Carignan, Garnacha, and Merlot. It is fermented in concrete, then transferred to stainless steel, and bottled after nine months. The wine emerges smelling lush, smoky, and earthy, almost like rotten plums. On the palate, it is dark-fruited and smooth.
One of the most talked-about producers among this new wave of winemakers is a man in La Rioja known as "Gonzalo Gonzalo," who makes biodynamic, low-sulfur wines from local Tempranillo and Viura grapes. Gonzalo was inspired to go natural by the 120-year-old estate Lopez de Heredia, which has always made their wines without added yeasts or sulfur. Spanish wine had originally been made without pesticides or manipulation, he realized, and could be once again.
Ross Bingham, who founded the Natural Wine Company, a retail shop in Brooklyn, in 2011 and now imports Gonzalo Gonzalo's wines, praised their cleanliness—something not all natural wines are known for. "I have a picky palate," he said. "I'm not into 'dirty wines.'" Out of the 150 Spanish wines he tasted when curating his portfolio over the last few years, he selected only two producers to work with, including Gonzalo.
"Gran Cerdo" ($16) is a Tempranillo fermented in cement vats that Gonzalo installed underground for natural temperature control. He adds no sulfur or artificial yeast, and bottles after just nine months, which results in a pleasant, approachable wine.
Many of these new winemakers have stopped caring so much about receiving the official "Denominación de Origen" (DO) status, which has led to a revival of many lesser-known varietals. Take Massimo Marchiori and Antonella Gerosa, the Italian couple behind Partida Creus, who are making some of the most talked-about wines coming out of Spain. The pair moved to rural Catalonia from Barcelona in 2000, where they noticed abandoned vineyards all over the place. They quickly learned that the locals were more than happy to sell them off.
Aiming to make high-acid, low-alcohol, drinkable wines, Marchiori and Gerosa started out with a red blend of about eight varieties, and a white wine from Vinyater grapes ($25) that were near extinction because they were never accepted by the DO. The latter is an appealing, light lemony color, with white flowers on the nose and palate, and brightness that pairs well alongside seafood. Their wines taste alive, lush, and vibrant, and they are now up to 16 different blends after five years of winemaking and discovering new vineyards.
In Navarra, in northern Spain, Xabi, Mikel, and Iñaki Sanz Larrea have taken over their family winery and started their own label, Zorzal. By using very little new oak and no additives, they are crafting beautiful expressions of Garnacha as well as Graciano, an indigenous variety usually used as a blending grape. Their Graciano ($11) shows crushed raspberry and earth on the nose; the palate displays berries and medium tannins, and a soft but powerful finish.
Unlike most wines of the region, there is not too much extraction here, meaning the wine doesn't burst onto your palate like a fruit bomb—but there is still some juiciness. It's drinkable and affordable and therefore a perfect go-to weeknight option, which is why it's one of the top-sellers at Lower Manhattan's Chambers Street Wines. Ariana Rolich, the Spanish buyer there, loves the Graciano and other "new wave" Spanish wines for their approachability. "These aren't super cool, funky, trendy wines," she said; rather, they "fly off the shelves," which is wine retail speak for "good labeling, correct price point, tasty."
In Gredos, the mountainous appellation west of Madrid, Daniel Ramos has created a group called the Garnachas de Gredos, for winemakers who are focused on organic farming and indigenous varietals, rather than DO status.
Everything Ramos does at his estate, Zerberos, is exciting: he makes a number of unique whites, as well as a Garnacha-based rosé. But the bottle to seek out is his complex yet food-friendly all-Garnacha 2010 "Del Tiemblo" ($44). It strikes a lovely balance: Made from 80-year-old vines in granite and slate soil, the wine displays purity of fruit, winter spices, and a fairly robust, tannic structure; thanks to cool summer nights to balance out the hot days, it is also bright, delicate, and lively.
Sarah Gallagher, who manages the the Spanish wines portfolio for the importer David Bowler, credited Ramos' non-manipulative winemaking style, as well as the mountainous terrain of Gredos, for producing Garnacha that is a far cry from the market-oriented wines that flooded the market in recent decades. "Wine is like language," she said, "some people are honest, frank; some are dishonest, some cover things up."
Most of these producers make fairly limited quantities of wine, and they aren't available everywhere in the country—yet. But these leaders of Spain's natural wine movement are sure to set an example, which younger generations will follow, by proving that there is a market for lighter, fresh, naturally-produced wines made to express the unique and diverse terroir of Spain. Soon, they will need their own translation of glou glou.
Rachel Signer fell in love with wine accidentally while waiting tables in order to support herself while writing a novel, and now she runs around New York City's wine bars and industry tastings, asking annoying questions about sulfur. She also writes about food and sustainability. Keep up with her work on Instagram and Twitter.