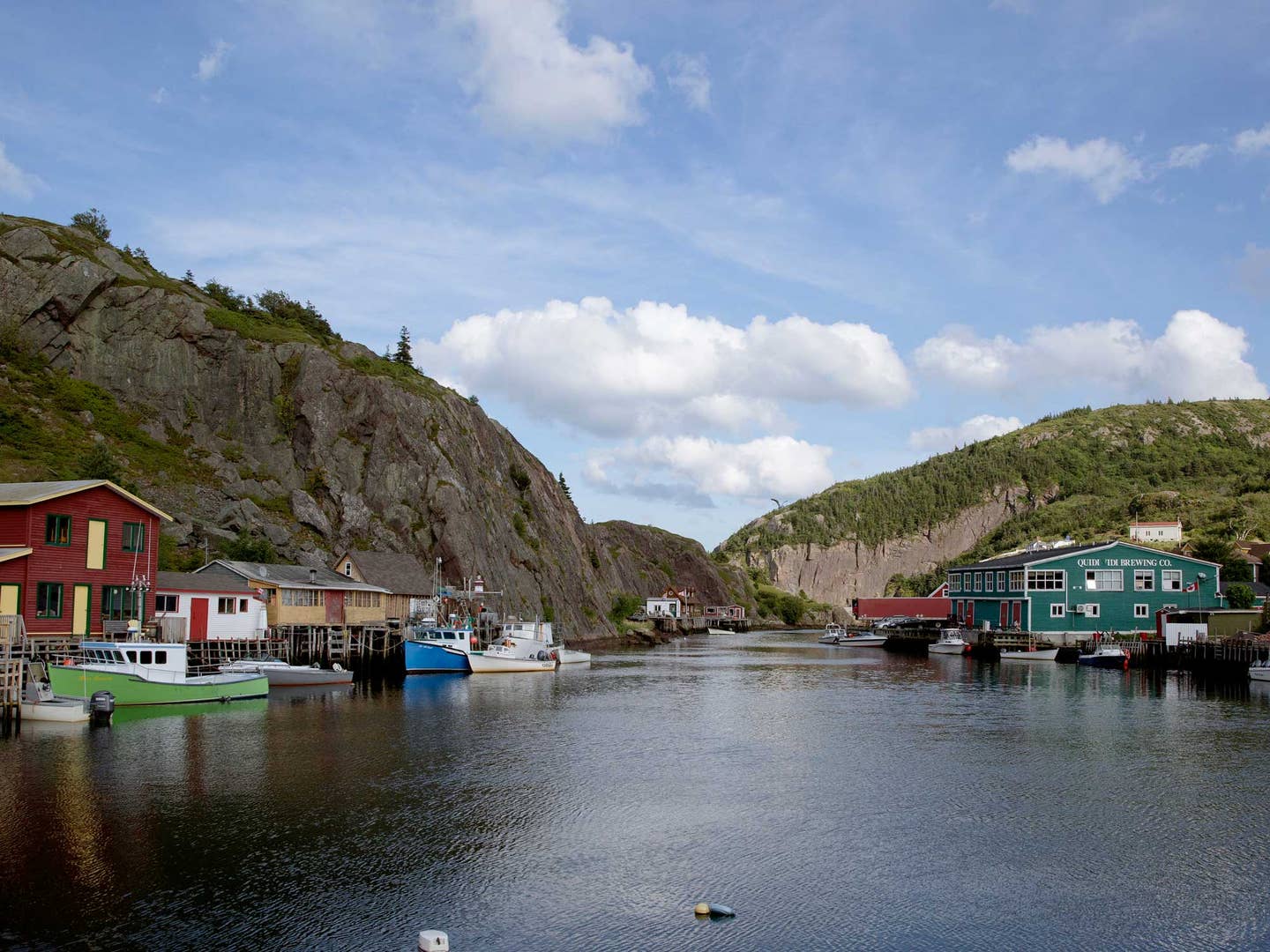 Drinks
How to Drink Your Way Down the Craft Beer Trail of Newfoundland, Canada
The island's jagged coasts and rugged landscapes have long drawn adventurous travelers, but now, Newfoundland is making a name for itself in the craft brewing world
In 1835, atop Signal Hill in St. John's, Newfoundland, Mrs. Garfield, the first operator at the Signal Hill Canteen, waited by the front door for her beer delivery. The main level had a tap room, bar, and cellar where off-duty soldiers would spend their time enjoying a beer or two with friends. Today, the foundation remains visible to tourists hiking along the trails as they take in the breathtaking views of St. John's rocky coast and harbor while learning about the hill's important role in the city's defense from the 1640's through World War II.
For an isolated, rugged, and weathered island steeped in history like Newfoundland, it has all the characteristics one would expect: a strong sense of pride and identity, a tight-knit, friendly community, and a long-lasting love affair with beer. Locals will also tell you that the island is notorious for being 20 years behind the rest of the country and United States. "We feel like we're replaying a record that we've heard elsewhere. All we have to do is get on a plane and go somewhere, listen to what people are saying, and that story will be in the process of unfolding in Newfoundland. History is happening here, now," says Hugh McDermott, the General Manager of Quidi Vidi Brewery, the first craft brewery to open on the island, on a quaint harbor in St. John's in 1996.
While the rest of North America was experiencing a craft beer boom, it's been nearly non-existent on the island for the past 20 years, outside of Quidi Vidi and Yellowbelly, a brewpub that opened its doors in 2008, also in St. John's. That all changed last year when two women, Sonja Mills and Alicia MacDonald, moved from Nova Scotia to Port Rexton to open Port Rexton Brewing. They've become an inspiration to other aspiring brewers, and leaders in creating Newfoundland's craft beer identity.
Previously a lawyer and nurse practitioner in Halifax, the couple lived through the craft beer explosion there and decided to dive into it. With initial plans to open in Nova Scotia, Sonja had returned to Newfoundland when her father got sick, and the two made the decision to just stay there, rather than opening in an already saturated market. They purchased a former school house and community center, and Port Rexton's first brewery was born.
You might miss the town if you're not looking for it. About three hours from St. John's, you'll drive down dirt roads, you'll pass a post office, a church, a few houses, and then the unexpected glimmering lights strung across a large door in the distance. As you get closer, you'll see people walking up, gathering in a cozy space with a lively crowd that almost looks like you've been transplanted to Brooklyn. There are the 60-year-old locals that have been drinking Molson for the past 40 years, and actually embracing the new flavor. There is the couple who made an overnight trip from St. John's, and then there's the group of beer-loving friends that flew in from Ontario to taste the award winning Horse Chops IPA.
These small communities were once threatened by the dying fishing industry, but are now seeing a resurgence. Younger generations that were leaving for better opportunities in the city are returning home and realizing there is a market for creative industries like brewing beer. "They're yearning the quality of life that's hard to find outside of Newfoundland. People want their kids to have the same quality childhood they had," explains Matt Vincent on opening day of Split Rock Brewing in Twilingate, a town known for their icebergs and puffins.
Following Port Rexton's success, Matt and his wife Allison returned to his hometown, and with their business partners Tim and Robin Vatcher, opened a brewery the locals were anxiously awaiting. "People here are finally looking at beer as an art, as an identity, and turning it into part of the community. Lately, people have been identifying with Newfoundland more, they want to show their support for the locals. It's one of the reasons the young people are coming back." While Matt and Allison are playing it safe for now, they've got a lineup that includes a stout, IPA, brown ale, and red rye. After building up his customers' trust, he hopes to get more experimental with his IPAs, sours, and incorporating local ingredients.
The list for breweries continues to grow weekly. Gander, the town known for its hospitality during 9/11, the broadway show, Come From Away, and its control center, has locals waiting for their brewery. Within the next few weeks, two former pilots, Dave Jerrett and Sam Newman, are opening Scudrunner Brewing, named after the aviation term scud running that refers to flying in low lying clouds and maintaining visual contact with the terrain. It's about having intuition, ingenuity, and experience, something Dave says is needed in an isolated place like Newfoundland. "They're the qualities you need to make your community work, make life work here."
Just as Scudrunner will be kicking off in Gander, the town of Dildo will be opening their first brewery in spring/summer 2018. With its quirky name, tourists are drawn in for a quick visit and photo in front of the sign. Yet with a new brewery in the making, the hopes are that it'll become a destination worth staying a bit longer. Their existing museum is currently under renovation and will reopen as a joint brewery museum space, allowing visitors to not only taste the new flavors of Newfoundland, but learn a bit about the history of Dildo and its fishing culture.
Unintentionally planned, these breweries have dotted themselves across the island, setting up a craft beer trail that doubles as the ideal cross island roadtrip. It's a destination that's always been proud of its identity but only recently figured out the best way to express it. The locals are an inspiring and welcoming bunch, the scenery is some of the best around, and the beer culture is at a pretty exciting time in Newfoundland's history.
Visiting Newfoundland? Here are some beer-activity pairings to try on the island:
Twillingate, NL
Must-Do: Book a boat tour to see the icebergs, whales, and puffins
Must-Drink: Have a beer at Split Rock Brewery
Port Rexton, NL and Trinity, NL
Must-Do: Hike Skerwink Trail
Must-Drink: Have a beer at Port Rexton Brewery, followed by a visit through the historical town of Trinity
St. John's, NL
Must-Do: Hike Signal Hill
Must-Drink: Have a beer at Quidi Vidi Brewery and stop by Mallard Kitchen around the corner.