Recipes
Tomato and Octopus Rice
Put Portugal's starchy seafood stew in your regular weeknight rotation.
Serves

serves 6

Cook

45 minutes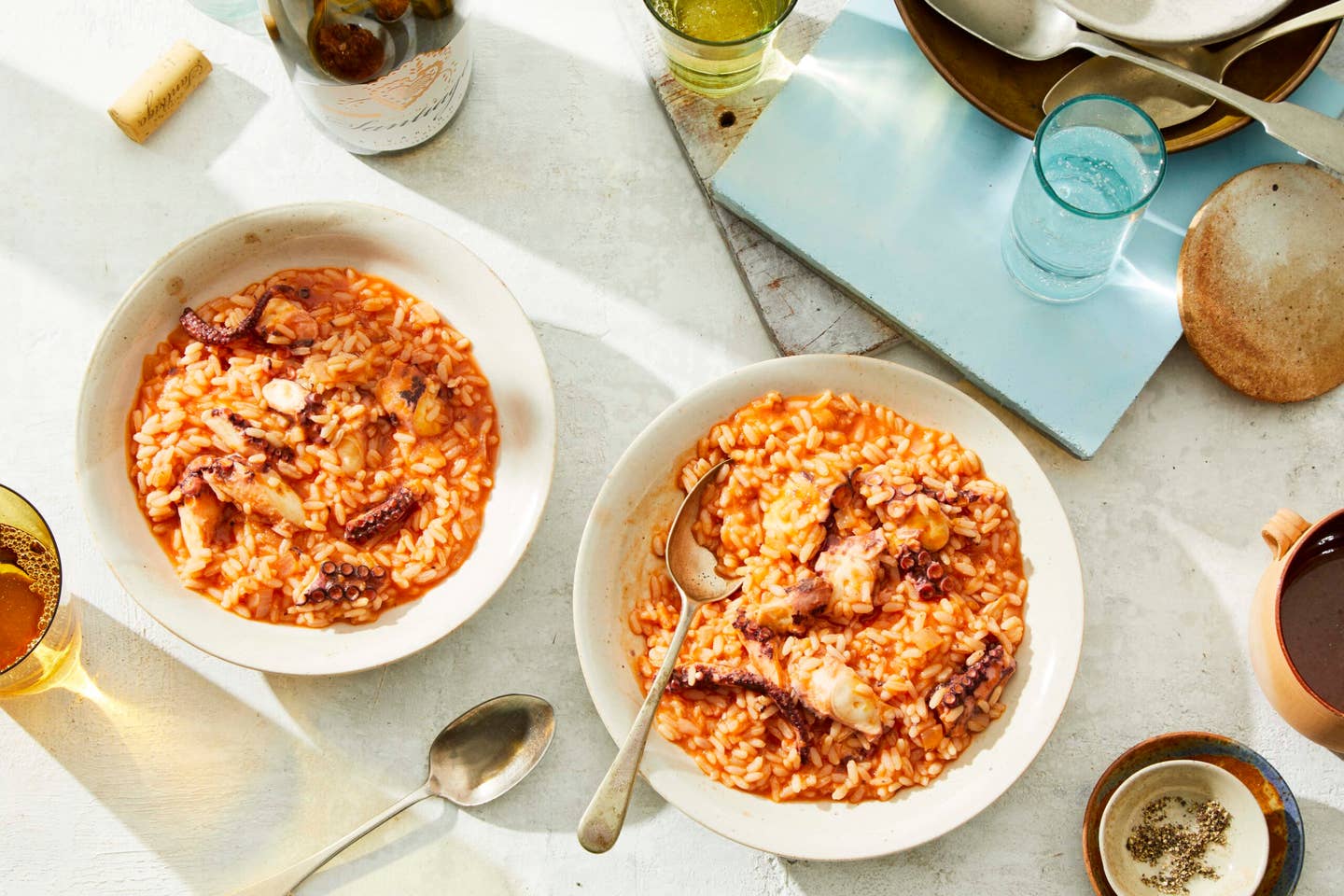 This classic octopus rice recipe comes to us from Portuguese winemaker Joana Santiago. Octopus is a popular protein source throughout Portugal, and the ingredient is often incorporated into a whole category of comforting, tomato-laced rice dishes—though other types of seafood, including salt cod and shellfish, may also be swapped in or added without compromising the spirit of this dish. Cooked octopus is available at the seafood counter or frozen foods aisle at many grocery stores, but in a pinch, a good-quality canned version works nicely as well. Read about some of our favorite tinned seafoods here.
Ingredients
3 tbsp. olive oil
1 small yellow onion, coarsely chopped
2 medium garlic cloves, finely chopped
2 cups fish broth or low-sodium vegetable or chicken stock
⅔ cups canned tomato purée
¼ cups brandy
Kosher salt
1¼ cups carolino rice (or substitute bomba or arborio)
1½ lb. cooked octopus, cut into 1-in. pieces (3 cups)
Instructions
Step 1
Preheat the oven (with one of its racks positioned in the center) to 350ºF.
Step 2
To a large, deep skillet or wide, shallow Dutch oven set over medium-high heat, add the olive oil. Once shimmering, add the onion and garlic and cook, stirring frequently, until the onions are translucent and softened, 5–7 minutes. Stir in the fish stock, tomato purée, and the brandy, bring to a boil, and cook until the alcohol boils off, about 5 minutes. Stir in the rice, then sprinkle the octopus over the surface. Transfer to the oven and cook until the rice is tender and the octopus is lightly browned at the edges, 25–30 minutes. Ladle the octopus rice into wide soup bowls and serve hot.