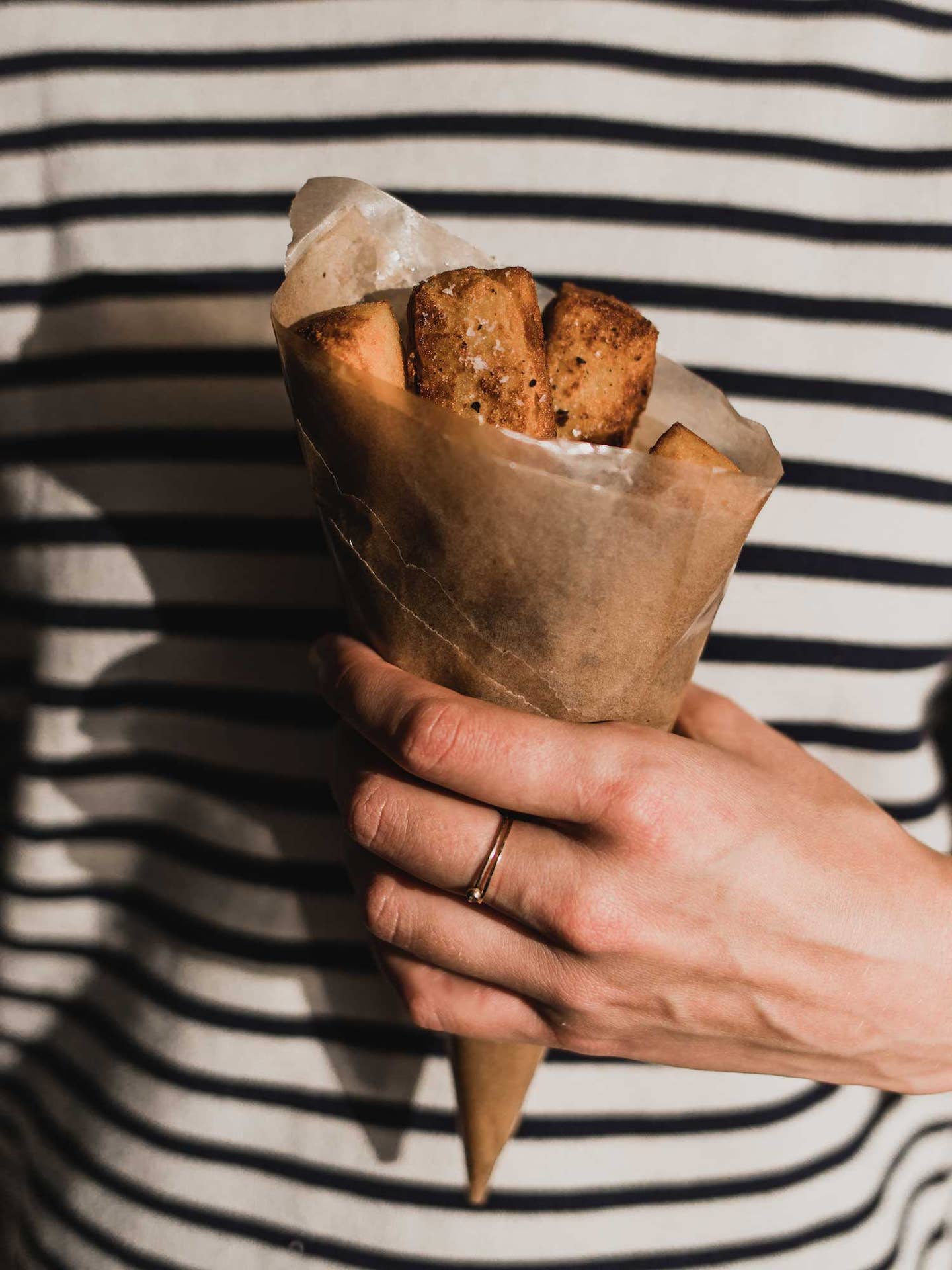 Culture
Panisse Is Here to Replace Your French Fries
Crispy on the outside and custard-like on the inside, these chickpea fries from Provence are utterly irresistible
Famous for its bouillabaisse, ever-flowing pastis, and rough reputation, the capital of Provence is also home to one of the best snacks France has to offer: panisse.
Traditionally sold as a street snack in Marseille, panisses ("pah-NEESS" in both the singular and plural) are small chickpea flour-based fritters fried to order, wrapped in quick-to-be-oil-soaked paper, and eaten on the spot—preferably with rosé.
Long cultivated and cooked in the Mediterranean region, chickpeas are easy to grow and store, and inexpensive to boot. According to Gérald Passédat, the three-Michelin-star chef and owner of Le Petit Nice in Marseille, chickpea flour—and the recipes made with it—came to the south of France via Italy's Liguria region. While you can find panisse all over the south, its home is in the port city of Marseille. Socca—another chickpea flour-based snack—reigns in Nice, two hours by car east of Marseille.
The difference between socca and panisse is in the cooking method. "They're really quite different," says Rosa Jackson, a Canadian expat, food writer, and owner of Les Petits Farcis, a cooking studio in the Old Town of Nice. "Socca is baked in the oven, and panisse is cooked first in a saucepan then fried."
Even panisses found in Marseille and Nice are different: In Nice, they're sold in a round saucer shape, the result of the local tradition of using coffee saucers as molds for the batter. In Marseille, panisses are most often in long stick form, resembling thick-cut French fries.
The French fry comparison is apt though limiting. While similar in shape and crisp outside texture, panisses have a creamy, almost custard-like interior, more reminiscent of polenta than potato.
The ingredients and steps to make panisses are simple: combine chickpea flour and water, shape, fry, and season. Recipes often include a bit of olive oil and sometimes butter; this one includes both, making the panisses gluten-free but not vegan. (You can omit the butter, if desired.)
While often eaten as an afternoon or pre-dinner snack, it serves as an excellent side for meat or fish dishes. If there are children around, the fried sticks are sometimes sprinkled with sugar. Regardless of when or how you serve them, do so fresh and hot, with a cold glass of rosé in close proximity.
Ingredients
The ideal panisse is crisp on the outside and smooth on the inside. Chickpea flour is both your main ingredient and the first key in obtaining the perfect balance of textures. Since the texture of the panisse shifts with the texture of the flour used, seek out flour that is finely ground rather than coarse.
While you could technically make the batter using chickpea flour and water alone, the addition of a little olive oil and/or butter helps prevent lumps and adds a welcome richness to the final panisse. Passédat runs his batter through a sieve after cooking, ensuring a silky base for frying. You can also use a food mill or simply sift the chickpea flour before cooking.
Cooking
Make sure your water is hot—simmering, not boiling—and cook until the chickpea mixture is intensely thick—the texture of wet concrete or a triple-thick milkshake; it won't set up enough to cut into pieces if it's undercooked. For frying, some cooks use only olive oil while others lean toward vegetable or a mix of the two to garner a higher smoking point.
Shapes
In Nice, you'll most often find panisses molded in rounds. In Marseille, they're cut into little sticks. According to Passédat, it's the cook's choice, stating that they "can be cut into squares, sticks, or circles depending on your imagination."
Service
Most fried things are best served immediately and generously seasoned, and panisses are no exception. Offer the first batch to guests as the second goes into the oil—reserving one or two as a cook's treat, of course.