Recipes
Pike Cakes with Crayfish Sauce (Quenelles de Brochet)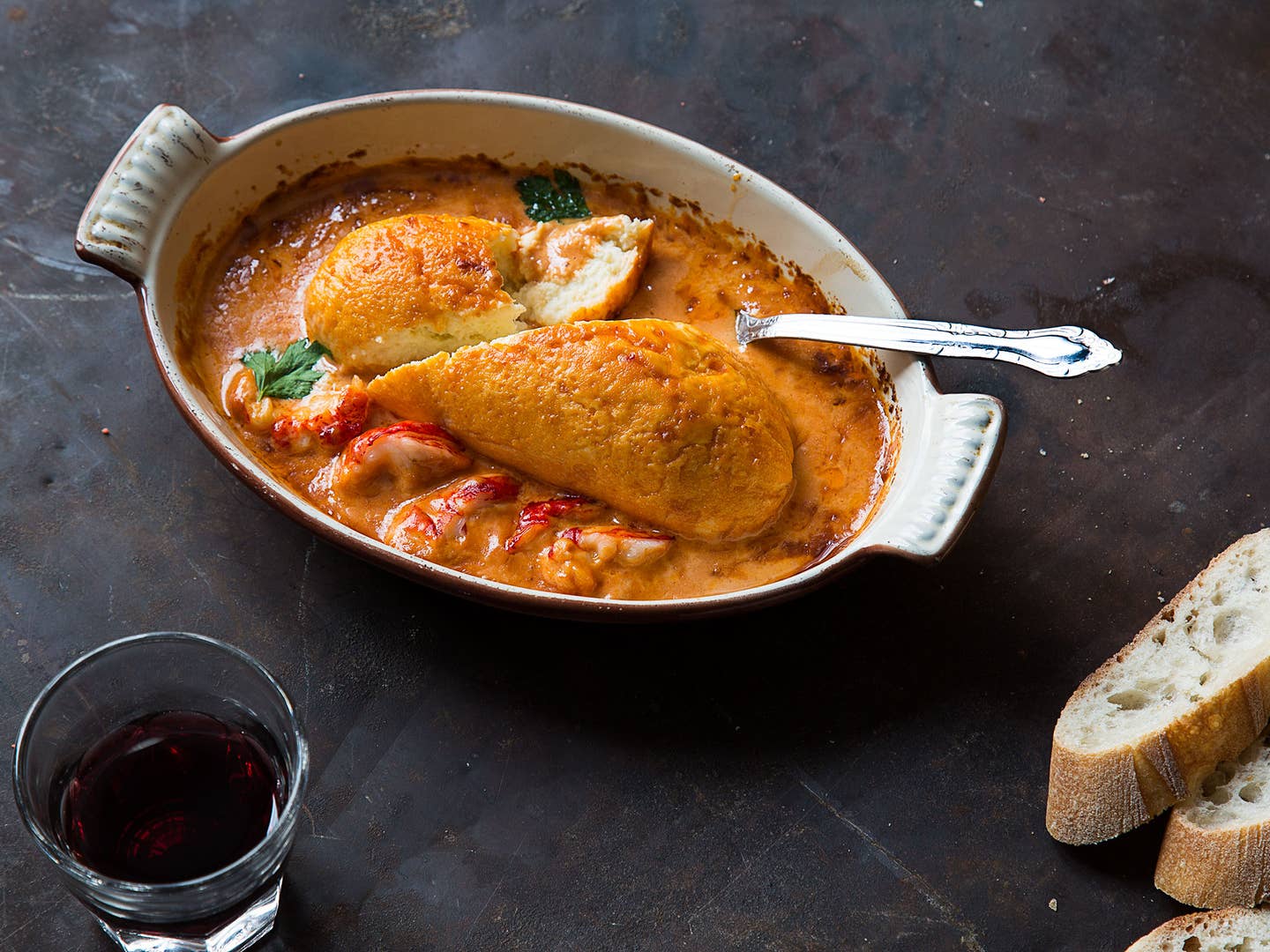 When he was a young kitchen apprentice, Boulud made 200 of these quenelles each week. "Fifty percent of the pleasure of the quenelle is in the sauce—without the sauce, it's not that interesting," he says. Traditionally, they are served with a sauce Nantua (made from crayfish from the region of Nantua), but you can use any shellfish, such as crab or lobster.
Ingredients
1 1⁄2 lb. skinless, boneless pike or sole, roughly chopped
4 large eggs, lightly beaten
6 cups heavy cream
Kosher salt and freshly ground white pepper
Cayenne
Nutmeg
3 lb. 1 lb. crayfish or whole lobster, steamed
2 tbsp. olive oil
4 large button mushrooms, roughly chopped
2 carrots, peeled and roughly chopped
2 ribs celery, roughly chopped
1 leek, roughly chopped
1⁄4 cup tomato paste
2 oz. cognac
Instructions
Step 1
In a food processor, grind the fish until smooth. Transfer to a large bowl and gently stir in the eggs. Slowly stir in 2 cups cream, salt, pepper, cayenne, and nutmeg. Cover and refrigerate overnight.
Step 2
The next day, separate the meat from the crayfish shells. Slice the tails into 1⁄2-inch-thick slices and refrigerate meat until ready to use. Heat olive oil in a large saucepan over medium-high. Add crayfish shells and cook, smashing them to extract their juices, 7 to 8 minutes. Add the mushrooms, carrots, celery, and leek and cook until soft, 10 minutes. Add tomato paste and cook 2 minutes. Stir in cognac and cook until the liquid has almost evaporated, 1 minute. Stir in remaining 4 cups cream, reduce the heat to maintain a simmer, and cook 20 minutes. Strain sauce through a fine-mesh strainer over a bowl, discarding solids. Season with salt and pepper and keep warm.
Step 3
Meanwhile, line a work surface with plastic wrap. Place 1 cup mousse on the edge of the plastic wrap closest to you, leaving about a 2-inch border. Working from one long end and using plastic wrap to lift and guide, roll up mousse, creating a log. Twist the ends of the plastic wrap to secure. Wrap in plastic wrap one more time and set aside. Repeat process with remaining mousse until you have four logs.
Step 4
Bring a medium saucepan of water to a low simmer. Add the mousse logs and place a smaller saucepan or weight over them to ensure they stay submerged. Cook until set, about 45 minutes, then remove from the water. Wait 5 minutes, then transfer to an ice bath until chilled.
Step 5
Heat oven to 375°. Unwrap logs and place each into individual oven proof casserole dishes, or place all in one 9-by-13-inch baking dish. Cover each with 1⁄2 cup of sauce and bake until bubbling, about 12 minutes. Divide tail pieces between each baking dish and increase oven temperature to 425°. Bake until the tops of each mousse are golden brown, 6 to 8 minutes longer.