Recipes
Spicy Pineapple Linzer Cookies
Serves

makes About 30 Cookies

Cook

4 hours 30 minutes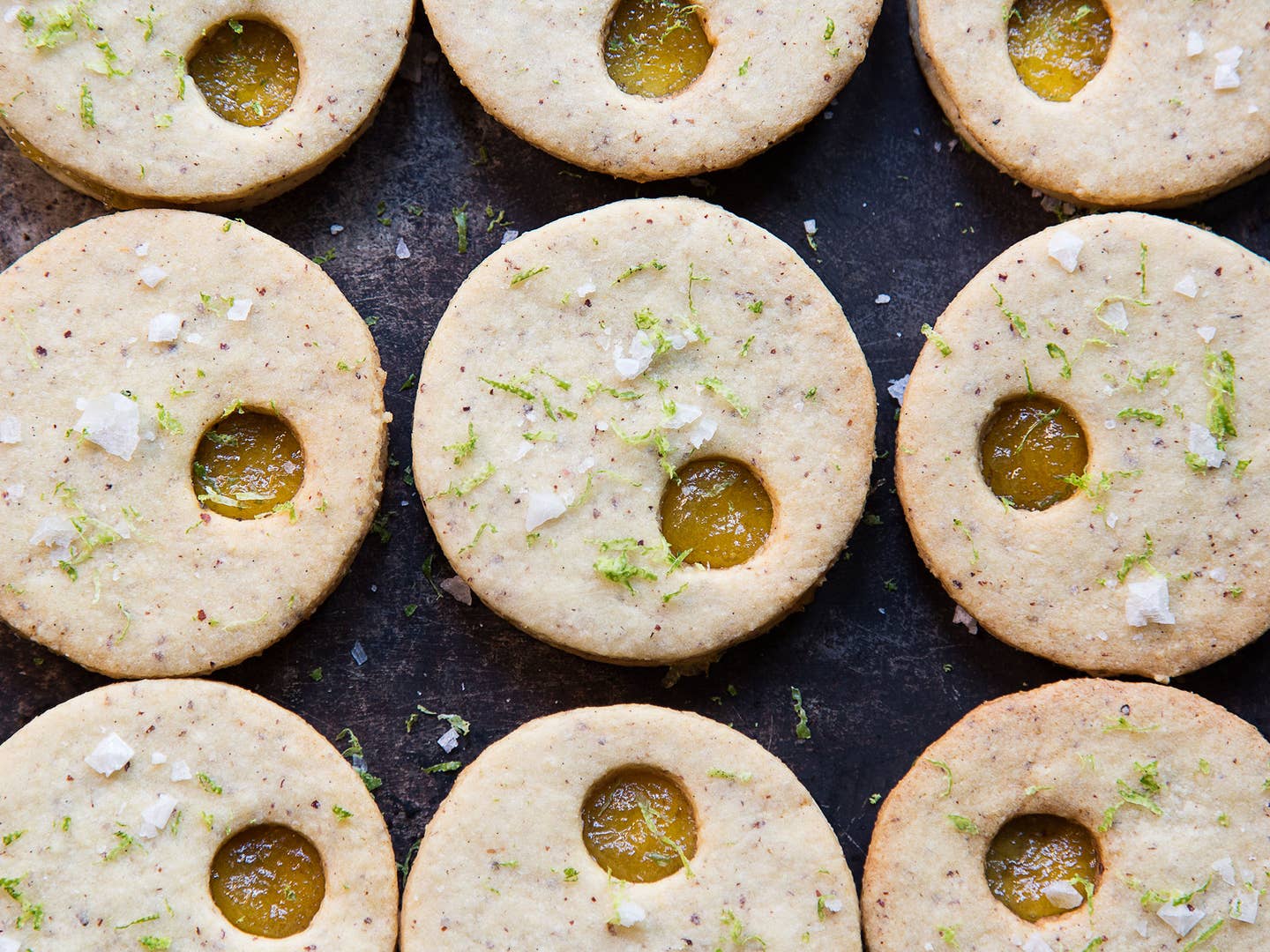 These sandwich cookies, adapted from chef Frederico Ribeiro of New York's Te Company, are an homage to the classic Taiwanese pineapple cake. Here a super-buttery vanilla bean shortbread gets a nutty dose of hazelnut flour, and sweet pineapple-rosemary jam gets balanced by the spicy, fermented, and grassy flavor of Japanese yuzu kosho paste. Be sure to let the cookies rest overnight (or at least a few hours) after assembling so the jam sets in place, and don't skip the lime zest and flaky salt topping for a sweet and savory cookie that has a nice habit of electrifying your taste buds.
Ingredients
For the Cookie Dough
4 3⁄4 cups all-purpose flour, plus more for dusting
1 1⁄2 cups plus 6 tbsp. hazelnut flour
2 tsp. baking powder
2 tsp. Kosher salt
4 sticks unsalted butter, softened
3 3⁄4 cups granulated sugar
2 large eggs
1 vanilla bean, seeds scraped and reserved
For the Pineapple Jam
5 cups cleaned pineapple, cubed
2 cups granulated sugar
2 sprigs rosemary
2 tsp. Kosher salt
Zest and juice of 1 lime
1⁄4 cup yuzu kosho
Maldon sea salt, for serving
Instructions
Step 1
Whisk together flours, salt, and baking powder in a bowl; set aside.
Step 2
In a large bowl, beat butter and sugar on medium speed of a hand mixer until fluffy, about 3 minutes. Add eggs one at a time, beating well after each addition until smooth; beat in vanilla. Add dry ingredients and beat until just combined. Divide dough into 2 balls and wrap in plastic wrap; refrigerate 2 hours.
Step 3
Heat oven to 300°. On a lightly floured surface and working with one dough ball at a time, roll out into a 16-inch by 19-inch oval about 1⁄8-inch thick. Using a 3-inch round cutter, cut out cookies and transfer to a parchment paper-lined baking sheet. Using a 3⁄4-inch round cutter, cut out another circle off-center from about half of the cookies. Re-roll scraps once.
Step 4
Bake cookies, rotating pans in the oven, until lightly golden, about 15 minutes. Cool completely.
Step 5
Meanwhile, make the pineapple jam. In a medium saucepan, bring the pineapple and 1 1⁄3 cup water to a boil. Reduce the heat to maintain a simmer and cook until the liquid has nearly evaporated, about 10 minutes. Transfer pineapple to a blender and purée. Return pineapple to saucepan and add the sugar. Cook until the pineapple starts to caramelize, about 18 minutes. Add the rosemary and stir to coat. Remove the saucepan from the heat and stir in the salt and lime juice.
Step 6
To assemble the cookies, spread about 1 teaspoon of yuzu kosho over the cookies that do not have the holes. Top with about 1 tablespoon of jam and cover it with a cookie with a hole in it. Let cookies rest overnight to fully set. To serve the next day, top with fresh lime zest and Maldon sea salt.