Pork and Cabbage Potstickers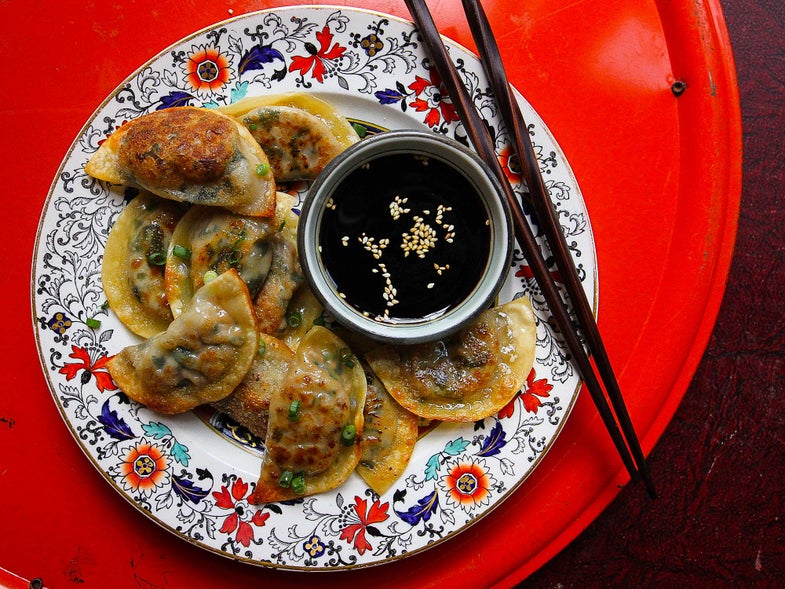 These potstickers, adapted from Chinese cookbook author Fuchsia Dunlop, are simple enough to make during any night of the week. Freeze them to have a snack at a moment's notice.
Featured in: The Easiest Way to Make Potstickers at Home
Yield: makes 30 potstickers
Time: 45 minutes
Ingredients
1⁄4 lb. tender leaves of Chinese cabbage or baby bok choy, roughly chopped
5 Tbsp. peanut oil
1⁄2 lb. ground pork
2 scallions
1 (1-inch) piece ginger, peeled and minced
1⁄4 cup dark soy sauce
1 1⁄2 Tbsp. Shaoxing rice wine
1 Tbsp. light soy sauce
1 tsp. sugar
3 tsp. sesame oil
Kosher salt and freshly ground black pepper
30 (3-inch) round dumpling wrappers
2 Tbsp. black vinegar
Instructions
In a large pot of lightly salted, boiling water, blanch the cabbage until tender, about 1 to 2 minutes. Drain and place cabbage in a bowl of ice water. Drain cabbage and pat dry.
In a wok over medium-high, heat 3 tablespoons peanut oil. Add the pork and cook, breaking up any large pieces, until browned, about 3 minutes. Add the scallions and ginger and cook 1 to 2 minutes longer. Add 1 tablespoon dark soy sauce, the rice wine, light soy sauce, and sugar and cook 1 to 2 minutes more. Remove from heat and add reserved cabbage, 1 teaspoon sesame oil, salt, and pepper. Cool slightly.
Working with one wrapper at a time, put a tablespoon of pork filling onto a wrapper, fold wrapper in half, and seal it with water, or follow instructions for forming dumplings into the traditional pleated crescent shape. Transfer each dumpling to reserved baking sheet; cover with a kitchen towel.
In a bamboo steamer set over 1 inch of simmer water in a wok, arrange the dumplings in a single layer on each steamer shelf and steam until cooked through, 4 to 5 minutes.
Meanwhile, wipe wok clean. Heat remaining peanut oil over medium and, working in batches, cook dumplings, turning once, until golden, 3 to 5 minutes. Transfer to a serving platter.
Whisk remaining 3 tablespoons dark soy sauce and sesame oil with the vinegar and serve with the potstickers.