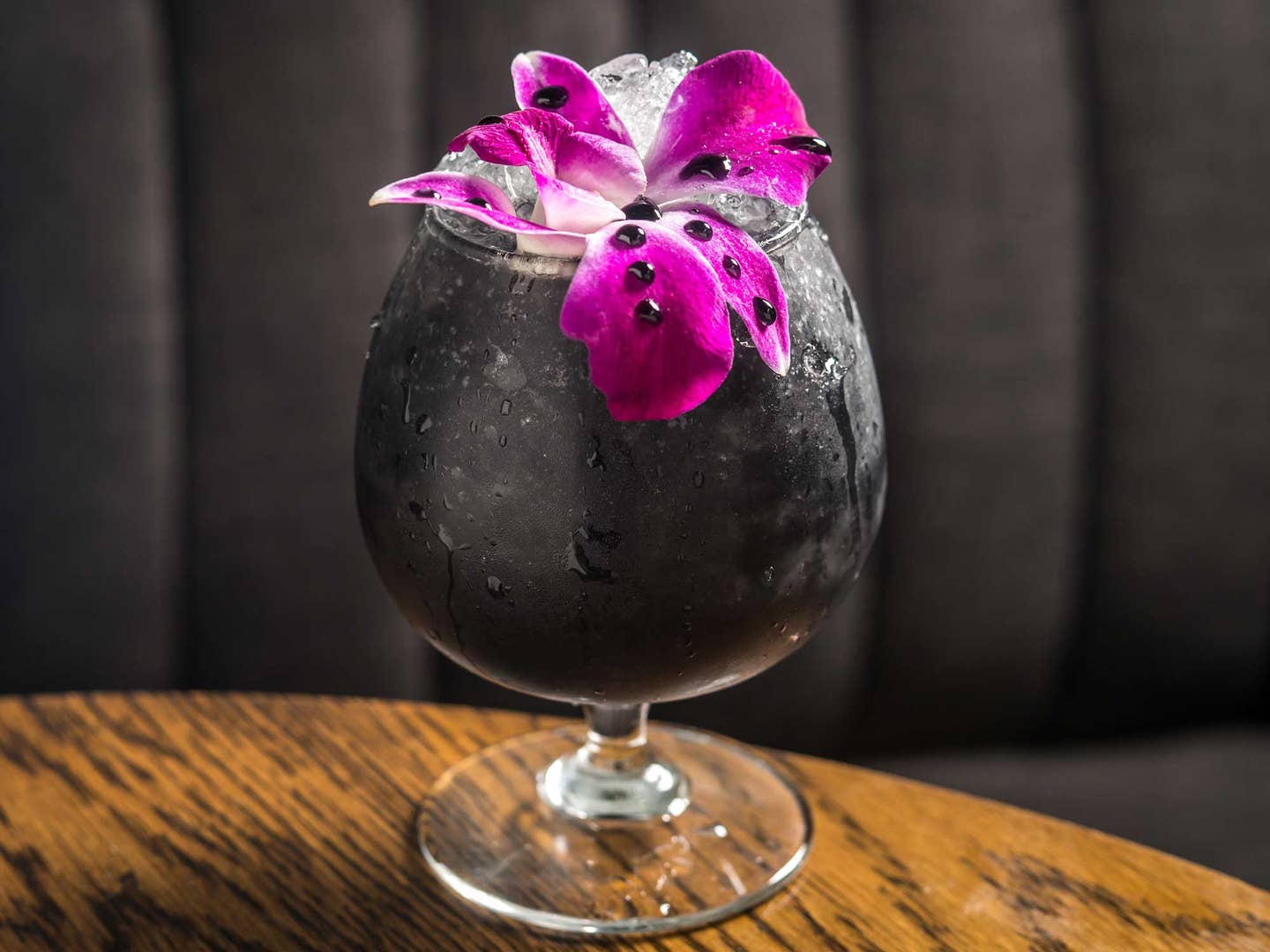 Drinks
Raise a Glass to Your Favorite Moody Authors at this NYC Cocktail Bar
Pouring Ribbons' latest menu is liquid literature
It's not hard to spot a correlation between literary genius and a love for booze. From Socrates to Lord Byron and Hemingway, many of history's greatest wordsmiths have been known to turn to the bottle for inspiration, consolation, and catastrophe. So there's no shortage of world-class prose glorifying the splendors of drink-fueled revelry. As F. Scott Fitzgerald once wrote, "Here's to alcohol, the rose colored glasses of life."
This month, the book-loving bartenders at Pouring Ribbons, a cocktail institution of New York City's East Village, are reversing that flow with a "moody author"-inspired menu that pays homage to the likes of the Penny Dreadful serials, Bram Stoker's Dracula, and even the wistful lyrics of Smiths frontman Morrissey. The third installment of their thematic menu series (previously: California's famed Route 66 and the Silk Road) was spearheaded by partner and head bartender Joaquín Simó and brought to life through a collective effort among the bar's staff. The goal, according to partner Jason Cott, was to show how a cocktail can function like a piece of writing with a narrative arc.
"Interpreting a literary work is similar to breaking down a good cocktail," explains Cott. "They both require an interesting hook to draw the attention of the participant, but the main body should be of a highly substantive quality to ensure the sustained enjoyment of the guest for repeat sessions."
The menu's 19 drinks include a nod to the original Grimms' fairy tale "Little Snow White," while the Iron Slippers cocktail by bartender Shannon Tebay layers a Laird's apple brandy Manhattan with Pierre Ferand dry curaçao and Don Ciccio & Figli Nocino, a dark walnut liqueur. The garnish, a fan of smoking apple slices, represents the evil queen's red-hot iron shoes.
Then there's Lovage Will Tear Us Apart, a savory take on the Queens Park Swizzle that offsets El Tesoro Platinum tequila with celery-like lovage, floral riesling syrup, and vanilla-laced Galliano. The drink derives its name, in all its punny glory, from the Joy Division song "Love Will Tear Us Apart," which was also inscribed on singer-lyricist Ian Curtis' tombstone following his untimely suicide.
Perhaps the moodiest of all is the Heart of Darkness, an allusion to the 1899 Joseph Conrad novella of the same name, which combines blanco tequila with mezcal, lime, raspberry, and a splash of activated charcoal to turn the drink an ominous inky black.
Themed cocktail menus like Pouring Ribbons' have been getting more common and creative of late, both in terms of drinks and the paper-and-ink menus on which they're presented. In New York City, The Dead Rabbit has won acclaim for its series of graphic novel presentations, while menu pages at Nitecap offer cute crossword puzzles and games. Design is just as involved at San Francisco's Trick Dog, where the list of drinks has taken on forms ranging from Pantone paint swatches to Zodiac horoscope wheels, and at Chicago's The Drifter, where cocktails are offered on individual tarot-inspired cards. For Pouring Ribbons' physical menu, Amanda Elder replicated the weathered textures and illustrations found in various antique books, which are interspersed with notable quotes from the various authors.
Check out more photos below and head to Pouring Ribbons to sip on some moody cocktails.