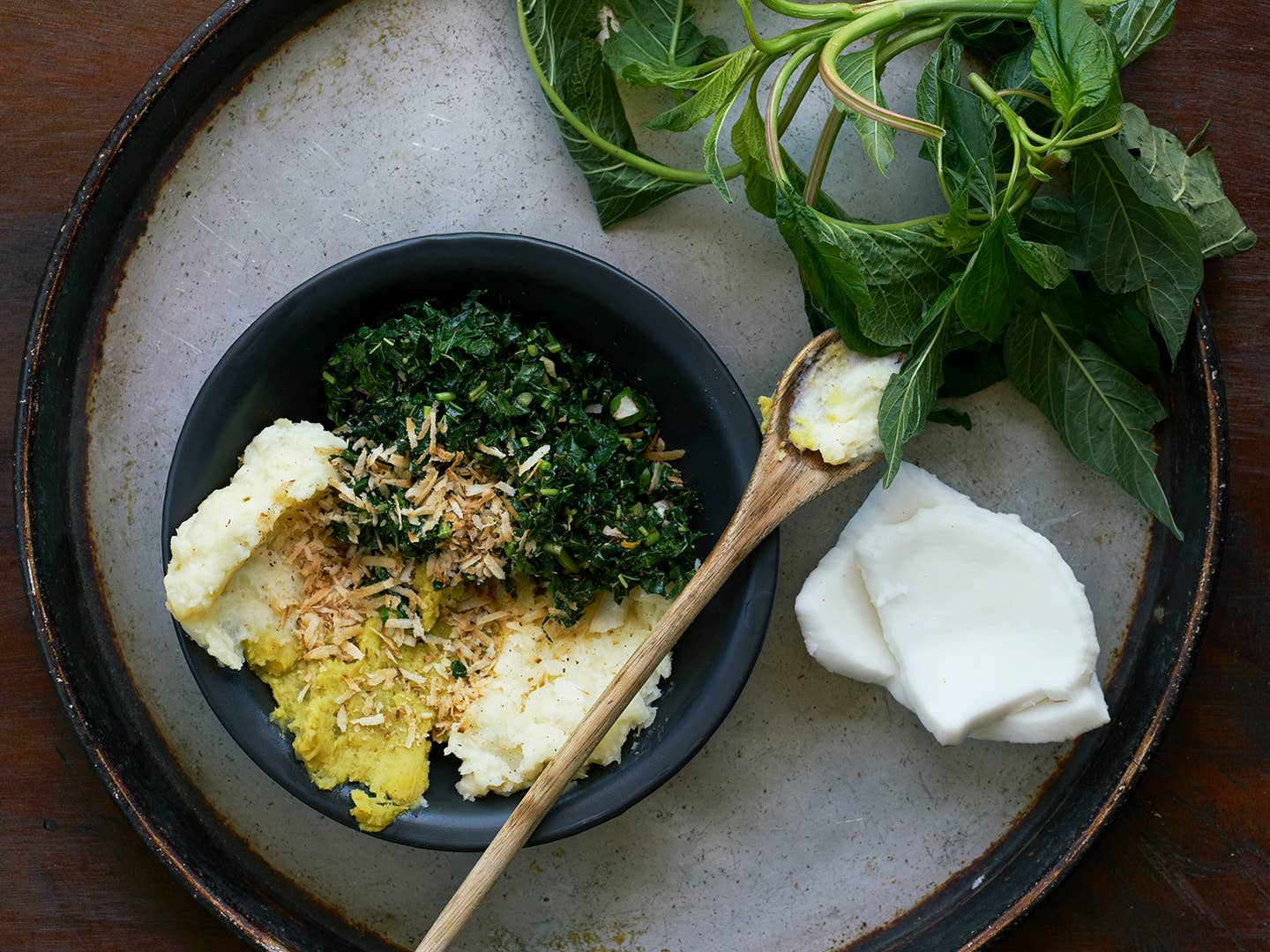 Culture
"Provisions" Is an Ode to the Remarkable Women Behind Caribbean Cuisine
An interview with the authors of our July Cookbook Club pick
"The things that grow here, that come from here, are your best bet to make something fantastic," says Suzanne Rousseau, co-author of Provisions: The Roots of Caribbean Cooking, a cookbook highlighting ingredients native to Jamaica and the Caribbean. Over the course of the book, Suzanne and her sister Michelle traverse the Caribbean looking at the fundamental and often overlooked ingredients and flavors of the region while adding modern, global touches, a style they employ at their restaurant Summerhouse in Kingston.
Unlike their first cookbook, Caribbean Potluck, Provisions takes a more detailed look at the fruits and vegetables of the region to create what the sisters call "modern heritage cooking," dishes that are simple and rooted in the history of the island. In Jamaica, provisions is a word that describes not just a store of food, but specifically refers to the diverse array of starch fruits and root vegetables native to the area, such as plantains, cassava, yams, and taro.
The approach is at once very stylish and an act of rebellion. Dishes born out of slavery and a lack of resources under English colonial rule are served on pristine china, with delicate lace. Provisions does not shy away from delving into this history and showing how these elements come together to create Caribbean cuisine today. But alongside these images, the Rousseaus share stories of their experiences with Caribbean culture and cooking, the joy of eating with family, and their deep respect for the legacy of generations of Caribbean women that defined the islands' cuisine.
Here, the sisters talk about their great-grandmother who inspired the book, how it fits into the current evolution of Caribbean cooking, and what future Caribbean chefs can learn from its pages.
What was the inspiration for Provisions?
Michelle Rousseau: The inspiration really came two-fold: One was research into our own lineage for our first cookbook Caribbean Potluck, which is when we came across our great-grandmother's story. She was one of the first commercial patty makers in Jamaica, and we wanted to look at food from the perspective of history and the women who made it. We realized that had never been done before in this region. There were a lot of books about food and culture and history in the region, but there was very little from a female perspective.
The second piece was we had never really seen an ingredient-driven cookbook come out of the Caribbean. There were a lot of situation-driven cookbooks, like family get-together cookbooks, but not really any focusing on the starchy fruits or tree fruits. Looking at Caribbean food over the years, we've tried to find a common definer among all of the islands, because each island has such a distinct perspective on Caribbean cooking. What we recognized was that the unifying thing is the ingredients. Every island has a fried plantain or a version of breadfruit or something like that, so we really wanted to look at it from that ingredient perspective and tie women in, too, to honor the legacy of our great-grandmother.
Can you expand on what you mean by "situational cookbooks"?
Michelle: If you look at past cookbooks, they would've had categories like appetizers, dinner, the family lunch, or the Sunday supper. For the most part Caribbean cookbooks followed a very traditional trajectory of cookbooks from other regions. Our first book was a bit like that. With Provisions we wanted a book where each chapter focused on a category of ingredients and the recipes could be a snack, an appetizer, whatever. The ingredients drove the story because that's the culinary history of the region itself. How they came to the islands, how they were consumed, and how they were prepared by different hands all inform a part of the culinary history.
Suzanne: We also felt that the ingredient-focused approach was symbolic of how we live. What we use in the book are ingredients we found on every island, on every table. They might be prepared in different methods with different flavor profiles, but the ingredients are common among the islands and speak to the colonial history and the slave legacy of the islands.
There is a sort of choose-your-own-adventure element to the book where cooks can just jump in and make whatever they want without much forethought. Was that intentional?
Suzanne: Yes, it's how we cook and eat here in Jamaica. We have traditional dining times, but we also have a "take what's available" approach in certain moments, and we wanted cooks to be able to jump in at any point. It's a way of living here, and the book lends itself to a casual sort of approach to food.
Michelle: We want to create cookbooks that are usable, that people go back to over and over again because they love it. We always wanted a book that people could really cook from, like Ottolenghi.
Ottolenghi is a great comparison for Provisions because the recipes are modern, fresh, and clean, but they're also so deeply rooted in history. Was it tough to balance tradition with a modern sensibility?
Michelle: In many ways, no, because the more we researched, the more we realized how simply our ancestors cooked. A meal would have just been roasted provisions or roasted saltfish topped with butter and pounded mint. So there was all this simplicity, which gave us the base for a very modern look at the food and allowed us to add in shots of Mediterranean ingredients or whatever else. People often think that Caribbean food is very labor-intensive and a lot of slow cooking, and we really wanted to break that myth because when you approach it from this perspective, it's actually very fresh and very quick.
There's a synergy between Mediterranean cooking and Caribbean cooking: both cuisines are mostly eaten al fresco, use open fire, and include lots of fresh vegetables. What people really forget about Caribbean food is that there's all this fresh stuff. People think of it as just rice and peas, curry goat, oxtail, roti, and stewed chicken, but if you go to any Caribbean market on any island, there's all this gorgeous produce in many colors and flavors and textures. We deliberately tried to be modern and simple, but it wasn't as hard to do as one would've expected.
How do you see Provisions fitting into the evolution of Caribbean food? How does this book speak to what's happening in Caribbean food today?
Suzanne: It was an opportunity to honor the women and the cooks of the past, and to take a look at the region in a new way. These ingredients have never been seen as valuable because people looked at it as poor-people food on the island, and the fancy food was what you got from overseas. We wanted to make people see that there is beauty and refinement in even the most simple ingredients here. Serving them in humble environments with simple toppings is no less worthy than a meal in Paris with French chefs.
Michelle: We're presenting things that people do not see as special, but we're not trying to make them into a French mousse. Provisions positions itself as part of a wave of African-American chefs who are looking at the foods of their childhoods and growing up a completely different way than someone who grew up in the Caribbean. Chefs like Kwame Onwuachi or JJ Johnson or Nina Compton are also telling Caribbean stories, but we're doing it different because we've only ever lived in the Caribbean. I think ours is really true to how we got into the food industry, which was being home cooks who loved this culture and this food.
What do you hope future Jamaican chefs and Caribbean chefs do with Provisions in the future?
Michelle: This is from the perspective of Jamaica, and I think a lot of our younger generation has lost the palate and the taste and the understanding of how to cook and how to cook simply. I hope this inspires them to explore not just cooking, but the culture and the ingredients from where they're from more, instead of those imported flavors. You know, instead of Burger King, getting a patty. I would hope that books like this make it trendy and easy for them, and make them want to explore the food from that perspective.
This interview has been edited and condensed for clarity.