Roasted Plantain with African Pepper Compote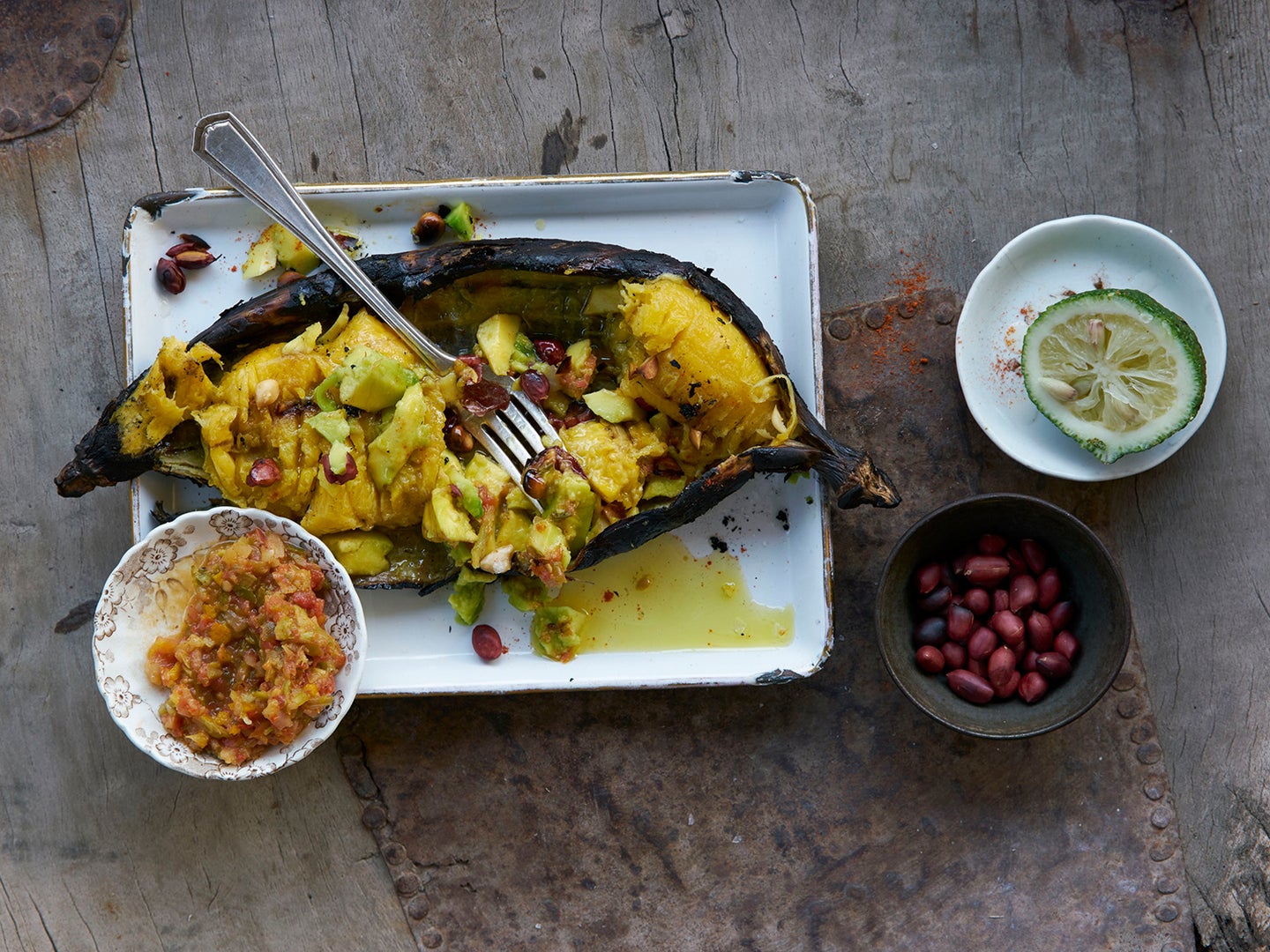 The combination of sweet plantain, spicy pepper compote, creamy avocado, tart lime, and crunchy roasted peanuts makes for a simple and fresh snack or side dish in this recipe adapted from Provisions: The Roots of Caribbean Cooking. The authors Michelle and Suzanne Rousseau write: "With dishes like this one, inspired by a popular African street food, it is easy to see that the roots of our dining habits are deeply entrenched in a shared heritage with our ancestors from across the seas."
Featured in: "Provisions" Is an Ode to the Remarkable Women Behind Caribbean Cuisine
Equipment
Yield: serves 6
Time: 1 hours 5 minutes
Ingredients
For the African pepper compote:
5 Scotch bonnet chiles (1 oz.), a mixture of red, green, and orange, washed and hulled
3 medium plum tomatoes (11 oz.), quartered
2 cloves garlic, crushed and peeled
1 medium onion, peeled and quartered
1 medium scallion, trimmed, and sliced crosswise into 1-inch pieces
1 Tbsp. Dijon mustard
Kosher salt
Freshly cracked black pepper
For the roasted plantains:
2 ripe plantains (1 lb.), unpeeled
½ cup (2½ oz.) raw shelled peanuts, skin on
2 medium avocados (12 oz.)
1 large lime, cut into wedges
½ tsp. sweet paprika
¼ tsp. cinnamon (optional)
¼ tsp. cayenne pepper
1¼ tsp. kosher salt
Instructions
Make the African pepper compote: In the bowl of a food processor fitted with the steel chopping blade, add the chiles, tomatoes, garlic, onion, scallion, and mustard. Pulse several times until the mixture is well combined but chunky. Transfer to a small saucepan and cook over medium heat, stirring frequently, until the mixture has the consistency of a thick, chunky salsa, 3–4 minutes. Season with salt and pepper. If using immediately, set the compote aside at room temperature. Otherwise, transfer to an airtight container and refrigerate for up to 1 week.
Roast the plantains: Place 2 racks, spaced evenly apart, in the center of the oven and preheat to 400°F.
Place the plantains, with the peels still on, on a baking sheet. Roast until the plantains are very tender when poked with a fork and their juices begin to seep from their peels, 35–40 minutes. (Alternatively, you can cook the plantains on a medium-hot grill.) Keep warm until ready to serve.
Meanwhile, spread the peanuts on a second baking sheet. Roast, stirring occasionally, until fragrant and evenly toasted, about 10 minutes. Keep warm until ready to serve.
Slice the avocados in half, remove the pits, and scoop the flesh out of the skins. Roughly mash the flesh and arrange on a large plate. Squeeze the lime wedges over the avocado and dust with paprika, cinnamon (if using), cayenne, and salt. Coarsely chop half of the peanuts and sprinkle over the avocado. Slice the plantains (keep the peels on) in half and add to the platter. Drizzle the plantains with the compote. Top with the remaining peanuts and serve warm.