Recipes
Sautéed Quail with Black Barley, Beets, and Fig Sauce
Serves

serves 4

Cook

12 hours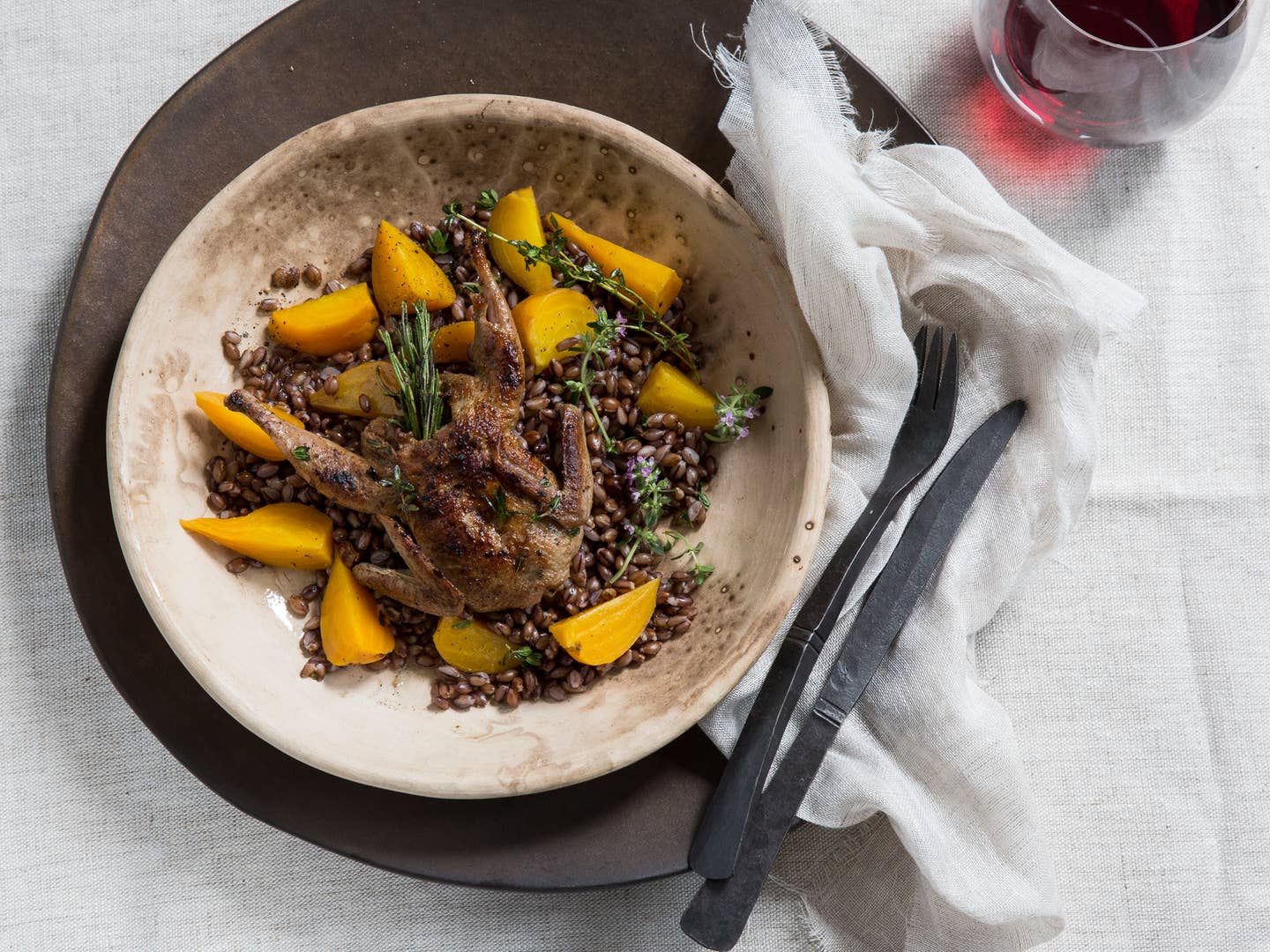 Mustard-and-herb-marinated quail gets a quick sauté for this earthy dish and is served with poached beets and a sweet-tart fig and ruby port sauce. Adapted from a recipe by chef Stuart Bell of Ten Minutes by Tractor in Mornington Peninsula, Australia, the dish has black barley, a variety with the bran still attached to the wheat kernel.
Ingredients
For the Quail and Barley
1⁄2 cup olive oil
1 tbsp. Dijon mustard
5 sprigs rosemary (1 stem removed; 4 left whole)
5 sprigs thyme (1 stem removed; 4 left whole)
2 bay leaves
2 cloves garlic, minced
4 deboned quail (1 lb.)
Kosher salt and freshly ground black pepper
1 cup black barley
2 tbsp. unsalted butter
For the Fig Sauce and Beets
4 black mission figs, quartered
3 tbsp. red wine
3 tbsp. ruby port
2 tbsp. sugar
1 1⁄2 tbsp. fresh lemon juice
1 shallot, minced
Kosher salt and freshly ground black pepper
2 1⁄4 lb. golden baby beets, trimmed
6 tbsp. balsamic vinegar
3 tbsp. sherry vinegar
1 bay leaf
1 sprig rosemary
1 sprig thyme
1 clove garlic, smashed and peeled
Instructions
Step 1
For the quail: In a large bowl, whisk the olive oil with the mustard, rosemary leaves, thyme leaves, bay leaves, and garlic. Add the quail, toss to coat, and cover with plastic wrap. Marinate the quail in the refrigerator for 12 hours.
Step 2
For the barley: In a large saucepan of boiling, salted water, add the barley and cook until al dente, about 30 minutes. Drain and transfer the barley to a bowl, cover, and keep warm.
Step 3
For the beets: In a medium saucepan, combine the remaining 1 tablespoon sugar with the beets, both vinegars, bay leaf, rosemary and thyme sprigs, garlic, and 4 cups water. Bring to a boil, and then reduce the heat to maintain a simmer, and cook until the beets are tender, about 30 minutes. Using a slotted spoon, transfer the beets to a cutting board and let cool for 5 minutes. Peel and halve the beets, then return them to the cooking liquid. Let the beets stand until cooled to room temperature and then drain from the cooking liquid and toss with the barley in a bowl. Divide the barley and beets between 4 serving plates.
Step 4
In a 12-inch cast-iron skillet, heat the butter over medium-high. Remove the quail from the marinade, and season with salt and pepper. Stuff each quail with 1 rosemary sprig, and then add the quail to the skillet, breast side down, and cook, turning once, until lightly browned and cooked to medium, about 5 minutes. Transfer each quail to a plate on top of the barley and beets, garnish each with a thyme sprig, and serve with the fig sauce on the side.