Recipes
Rabbit Sausage with Fennel, Chili Flakes, and Broccoli Rabe
Serves

makes 10 4-ounce sausage links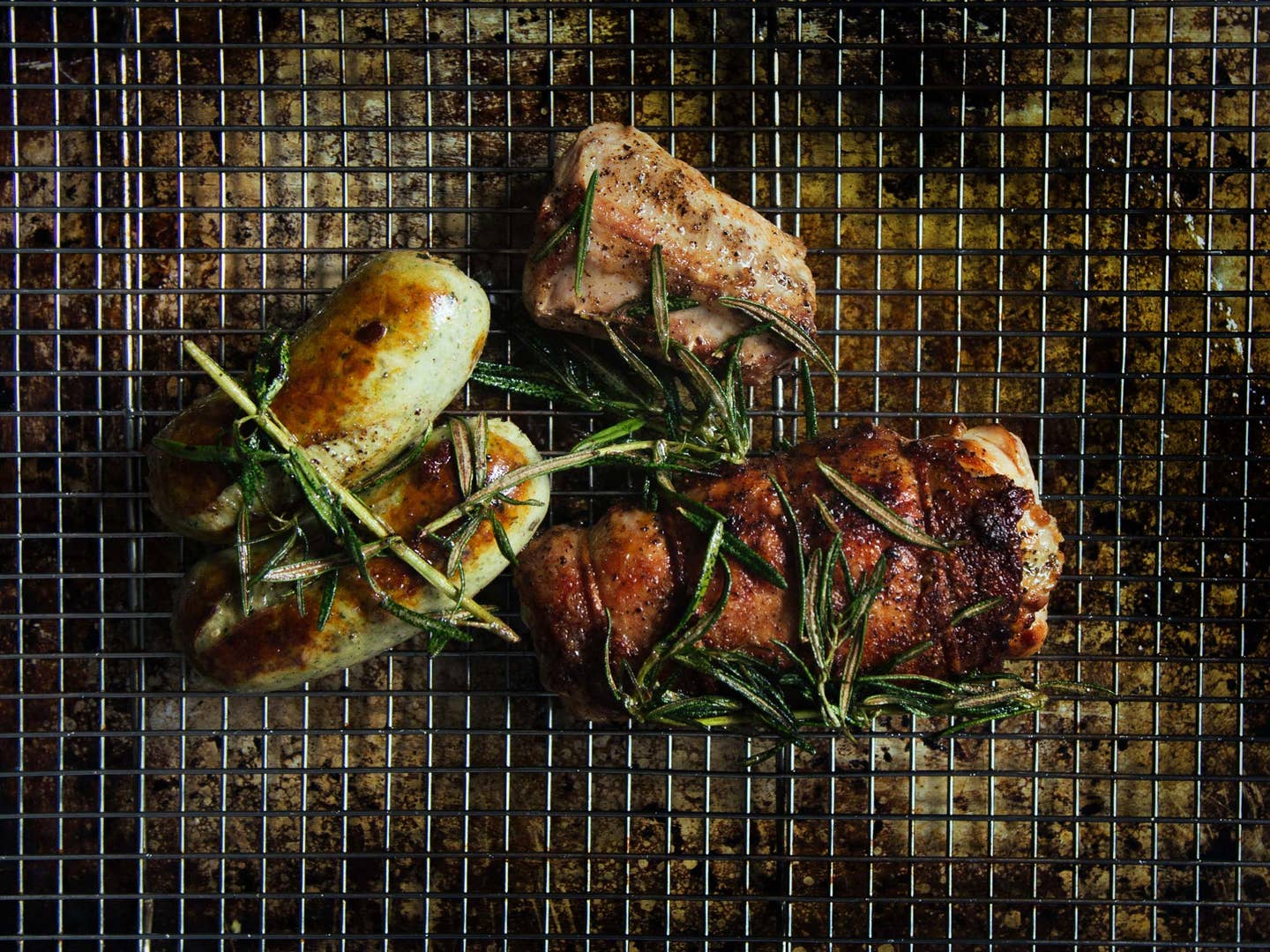 Roasted rabbit is a staple at Maialino, a Roman style trattoria in New York City. There, chef Nick Anderer also makes spicy rabbit sausage with the animal's lean cuts combined with pork backfat (which can be substituted with pork belly). An ambitious project, making rabbit sausage requires a meat grinder and pork casings, the latter of which any good butcher can provide. To reduce this recipe, divide the measurements by four.
Ingredients
3⁄4 cup kosher salt
3 tbsp. freshly ground black pepper
3 tbsp. fennel seed
2 1⁄2 tbsp. crushed red pepper
2 tbsp. sugar
1 1⁄2 tsp. finely chopped rosemary
1 1⁄2 tsp. finely chopped fresh fennel fronds
8 3⁄4 lb. lean rabbit meat from the shoulders, legs, and loin flaps, diced
2 1⁄4 lb. pork backfat, diced
7 oz. buttermilk powder
1 lb. blanched broccoli rabe, chopped
2 cups ice-cold water
Pork casing (approximately 20 feet in length)
Instructions
Step 1
In a small bowl combine the salt, black pepper, fennel seed, red pepper, sugar, rosemary, and fennel fronds. In a large bowl, season the rabbit meat and fat lightly with the seasoning mixture (reserve the remaining mixture for another use). Transfer to the freezer.
Step 2
Once frozen solid, break the mixture apart. Mix with the buttermilk powder and broccoli rabe.
Step 3
Using a meat grinder, grind the mixture on the large die into a chilled bowl (preferably over an ice bath). Freeze at least 20 minutes, then grind again through the small die. Transfer to a stand mixer fitted with the paddle attachment and beat, slowly adding the ice water until fully incorporated.
Step 4
Moisten pork casing in cold water and lay the open end over the sausage stuffing tube, bunching the entire casing over this tube. With the motor on a slow setting, carefully guide the meat into the casing until it is fully stuffed. Be careful not to pack it too tightly by guiding the casing out along with the meat. Twist sections of this link (about 3 inches long each) to form links that are roughly 4 oz. each.