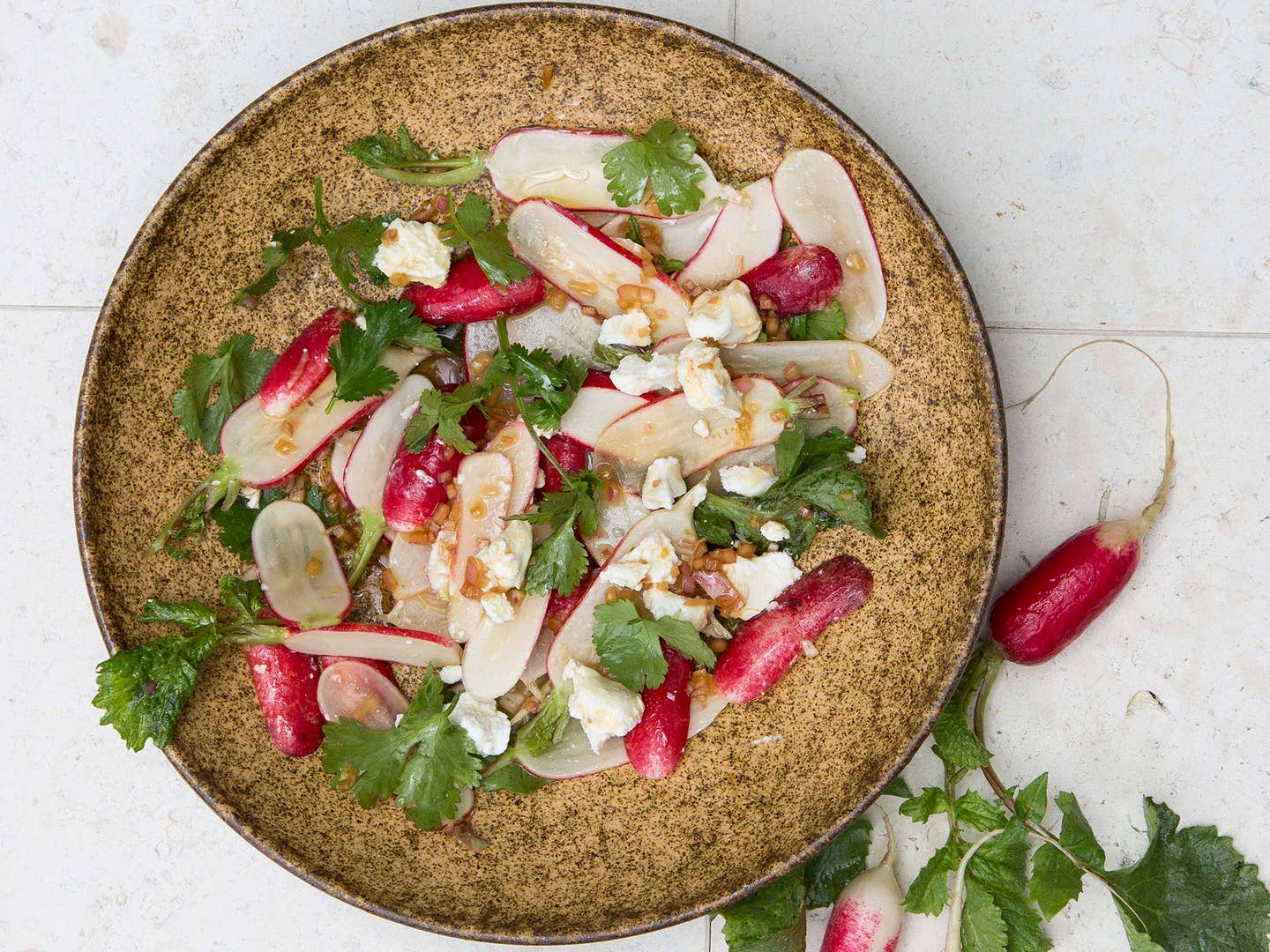 Techniques
Radishes are the Ultimate Grow-at-Home Taste of Spring
No green thumb? No problem. Radishes are here for you
For the majority of our married life, my husband, Tadaaki, has grown our food. I have tried to help when I can with weeding or picking, jobs that I can jump in and out of. But being a successful farmer requires planning and forethought: buying the seeds, tilling the fields (he always reminds me that I should learn how to drive the tractor myself), then sowing the day it is due to rain.
Growing radishes is far less complicated. All radishes grow like clockwork—30 days and they're ready.
"Just tossed some radish seeds in the field…what are you up to in thirty days?" read one memorable invitation I sent out to friends a while back.
We live in the Japanese countryside in Saitama, so most of our friends travel one or two hours to get to our house. Having chosen to live in a rural setting with a Japanese farmer, I felt a deep obligation to create a more diverse social context for our three homeschooled sons as they were growing up. And with that in mind, I threw parties several times a year, often inviting about 20 adults and 20 kids at a time. Understanding the effort it took to bundle everyone into the car and drive two hours to our home, I enticed my guests with a preview of what might be on the menu. Radishes were always a big draw.
Each spring, I plant my radish of choice, French breakfast, which has a subtle, nuanced heat and a shape that lends itself to thin, elegant slices.
Because we have a farm and not merely a garden, we end up planting more than we can handle as a family. Truth be told, we always have an excess of everything, but because radish season is so short-lived, we find ourselves eating them madly. The good news is that radishes are just what you want after a long winter. Their fresh pepperiness is the perfect flavor to wake up your winterized palate.
But don't think radishes grow easily only on a farm: They're versatile, and can be raised in small planter boxes or in a corner of the garden; thus they are as doable for urbanites as they are for those of us living in rural areas. My one caveat is to make sure you are not overzealous in your seed planting: Spread them out, otherwise too many roots end up vying to occupy the same space and the plants get crowded. Small children do not make good radish planters.
So what to do when this inevitable overabundance of radishes pops up a month after a seed toss? I am fond of the classic French treatment of slathering butter on a baguette, sprinkling it with salt (or draping it with anchovies, my favorite), and laying a few whole radishes, leaves and all, on top for a kind of do-it-yourself communal-style sandwich party.
In years past, our group was a motley crew usually consisting of a mix of Japanese natives, expats, and small children, all of us sprawled about the floor of our tatami room eating casually from a low table strewn with baskets of radishes and bread. These days, with the children grown up, my dish of choice has evolved into something more elegant, yet just as simple: a composed salad with goat cheese and cilantro. Though I'm often working on books, teaching culinary classes, or filming food programs for local TV stations, I can always find the time to throw some radish seeds into the ground and send an email around to gather friends. And our children often come as well, since our radish parties are the time to celebrate the arrival of spring, and they are fairly effortless field-to-table events that keep all of us in touch with each other and the rhythms of the changing seasons.