Recipes
Magbunga Cocktail
Coconut, calamansi, and other Tiki-inspired flavors shine in Shannon Mustipher's homage to the Filipino bartenders behind the genre.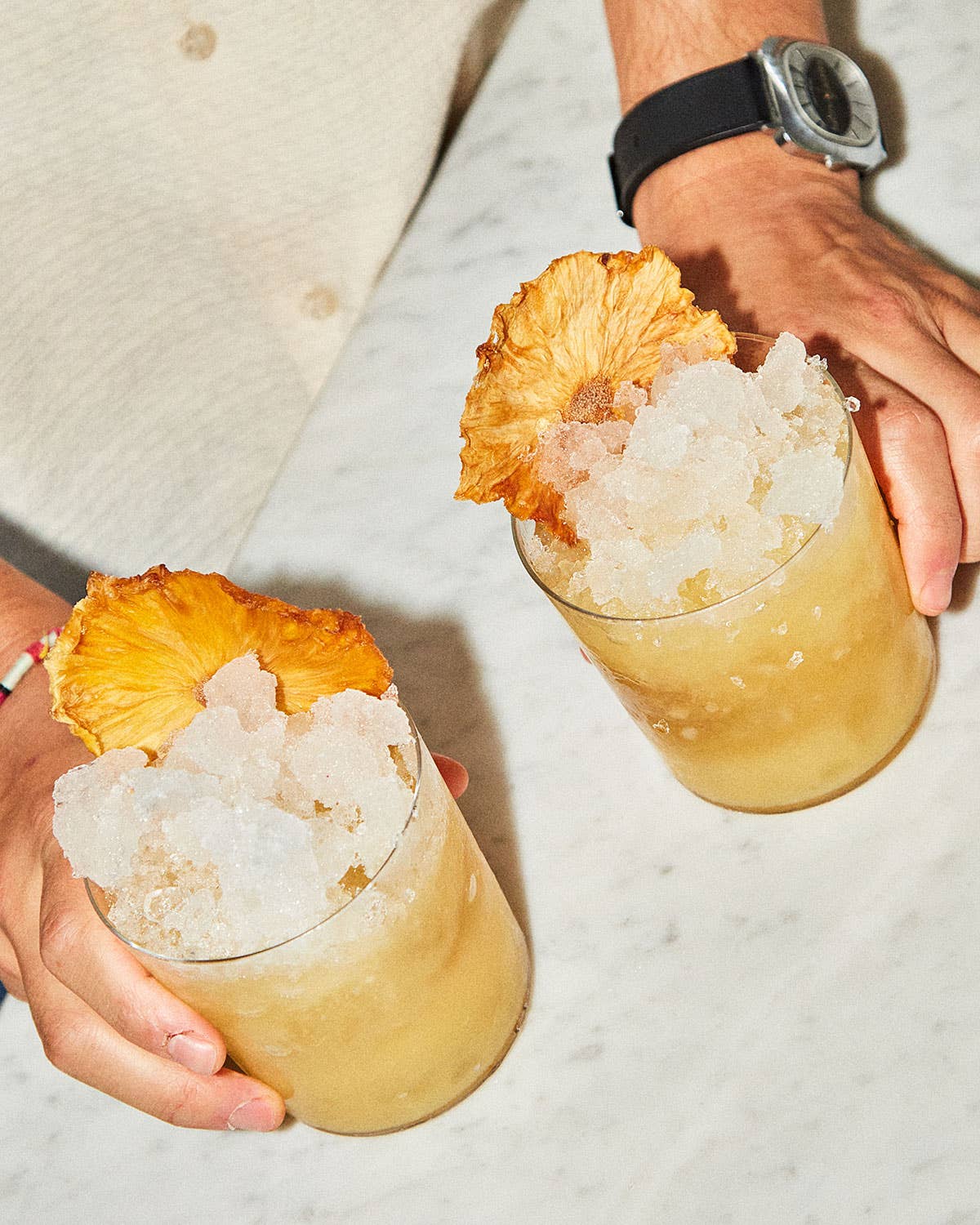 Magbunga is Tagalog for "fruit" or "blossom" and indicates the culmination of a harvest or yield. In the case of this drink, the name is a nod to classic Tiki cocktail culture. Filipino ingredients and recipes inspired the recipe, which is an homage to the midcentury Filipino bartenders who contributed their know-how and creativity to the genre—notably Mariano Licudine, Bob Esmino, and Ray Barrientos.
I've used a number of ingredients that are common in tropical cocktails and also in Filipino cuisine: rum, pineapple, coconut, banana, and calamansi. The formula is also partly inspired by the piña colada, but I've swapped in nondairy banana milk for the coconut cream to render a slightly drier, more aromatic drink. The coconut flavor is deployed as an infusion to bring in those creamy, floral notes, without the added sweetness. As the name implies, flavors unfold and blossom as you move from noticing the nut and flora notes on the nose, take in the drinks dry, slightly creamy palate, and experience a dry, slightly spicy finish courtesy the rum and banana.
This recipe also lends itself well to batching up for a crowd: simply combine all the ingredients in a nonreactive container and chill for three to four hours before serving over ice. Oleo saccharum can be ordered online, but it's also easy to make your own. For the infused rum, I suggest seeking out the Filipino brand Kasama.
Ingredients
For the coconut-infused rum:
16 oz. aged rum (preferably Kasama brand)
¼ cup unrefined coconut oil (liquified at room temperature)
For the cocktail:
2 oz. coconut-infused rum
½ oz. banana milk
½ oz. pineapple juice
¼ oz. calamansi concentrate
¼ oz. oleo saccharum
Fresh or dried pineapple slice, for garnish
Instructions
Step 1
Make the coconut-infused rum: In a quart container or jar, whisk together the
rum and coc
onut oil. Cover tightly and set aside at room temperature for 6–8 hours.
Step 2
Transfer the rum-coconut oil mixture to the freezer for 8 - 10 hours. Remove from the freezer and uncover. The coconut oil will have solidified and risen to the top; remove and discard the oil, then strain the rum through a fine mesh strainer to remove any remaining solids. Transfer to a bottle or clean jar and cover tightly. Stored at room temperature, coconut-infused rum will keep well for up to 6 months.
Step 3
To a chilled rocks glass, add the coconut-infused rum, banana milk, pineapple juice, calamansi concentrate, and oleo saccharum. Stir to combine, then top with crushed ice to chill. Garnish with a pineapple slice and serve immediately.