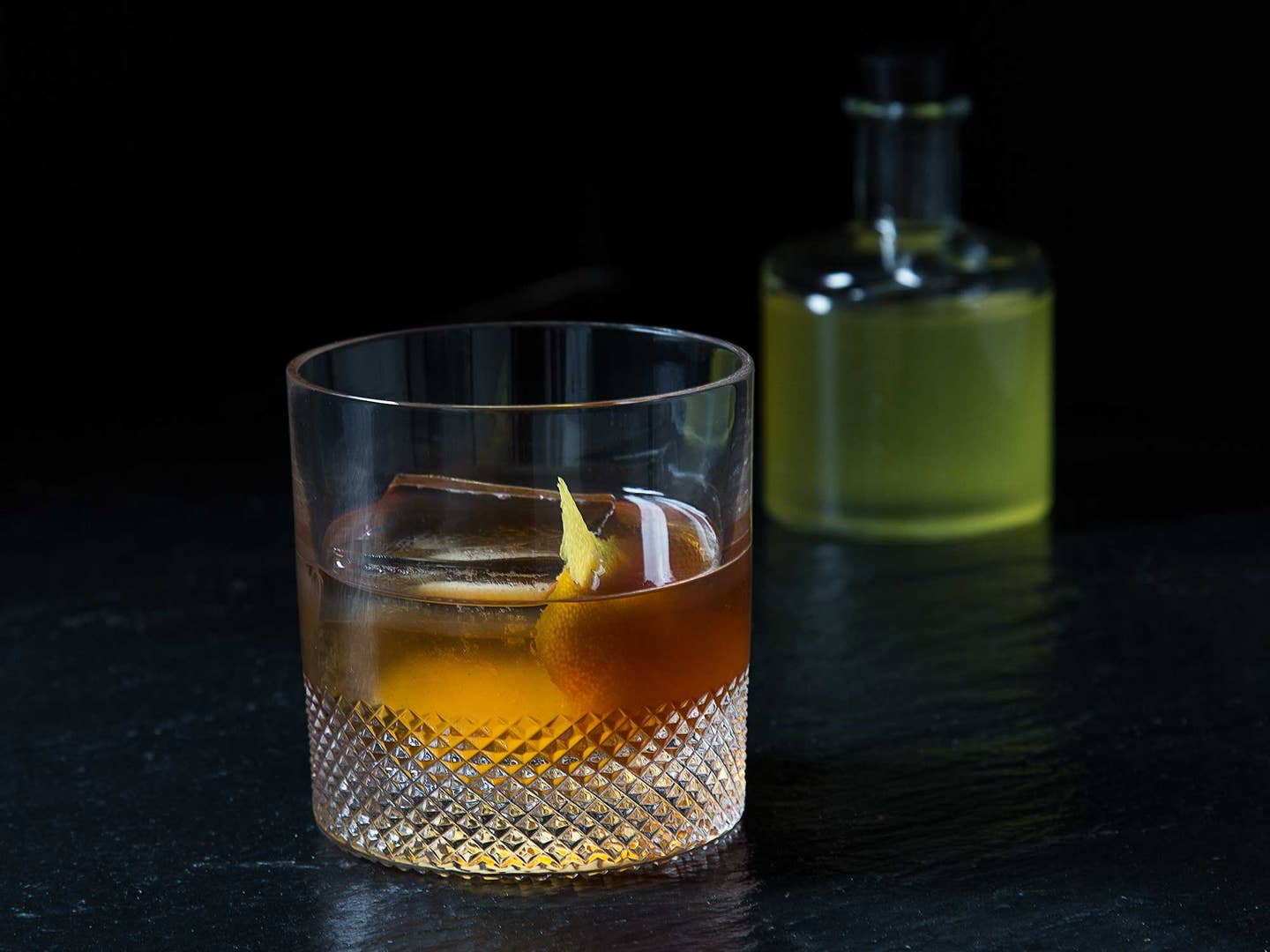 Drinks
Up the Citrus in Your Cocktails with Oleo Saccharum
A complicated name for a simple concept: syrup loaded with citrus essential oils that give amazing depth to mixed drinks
Citrus peels are flavor powerhouses, as anyone who's grated orange zest into a cake batter—or garnished a martini with a big lemon twist—can attest. So what's the easiest way to extract those essential citrus oils and put them to use in your cocktails? A special syrup that's a key element of traditional punches, and a total cocktail workhorse, known as oleo saccharum.
The name translates to oil sugar, which doubles as a definition. Combine dry citrus peels with sugar and, over the course of a few hours, you'll see the citrus oils seeping out—giving you a concentrated syrup that tastes intensely of the fruit you're using, without the pith's bitterness or juice's dilution. And since the syrup is full of citrus oil, it lends cocktails a bit of weight and body, a substantial feeling that you can't get with juice or plain sugar syrup alone.
As a syrup that contributes citrus flavor, sweetness, and texture at once, oleo saccharum is one of the best cocktail multi-taskers out there. That's what endears it to modern-day bartenders, but it's hardly a recent cocktail invention.
Historically, the syrup was a mandatory component of classic punch. As Jerry Thomas wrote in The Bon Vivant's Companion, first published in 1862, "To make punch of any sort in perfection, the ambrosial essence of the lemon must be extracted, by rubbing lumps of sugar on the rind" (a process that has evolved over the years). Cocktail scholar Dave Wondrich has traced oleo saccharum back to 1707 and perhaps before, and in his definitive book Punch, states that "lemon oil adds a fragrance and a depth that marks the difference between a good Punch and a great one."
Since it's the sugar that draws out those oils we're after, an oleo saccharum is quite sweet, and so it shouldn't be added to cocktails that already have sweeteners. Rather, swap it in for simple syrup any time you want to jack up the citrus flavor, whether or not you're already using juice. Punch or sangria? Clearly. A French 75 with lemon oleo saccharum in place of simple syrup? Delicious. Or try it with grapefruit oleo, for a complementary citrus flavor as an elusive background note.
It can equally add complexity to non-alcoholic drinks. Lemonade with both juice and oleo saccharum? Highly recommended. Right now, we're keeping a blood orange oleo in the fridge. Squeeze a little juice in the morning, stir with oleo saccharum, and top with lots of sparkling water for a fresh orange soda. It's one of the easiest and most refreshing booze-free drinks we know.
Even if oleo saccharum may sound a bit esoteric, it's dead simple to make: Combine sugar and citrus peel, and you've already done all the hard work. And when you store your finished oleo in the fridge, it'll keep for a month or more, on-hand any time you need a sweet citrus lift.
Zest your citrus with a straight vegetable peeler (a knife will also do), taking the skin in long, thin strips—avoiding the bitter white pith as much as possible. Place it in a large bowl or Ziploc, then add the sugar. Toss the citrus and sugar together (whether with a big spoon or by shaking and massaging it, if you're using a Ziploc bag) until every peel is thoroughly coated in sugar.
Now set it aside, covered if you're using a bowl, and wait for the fun part. Within a few hours or even less, you'll see this mixture seem to liquify—the citrus oils emerging and dissolving into the sugar, creating a syrup from two dry ingredients. (This will happen with larger fruits, like oranges and grapefruits, more quickly than with lemons or limes.) Once most of the oils have been extracted, add a bit of hot water to dissolve any remaining sugar, strain out the now-depleted peels, and you're done.
The Old Fashioned (in its classic form, a stirred whiskey cocktail with sugar, bitters, and a twist) is a drink whose garnish is critical, relying on the subtle lift of orange oils to balance the strong spirit. But what if you want to up the orange? A proper Old Fashioned would become diluted and unappealing with juice, or with muddled fruit (if you see a bartender muddling up an orange slice and maraschino cherry for your drink, you have our permission to walk away). But using an oleo saccharum as the sweetener brings in even more of those orange oils, for a drink where the citrus flavors are bright and powerful, without any juice to compromise the drink's strength and clarity.