Recipes
Tuna Crudo with Chamomile Oil, Cucumber Salad, and Pea Shoots
If you think the blossoms are just for tea, think again.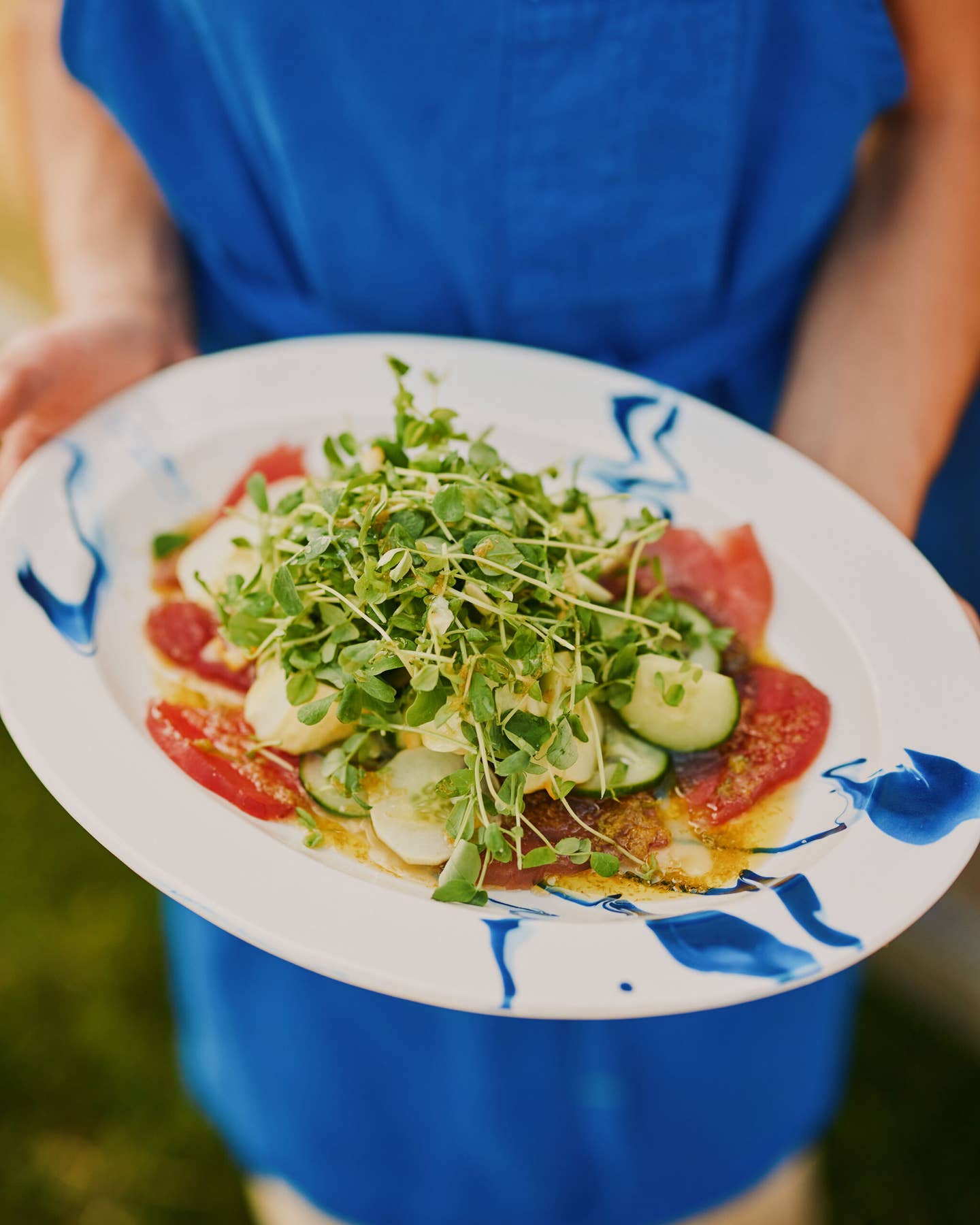 In New York's Hudson Valley, the height of summer means that the first lettuces and hearty greens of spring are finally replaced by more delicate herbs and tender vegetables at roadside stands supplied by local growers like Migliorelli Farm. This crudo with chamomile oil and cucumber salad is a celebration of those elusive seasonal delights. While "oils" often imply infusions or tinctures, this is an incredibly unfussy dish that does little to manipulate the fresh flowers. The only tool required is one of the oldest: a mortar and pestle. This tuna crudo recipe also leaves a lot of room for adaptation and substitution. "I am a stickler for sourcing, so I wait until tuna is being caught in Montauk from fishermen I trust," explains chef Molly Levine of Westerly Canteen. "This recipe could easily sub in fluke, or halibut from the West Coast, or any other delicate fish that you would eat raw." 
If you can't get fresh chamomile flowers, anise hyssop, fennel, or dill flowers are excellent substitutes.
Ingredients
½ cup fresh chamomile flowers
1 Tbsp. plus 1½ tsp. finely grated lemon zest
¾ cup olive oil
Kosher salt, to taste
3 small cucumbers
12 oz. fresh bigeye tuna, bloodline removed
2 Tbsp. fresh lemon juice
2 tsp. finely grated lime zest
1½ Tbsp. fresh lime juice
2 oz. (about 2 cups) pea shoots
Flaky salt
Instructions
Step 1
Make the chamomile oil: In a mortar and pestle, pound the flowers until they just start to break down. Add the lemon zest and continue pounding until a coarse paste forms. Add the olive oil and season with kosher salt to taste. Set aside for at least 30 minutes so the flavors can infuse into the oil. 
Step 2
Make the cucumber salad: Slice half of the cucumbers into thin rounds and the other half into small bite-size chunks, transfer to a medium bowl, then add the lemon juice, lime zest, and lime juice, and season lightly with kosher salt.
Step 3
Using a very sharp knife, cut the tuna along the grain into thin slices. Arrange the slices in a single layer on a serving plate or platter, season lightly with kosher salt, then drizzle over about half of the chamomile oil. Arrange the cucumber slices atop the fish and arrange the cucumber chunks around the edges of the plate. To the bowl that held the cucumbers, add the pea shoots and toss to soak up any remaining dressing. Pile the pea shoots atop the cucumber slices. Drizzle over the remaining chamomile oil and sprinkle with flaky salt. Serve tuna crudo immediately.