Cassoulet de Seiches à la Gruissanaise (Cuttlefish Cassoulet with Pork Sausage)
Land and sea meet in this coastal riff on the iconic French bean dish.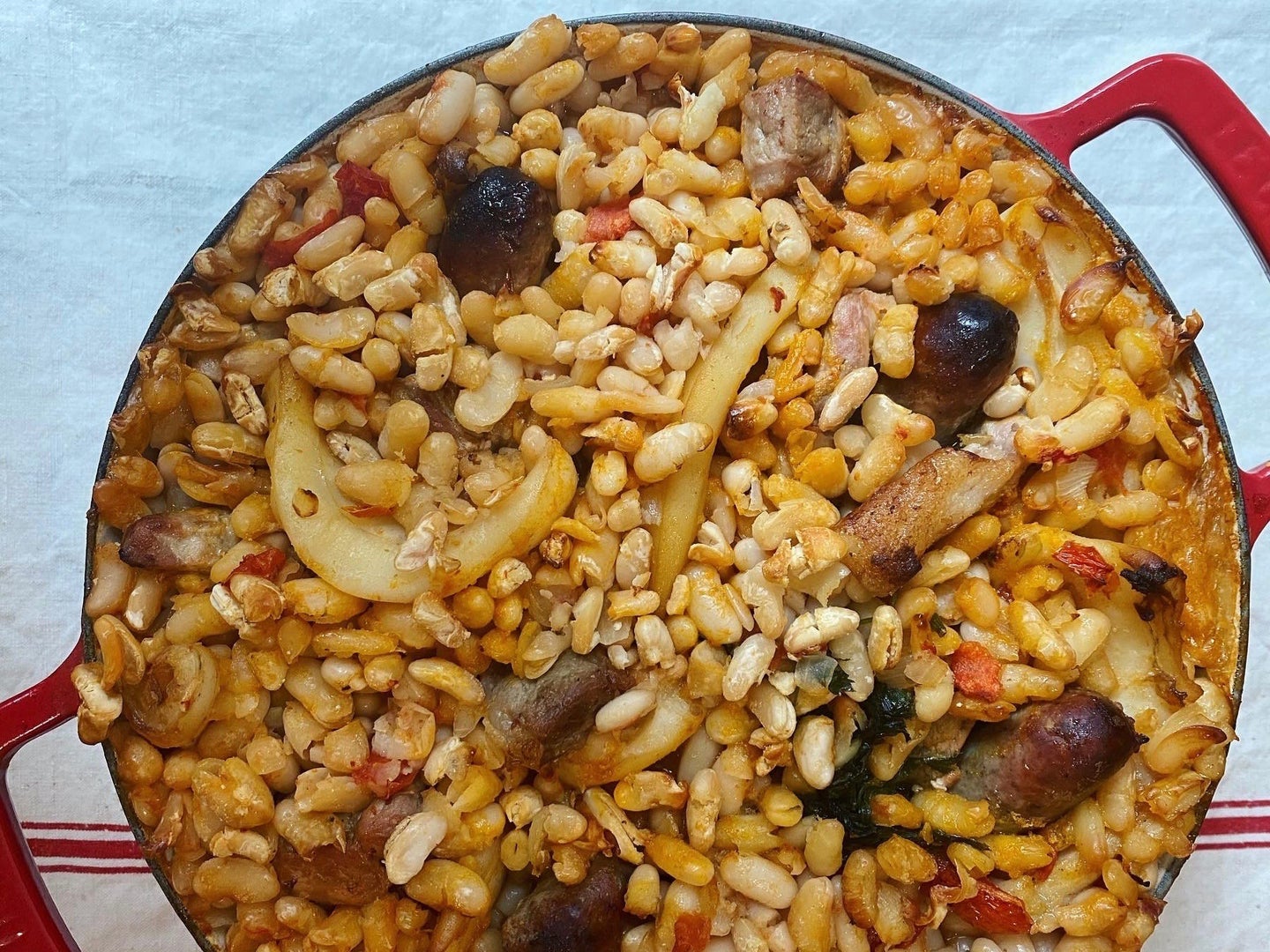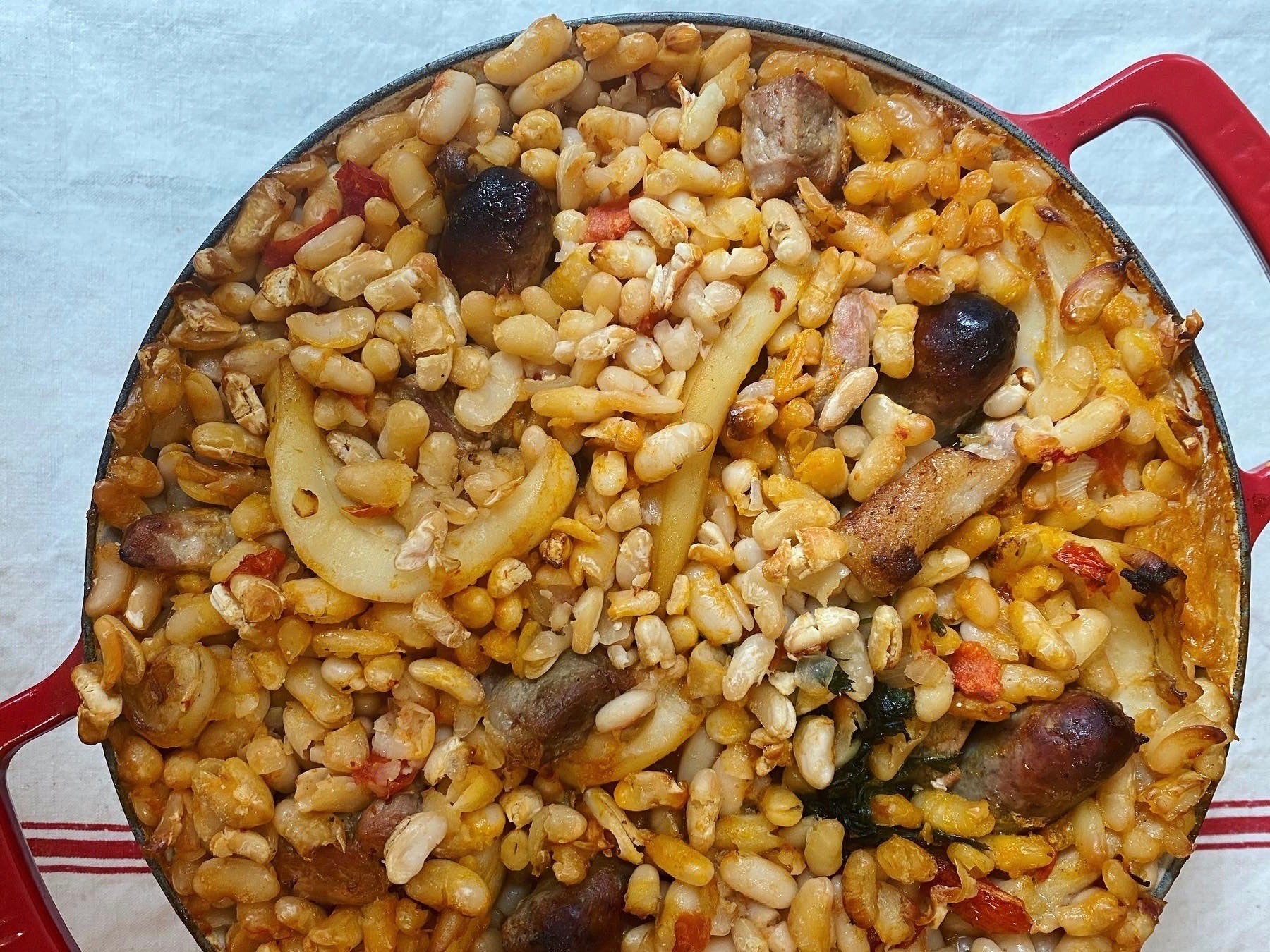 In centuries past, at the end of winter, the pantries of Southern French families living in Gruissan were quite bare. A few dried beans, a piece of pork confit or a sausage, a glug of tomato coulis: a bit of everything but not enough to make a hearty dish. That was without counting on the richness of the sea. It's said that one day, a local fisherman returned home with the first cuttlefish of the season; inspiration struck, and his wife decided to combine land and sea. This version, which is adapted from the one served at La Cambuse du Saunier Gruissan, gets its freshness from a swirl of garlicky persillade sauce. Ask your fishmonger to clean the cuttlefish bodies for you. Tender and buttery lingot beans cook more quickly than the larger Tarbais variety—look for them at well-stocked specialty markets, or order online from Kalustyan's.
Featured in: "It May Be September, But We're Not Done Drinking Rosé."
Cuttlefish Cassoulet with Pork Sausage (Cassoulet de Seiches à la Gruissanaise)
This cassoulet recipe with cuttlefish and pork sausage comes from the coast of Gruissan in France's Languedoc-Roussillon wine region.
Time: 3 hours, 15 minutes
Ingredients
5 lb. (2¼ lb.) dried white lingot beans, soaked overnight
Fine sea salt
2 tbsp. (1 oz.) duck fat
Two 6-in. Toulouse sausages (8 oz.), or substitute any fresh, mild pork sausage
5 oz. boneless pork loin
¼ cups persillade sauce, plus more for serving (or substitute 3 garlic cloves, finely chopped
1 tbsp. extra-virgin olive oil; and ½ cup finely chopped Italian parsley)
2 medium tomatoes (10 oz.), finely chopped
1 medium yellow onion (9 oz.), finely chopped
1 cup tomato purée
2¼ lb. whole small cuttlefish, or large cuttlefish bodies, cut in wide strips
Crusty bread, for serving
Instructions
Drain the beans and rinse well, then transfer to a large pot. Add cold water to cover by 2 inches, bring to a boil over high heat, then season lightly with salt, lower the heat to simmer, and cook until the beans are just barely al dente, 35–40 minutes. Drain, reserving their cooking liquid, and set aside.
Preheat the oven (with one of its racks positioned in the center) to 300°F.
In a cassole or medium dutch oven over medium heat, melt the duck fat. When hot, add the sausages and cook, turning occasionally, until browned all over, 10–12 minutes. Transfer to a plate and set aside. Add the pork loin to the pot and cook, stirring occasionally, until evenly browned, 12–14 minutes; transfer to the plate with the sausages and set aside. Turn the heat to medium-high, then, working in batches to avoid crowding, add the cuttlefish and sear all over until just until firm and lightly browned, 2–4 minutes per batch. Transfer to the plate with the meat and set aside. Add the onion and cook, stirring occasionally, until softened and just beginning to brown at the edges, 5–7 minutes. Add the tomatoes, tomato purée, and the persillade sauce and cook until the juices are thickened and concentrated, about 5 minutes more.
Assemble the cassoulet: Stir the reserved beans into the vegetable mixture. Return the meat and the cuttlefish to the pot, tucking the pieces in below the surface as much as possible. And 2 cups of the reserved bean-cooking liquid. (The beans and meat should rise just barely above the surface of the liquid; if necessary, add a bit more water.) Bring to a simmer, then carefully transfer to the oven and continue cooking until the beans and cuttlefish are very tender and most of the liquid has been absorbed, about 1½ hours. Serve hot, with additional persillade sauce and and crusty bread on the side.
Cooking Cassoulet in Gascony