Recipes
Minestra di Verdure
Passed down for three generations, this nonna-approved vegan stew makes the most of a bumper crop of summer vegetables.
Serves

4

Cook

1 hour 30 minutes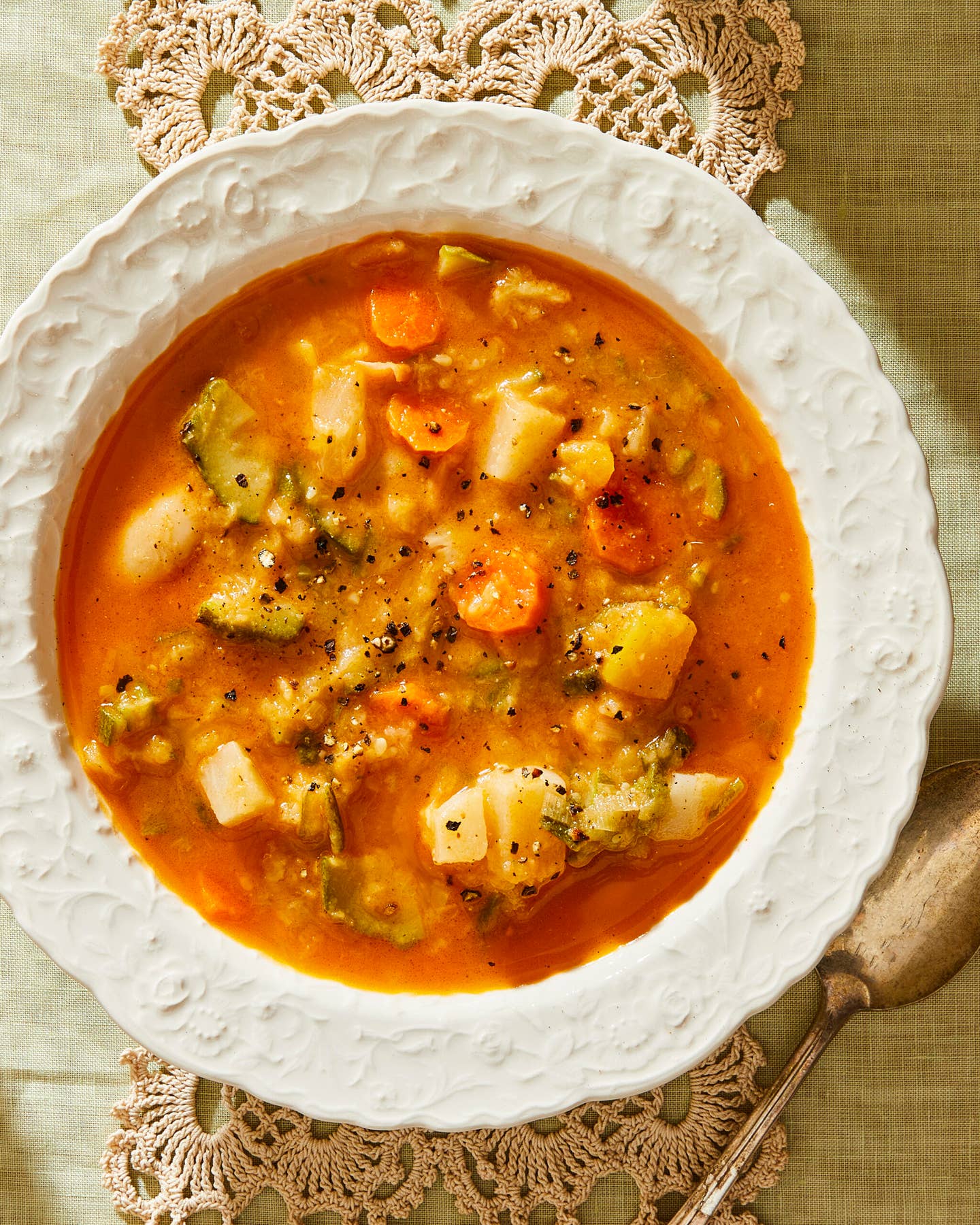 This Grandmas Project recipe for minestra di verdure—a chunky Mediterranean vegetable soup—is a great way to cook through a bumper crop of late-summer veggies, which you can vary depending on what's available (or on sale). We love serving this stew the day after it's made to let the flavors marry. Minestra makes an even more complete, satisfying meal when served with crusty baguette and a runny fried egg on top.
Ingredients
One 15-oz. can cannellini beans, drained
2 Tbsp. extra-virgin olive oil, plus more for serving (optional)
8 oz. celery root, peeled and cut into ½-in. pieces (about 2 cups)
8 oz. red kuri squash, peeled and cut into ½-in. pieces (about 1⅔ cups)
4 medium carrots, peeled and cut into ½-in. pieces
3 medium zucchini, cut into ½-in. pieces
2 medium leeks, tops and bottoms discarded, cleaned and coarsely chopped
2 medium turnips, cut into ½-in. pieces
¼ large fennel bulb (3 oz.), coarsely chopped
1 Tbsp. tomato paste
Kosher salt and freshly ground black pepper
Instructions
Step 1
In a small bowl, using a potato masher or handheld blender, coarsely purée ½ cup of the beans with ½ cup of water and set aside.
Step 2
To a large pot set over medium heat, add the oil, celery root, squash, carrots, zucchini, leeks, turnips, and fennel and cook, stirring occasionally, until the vegetables have softened slightly and are beginning to brown, about 15 minutes.
Step 3
Stir in the puréed and whole beans, the tomato paste, and 4 cups of water and season with salt and black pepper to taste. Turn the heat to low and continue cooking, adding hot water as needed to maintain a thick, soupy texture, until the vegetables are fully soft, about 45 minutes. Divide evenly among four bowls and drizzle with olive oil if desired.