Recipes
Roasted Parsnips and Onions with Sumac and Feta
A hit of gentle acidity lets sweet root vegetables sparkle in this simple winter side.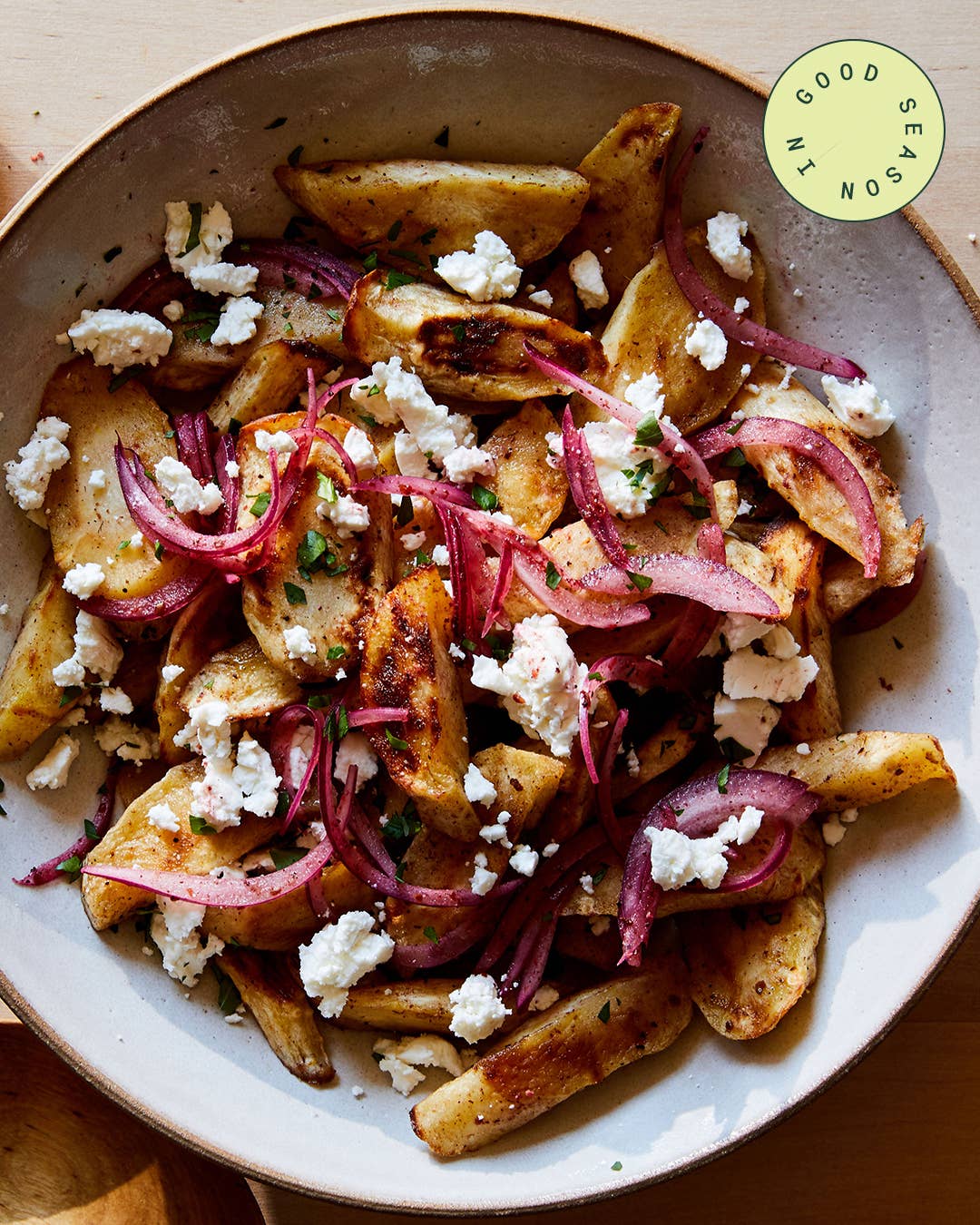 Welcome to SAVEUR's column on making the most of local produce according to contributing editor Fatima Khawaja. Here you'll find creative, unfussy meal ideas plus plenty of cooking advice—like what to do with that bumper crop of zucchini or how to store delicate heirloom tomatoes. Follow along, and you'll learn how to turn the season's bounty into easy plant-based meals.
Showcasing vegetables at their very best all comes down to doing the bare minimum to let fresh, seasonal ingredients shine. In this recipe, roasted parsnips' earthy sweetness sings alongside salty feta and sharp onions. It's the ideal side dish to pair with hearty winter stews and roasts. Take care not to overcook this lovely root, to best allow the ingredients' distinct textures to play together in every bite.
Ingredients
1½ lb. parsnips, peeled and cut crosswise into 1½-in. pieces
3 Tbsp. extra-virgin olive oil
½ tsp. ground cumin
½ tsp. kosher salt
½ small red onion, thinly sliced
2 Tbsp. fresh lemon juice, plus more to taste
1 tsp. ground sumac
½ cup (2 oz.) crumbled feta
2 Tbsp. finely chopped parsley, for garnish
Instructions
Step 1
Position a rack in the center of the oven and preheat to 375ºF.
Step 2
Line a large rimmed baking sheet with aluminum foil and add the parsnips. Drizzle over the oil, then add the cumin and salt and toss well to coat. Transfer to the oven and roast, stirring occasionally, until the parsnips are beginning to brown and are tender when pierced with a knife, 15–20 minutes. Cool slightly on the baking sheet, then transfer to a large platter.
Step 3
In a small bowl, toss together the onion, lemon juice, and sumac, and spread on top of the parsnips. Top with crumbled feta. Add more lemon juice as needed. Sprinkle parsley to garnish.