Recipes
Shepherd's Pie
Tender braised lamb is a nonnegotiable in the comforting English casserole.
Serves

serves 6

Cook

2 hours 50 minutes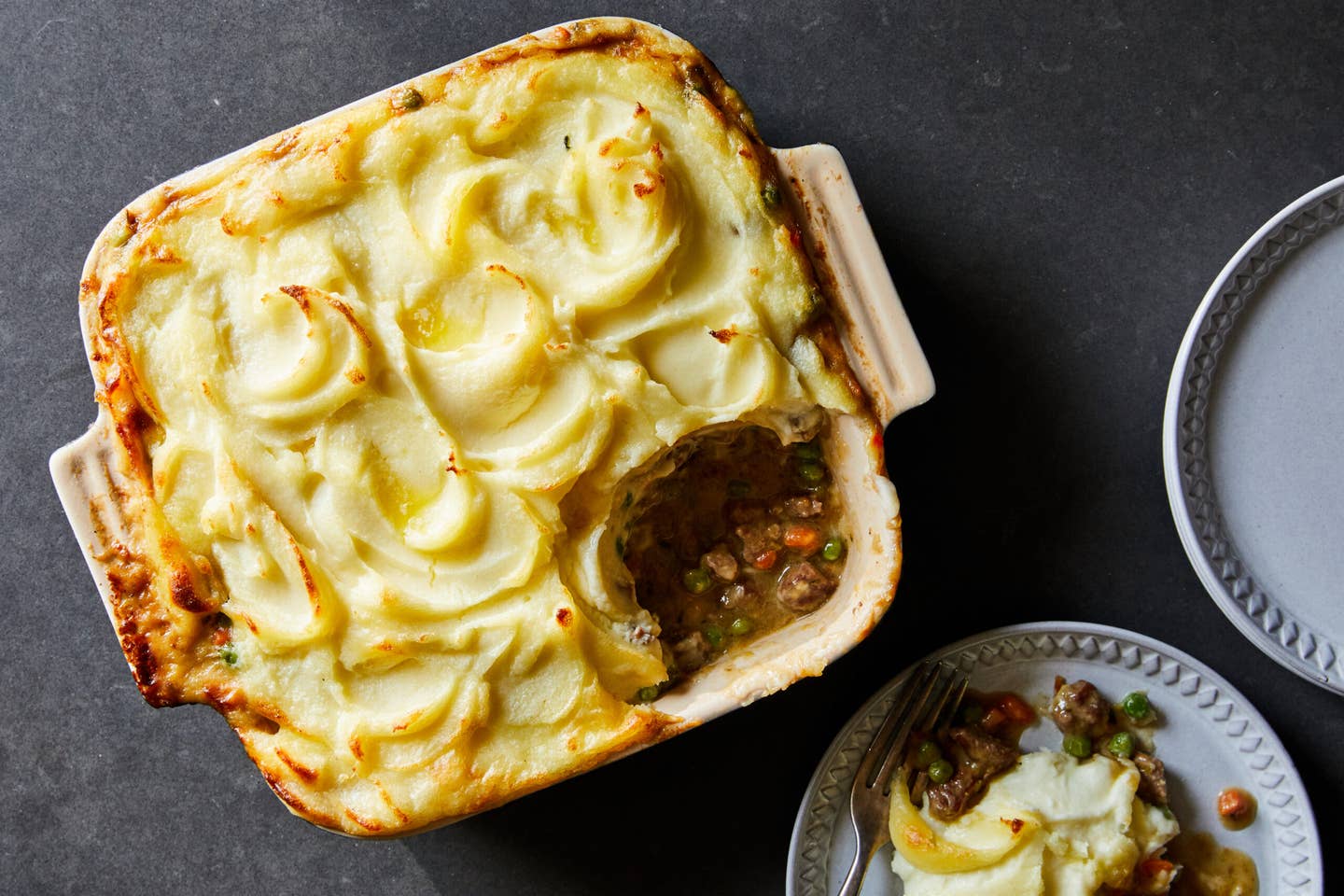 This classic British dish gets its name from the romantic notion that it was eaten by shepherds in the northern England long ago. In keeping with that spirit, we make our classic shepherd's pie recipe with lamb. When made with beef, the humble casserole is sometimes called cottage pie.
Ingredients
14 unsalted butter, divided, 2 Tbsp. cubed
2 lb. boneless lamb shoulder, trimmed and cut into ½-in. chunks, patted dry with paper towels
Kosher salt and freshly ground black pepper
2 medium leeks, white parts only, finely chopped
2 medium carrots, peeled and finely chopped
2 tbsp. all-purpose flour
1½ cups beef stock
1 tbsp. finely chopped rosemary leaves
1 tbsp. finely chopped thyme leaves
1 tbsp. Worcestershire sauce
⅛ tsp. freshly grated nutmeg
1½ cups fresh or frozen peas
3 large russet potatoes (2 lb.), peeled and quartered
½ cups half-and-half
Instructions
Step 1
In a Dutch oven or large pot, melt 3 tablespoons of the butter over medium-high heat. Meanwhile, in a large bowl, season the lamb generously with salt and black pepper and turn to coat. When the foam subsides, add half of the lamb and cook, stirring occasionally, until browned on all sides, about 5 minutes. Using a slotted spoon, transfer to a plate; add 3 more tablespoons of the butter to the pot and repeat with the remaining lamb; set aside. To the empty pot, add the leeks and carrots and turn the heat to medium. Cook, scraping up any browned bits, until softened slightly, about 4 minutes. Add the flour, reserved lamb, and any accumulated juices and cook, stirring continuously, until no white streaks remain, about 1 minute. Add the stock, rosemary, thyme, Worcestershire, nutmeg, and salt and black pepper to taste, then turn the heat to high. When the liquid boils, turn the heat to medium-low, cover, and cook, stirring occasionally, until the lamb is tender but not falling apart, about 40 minutes. Uncover and continue to cook, stirring frequently, until the sauce has thickened and the lamb flakes when pierced with a fork, 35–40 minutes more. Stir in the peas and set aside.
Step 2
Position a rack in the center of the oven and preheat to 375°F. To a large pot set over high heat, add the potatoes and enough salted water to cover by 1 inch. When the liquid boils, turn the heat to medium-low and cook until tender when pierced with a fork, 20–25 minutes. Drain, then return the potatoes to the pot and add 6 tablespoons of the butter, the half-and-half, and salt and black pepper to taste. Using a potato masher, mash until smooth.
Step 3
Scrape the lamb mixture into a casserole dish and smooth the top. Top evenly with the mashed potatoes, then use a spoon to make decorative swirls. Scatter with the cubed butter and bake until golden and bubbling, about 30 minutes. Let shepherd's pie stand for 10 minutes before serving.