Recipes
Pork Rillettes
One of the simplest forms of charcuterie, this traditional French potted meat showcases pork fat at its very best.
Serves

serves 6 cups

Cook

1 day 55 minutes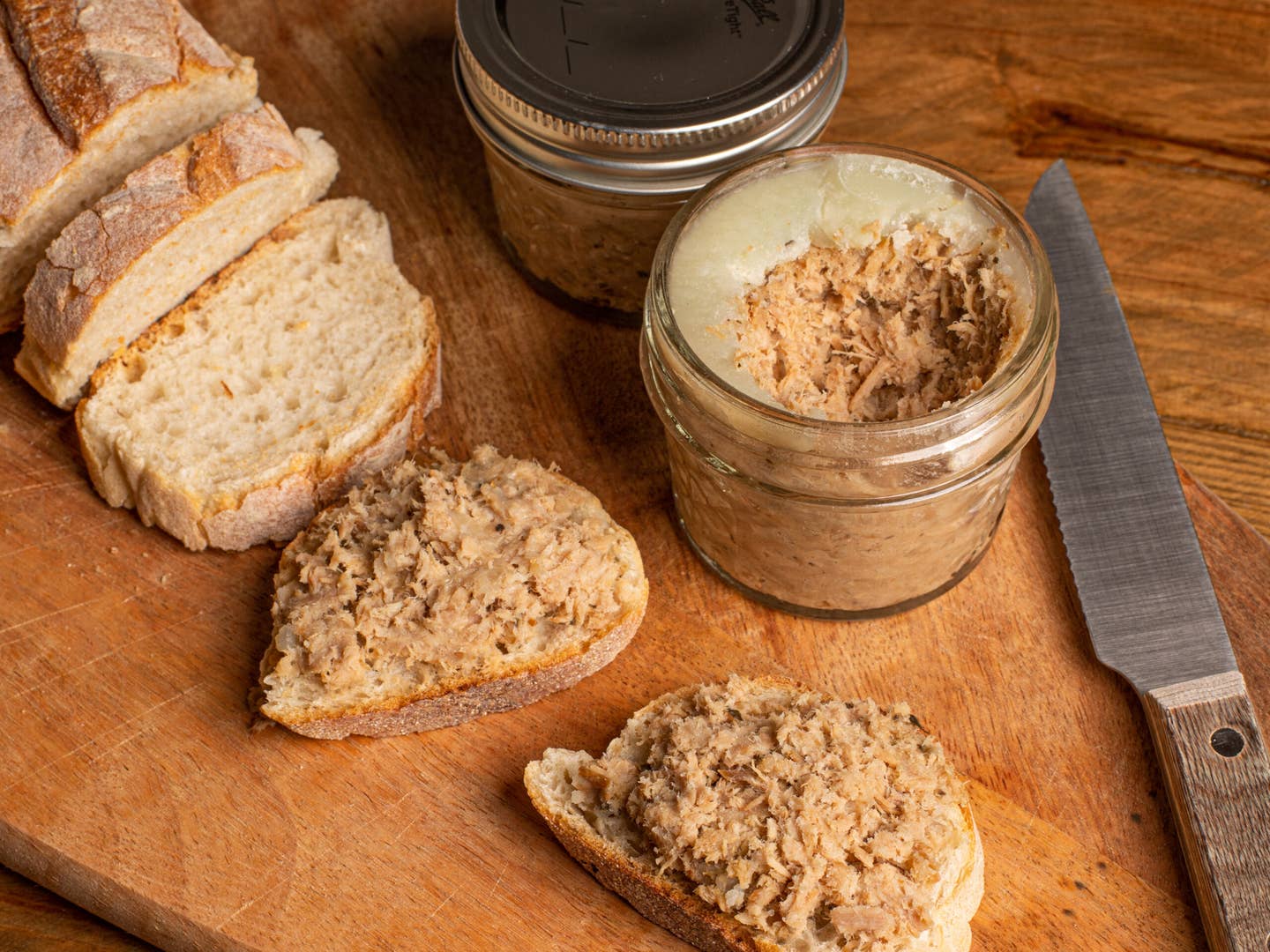 Traditionally, pork rillettes were made from any trimmed fat and meat leftover after butchering a whole hog. Like sausages, terrines, and patés, the recipe for rillettes was likely invented in order to use up every part of the animal. A home version of the dish may be made using the picnic portion of the shoulder, as its perfect ratio of meat to fat is particularly well-suited for rillettes. Ask your local whole-animal butcher to also set aside the fatback, which is taken from the hog's spinal area. Quatre épices—a classic blend of spices commonly used in French charcuterie and other meat dishes—can be purchased from many spice purveyors, or otherwise easily blended at home.
Ingredients
2 1⁄2 lb. pork shoulder, loin, or belly
1 lb. 2 oz. fatback or other fat trim (preferably not leaf lard or kidney fat)
2 cups dry white wine or cider
1 yellow onion (5 oz.)
1 carrot (3½ oz.), peeled
1 large bouquet garni* (May include lovage, bay leaf, and thyme)
2 tbsp. fine sea salt, plus more to taste
2 tsp. freshly ground black pepper, plus more to taste
pinches of quatre épices
Crusty bread or crackers, for serving
Instructions
Step 1
To a large Dutch oven, add the pork, fatback, wine, onion, carrot, bouquet garni, salt, pepper, quatre épices, and 2¼ cups cold water. Bring to a simmer over medium-high heat, then lower the heat to maintain a low simmer and cook until the meat has started to fall apart and the flavors of the wine mingle with the onion in a caramel-colored sauce, 4–4½ hours. Remove from heat and set aside until just cool enough to handle.
Step 2
Set a fine-mesh strainer over a large bowl. Strain the meat, discarding the aromatics and the bouquet garni and reserving the cooking liquid. Use a fork or your hands to shred the meat into a second large bowl, then stir in enough of the fatty broth to moisten and bind the mixture together, about ½ cup. Season to taste with more salt and black pepper, then transfer to three 16-ounce glass Mason jars, pressing down to force out any air bubbles. Add enough of the reserved cooking liquid to each jar to cover the rillettes with a thin layer of fat, then refrigerate for at least 24 hours and up to 2 months.
Step 3
To serve, allow the rillettes to come to room temperature in the jar. Scrape away the top layer of fat, then transfer to a small bowl or serve directly from the jar, with crusty bread or crackers on the side.