Recipes
Autumn Vegetable Tagine with Bulgur Wheat
Deeply flavorful squash and sweet potatoes shine in Romy Gill's North African-inflected stew.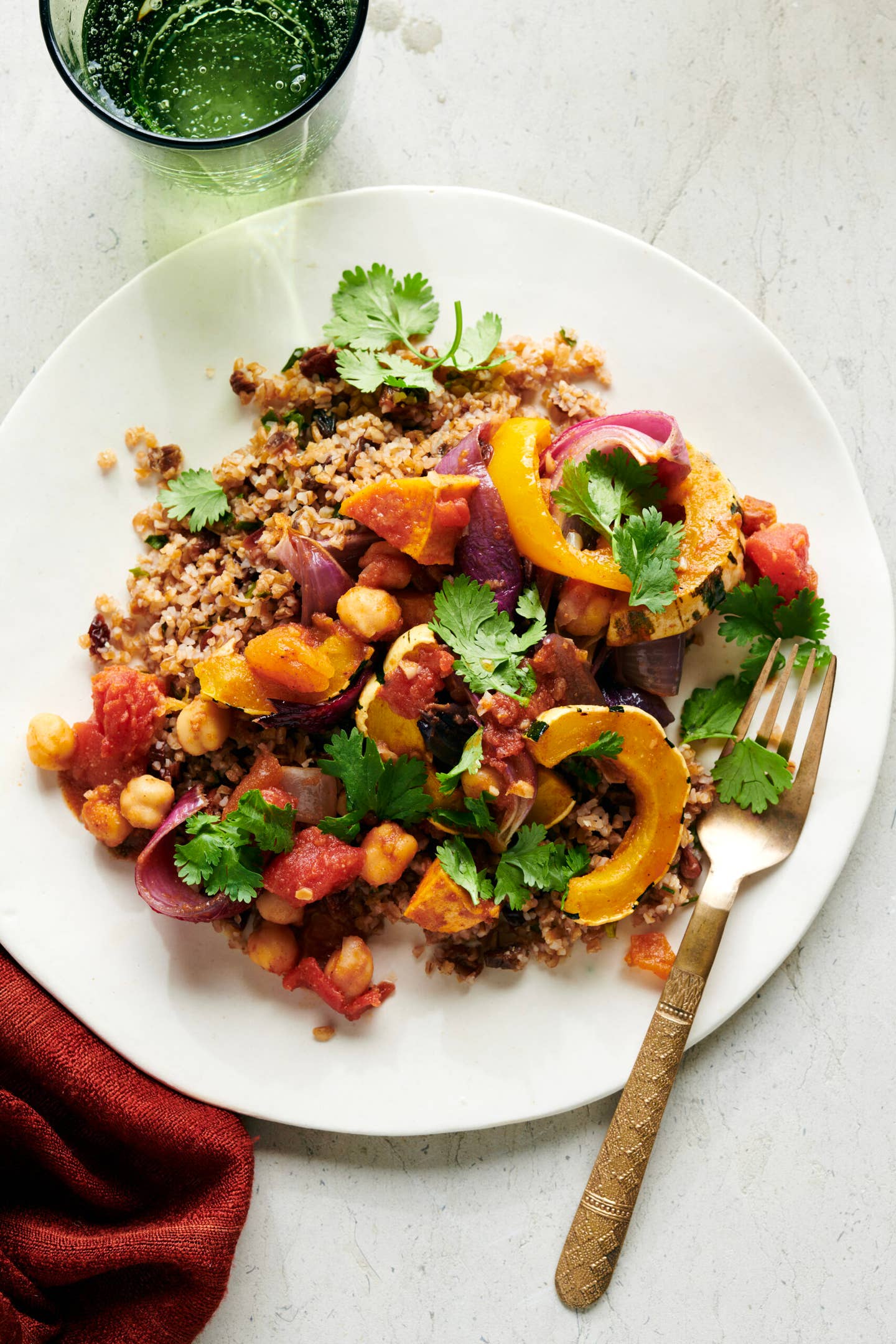 Tagines—North African stews named for the conical covered pots in which they're traditionally cooked—are widely loved throughout Europe, the U.K., and beyond. This vegetarian tagine recipe, inspired by a Claudia Roden dish a friend once cooked for me when I first moved from India to England, is one of my family's favorites. Our kitchen is a happy place whenever I make it. The sweet and gently spicy stew reminds me of my mum's wholesome cooking, and it was a great comfort to me when I was lonely and homesick in a new country. I love that the recipe is simple and economical enough for my eldest daughter to cook for herself at the university. If you're strapped for time, do what she does and swap in whatever frozen or leftover vegetables you have in the fridge.
My friend, Moroccan chef and cookbook author Nargisse Benkabbou, likes to use a stock cube for dishes like this, finding that the pantry staple lends a helpful hit of concentrated flavor without diluting the stew, which should be saucy and rich and not too watery. Couscous is the classic accompaniment, but I like to swap it out for nutritious and flavorful bulgur wheat.
Ingredients
For the tagine:
10 oz. peeled sugar pumpkin, cut into 1½-in. chunks
10 oz. peeled winter squash (such as butternut or acorn), cut into 1½-in. chunks
2 large red or white onions, thickly sliced (3 cups)
1 medium yellow bell pepper, stemmed, seeded and cut into ½-in. strips
1 medium sweet potato, peeled and cut 1½-in. chunks
¼ cup plus 3 Tbsp. olive oil, divided
2 tsp. ground cumin, divided
2 tsp. kosher salt, divided, plus more to taste
4 garlic cloves, finely chopped
One 15-oz. can chopped tomatoes
2 tsp. harissa
1 tsp. ground coriander, plus more to taste
1 vegetable stock bouillon cube dissolved in 2 Tbsp warm water
One 15-oz. can chickpeas, drained and rinsed
10 dried apricots, coarsely chopped
Coarsely chopped fresh cilantro (optional)
For the bulgur:
1½ cup bulgur wheat
½ tsp. kosher salt
¼ cup dried cherries, finely chopped
¼ cup raisins, finely chopped
2 Tbsp. dried chives
Instructions
Step 1
Preheat the oven to 425ºF; line a large rimmed baking sheet with parchment paper. To a large bowl, add the pumpkin, squash, onions, bell pepper, and sweet potato. Add 6 tablespoons olive oil, 1 teaspoon cumin, and ½ teaspoon salt, and toss to coat. Transfer the vegetables to the lined baking sheet, and roast, stirring occasionally, until the vegetables begin to soften and turn golden brown, 20–25 minutes.
Step 2
Meanwhile, in a large tagine or heavy pot, warm the remaining olive oil over medium heat. When the oil is hot and shimmering, add the garlic and cook, stirring occasionally, until just browned, about 3 minutes. Stir in the canned tomatoes and continue cooking, stirring occasionally, until the sauce is fragrant, about 5 minutes. Stir in the remaining salt and cumin and the harissa, coriander, and vegetable broth, then add the chickpeas and cook until heated through, about 5 minutes. Remove from heat.
Step 3
Once the roasted vegetables are cooked, return the pot of sauce to low heat. Stir in the roasted vegetables and apricots and cook, stirring occasionally, until the roasted vegetables are completely tender, about 10 minutes. Adjust the seasoning to taste with more salt, then remove from the heat. Cover and keep warm while you prepare the bulgur.
Step 4
In a large bowl, stir together the bulgur wheat and 1½ cups boiling water. Set aside to soak at room temperature for 5 minutes, then add the cherries, raisins, and chives and toss gently to combine. Set aside again until the bulger is tender, the dried fruit is plump and hydrated, and all of the water has been absorbed, about 15 minutes more.
Step 5
To serve, scoop the warm bulgur into bowls, top with the vegetable tagine, and garnish with fresh cilantro, if desired.