4 Barbecue Side Dishes to Bring Home, No Smoker Required
Dig into a mess of turnip greens and some pimento cheese hushpuppies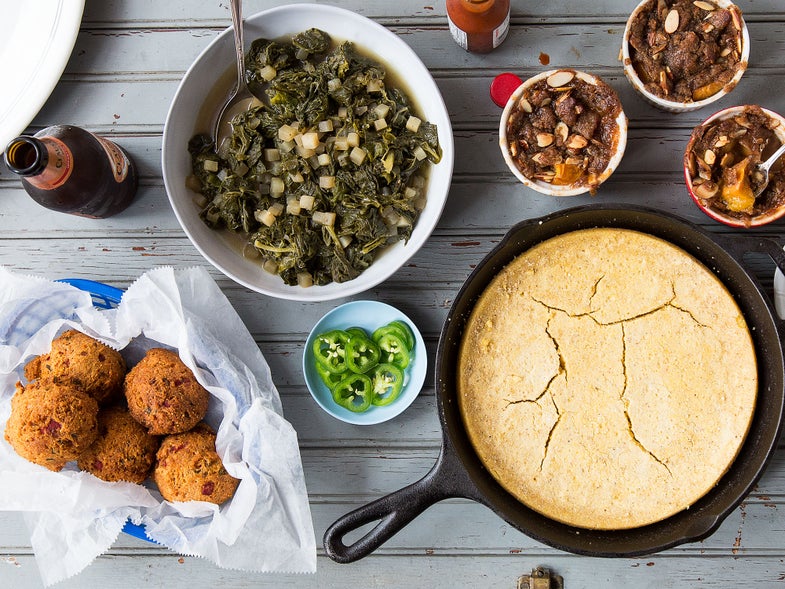 It's no secret that barbecue is regional, that brisket rules Texas while the Carolinas are all about pork. But that doesn't just mean the smoked meat—it includes the whole style of restaurant, smoking technology, and the sides the kitchen dishes up. Which is good news for us without giant burn barrels and offset smokers, because even if you're not cooking a whole hog, you can still take a barbecue road trip at home with nothing more than some pimento cheese hushpuppies or a mess of turnip greens.
At the Windy City Smokeout this Friday through Sunday (tickets still available), over a dozen of the country's best barbecue restaurants will be converging on Chicago to serve their unique styles of barbecue alongside craft beer and a range of musical events. These spots hail from all across the South, as well as Chicago and even upstate New York, and their menus showcase an impressive amount of regional diversity. Here are four side dishes we picked up from chatting with them that you can bring home right now—no smoker required.
There are many ways to serve up some greens, but in the Mississippi Delta, where turnips grow wild, Memphis BBQ Company cooks them with chunks of turnip roots for a side dish that tastes lighter and a little less bitter than the typical collards. Turnips pop up in gardens every year and are often canned, says pitmaster John David Wheeler. "They're something you put on the stove and cook all day. The whole house will smell like them—when you walk in you know the greens are on." Memphis BBQ Company serves this popular side with everything, but the greens are particularly good with ribs and baked beans.
Get the recipe for Braised Turnip Greens »
The hushpuppy, a mainstay of southern cooking, has a number of possible origins, but regardless of who's making them, the recipe tends to rely on cornmeal and flour in varying ratios, depending on which state you find yourself in. Charlie McKenna of Lillie's Q says South Carolina usually uses a higher percentage of corn meal than flour, but in Virginia, the ratio evens out, leading to a lighter hushpuppy. They're also customizable, but McKenna's pups, which include pimentos and sharp cheddar, are unlike any he had seen before. The zesty filling adds moistness to an intentionally dense and rich hushpuppy that would never get confused with a doughnut.
Get the recipe for Pimento Cheese Hushpuppies »
If you want to eat peach cobbler any time of the day, Barry Sorkin from Smoque in Chicago may have the recipe you're looking for. "It's kind of like a fruit cup," Sorkin says. "You could almost argue it's breakfast food if you want." Instead of the gooey, gelatinous filling found in some cobblers, Smoque makes a light syrup that gently cloaks tender chunks of peach. Sorkin also adds roasted almonds for a dessert that some would call more crisp than cobbler, thanks to the crumbly streusel topping.
Get the recipe for Smoque's Peach Cobbler »
At Skylight Inn in Ayden, North Carolina, simplicity is key. Pitmaster Sam Jones has been serving the same no-frills cornbread that the restaurant has made for 70 years. Depending on who you ask, Jones says, you could also call it cornpone, an early proto-cornbread made by baking or griddling cornmeal mixed with water. "To be honest, you either love it or you hate it," says Jones. "Some people don't get it. They look at the bread and think that any bread on the table in a restaurant is supposed to be sweet, or have a sweet element, and this does not. It just tastes like cornmeal—all we add is water and salt." (We adapted the recipe to add some bacon fat for good measure.) The result is dense, crumbly, and intensely corny, with nothing to distract you, which makes it especially good for mopping up the pot liquor from your turnip greens.