Recipes
Peach Cobbler
Upgrade your cozy summer crumble with roasted almonds and plenty of warm spice.
Serves

serves 6

Cook

1 hour 20 minutes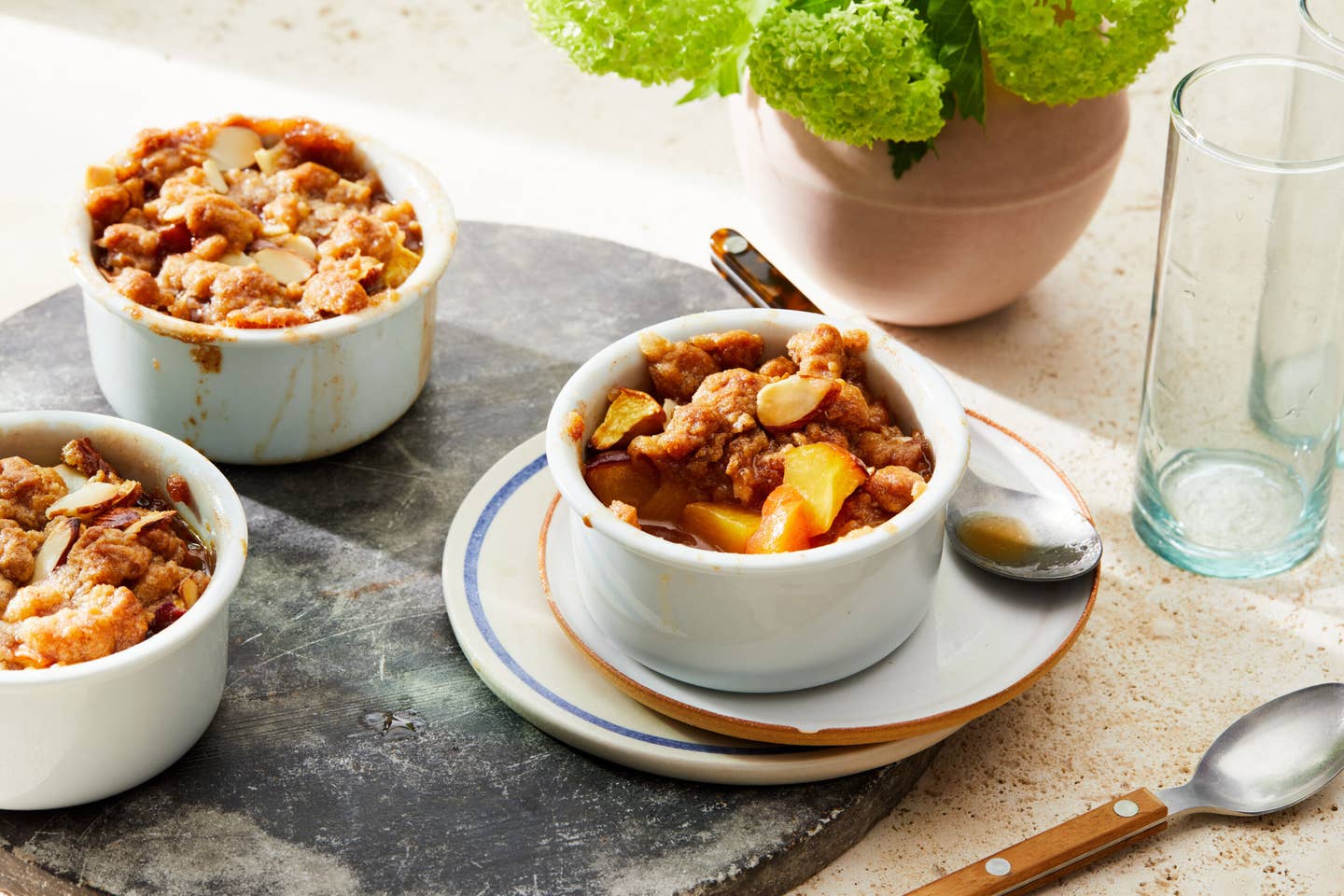 If you want to eat peach cobbler any time of the day, Barry Sorkin from Smoque in Chicago may have the recipe you're looking for. "It's kind of like a fruit cup," Sorkin says. "You could almost argue it's breakfast food." Roasted almond streusel adds a complex nuttiness to his version, which has a crunchy finish more akin to crisp than classic cobbler.
Ingredients
For the Peach Filling:
3 lb. fresh or thawed frozen peaches, chopped into 1-in. pieces (about 6 heaping cups)
½ cups sugar
2 tbsp. fresh lemon juice
2 tsp. almond extract
½ tsp. ground cinnamon
For the Topping:
1 cup light brown sugar
¾ cups all-purpose flour
12 tbsp. (6 oz.) cold unsalted butter, cubed
½ tsp. ground cinnamon
½ tsp. ground nutmeg
½ tsp. kosher salt
¾ cups sliced almonds
Instructions
Step 1
Preheat the oven to 375°F. Line a baking sheet with aluminum foil.
Step 2
Make the topping: In a large bowl, combine the brown sugar, flour, butter, cinnamon, nutmeg, and salt. Using a pastry cutter or your fingers, quickly work the butter into the dry ingredients until only small pea-sized crumbs remain. Add the almonds and toss once more to distribute. Refrigerate the topping until ready to bake.
Step 3
Divide the filling among six 4-ounce ramekins, mounding the fruit over the rim of the ramekin (the filling will shrink significantly in the oven). Top with a generous handful of the crisp topping, then transfer the ramekins to the lined baking sheet and bake until the peaches are juicy and the topping is golden and crisp, 30–35 minutes. Remove from the oven and set aside to cool slightly. Serve warm or at room temperature.