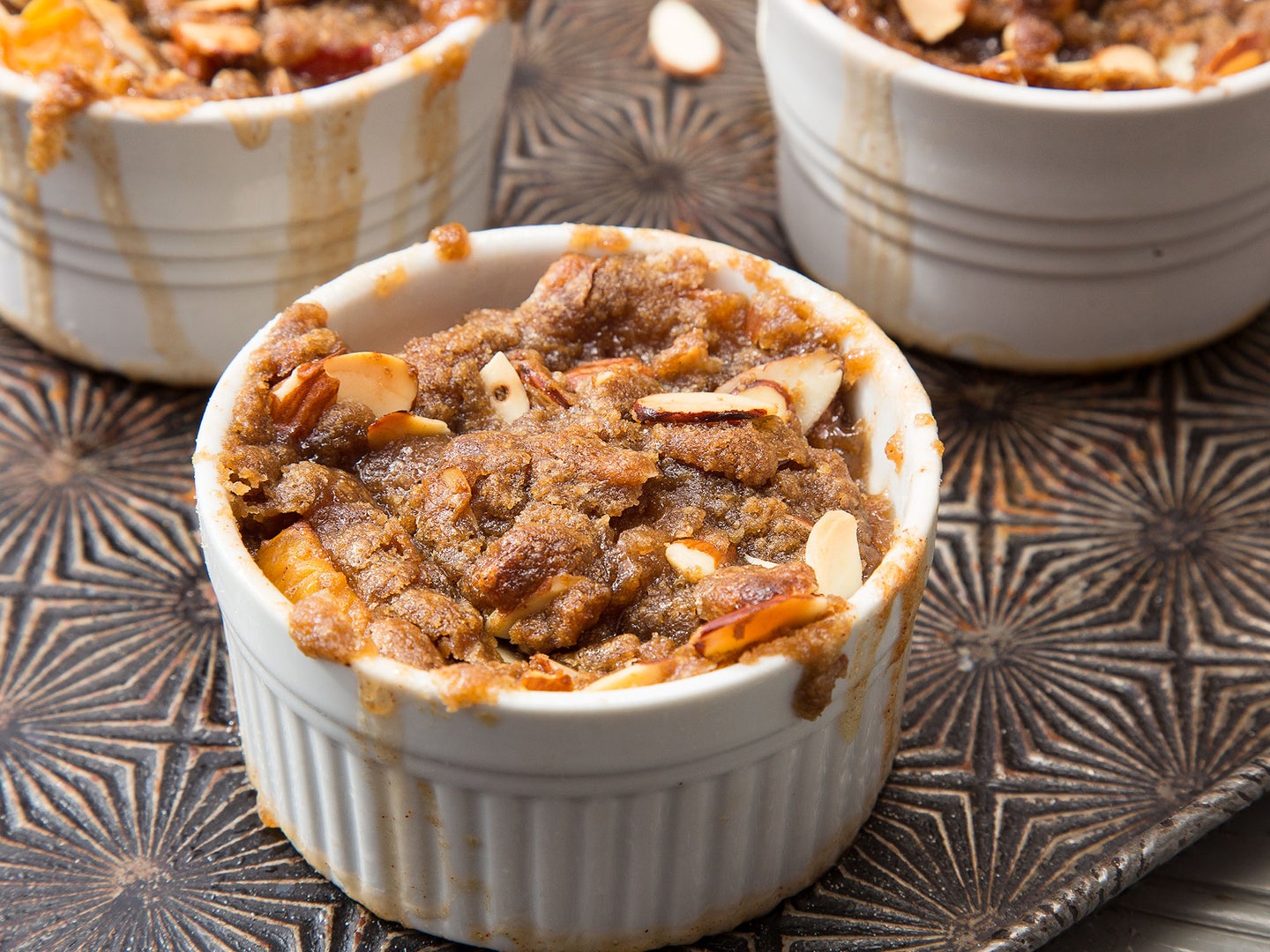 Barry Sorkin from Smoque has a bold claim about their peach cobbler. "It's kind of like a fruit cup. You could almost argue it's breakfast food if you want." A roasted almond streusel on top adds a complex nutty complement, and hey, you might as well eat it for breakfast.
Featured in: 4 Barbecue Side Dishes to Bring Home, No Smoker Required
Peach Cobbler
Loaded with peaches baked with a light syrup and topped with a roasted almond streusel.
Time: 1 hour, 20 minutes
For the Peach Filling:
3 lb. fresh or thawed frozen peaches, chopped into 1-inch pieces (about 6 heaping cups)
1⁄2 cup sugar
Juice of 1 lemon
2 tsp. almond extract
1⁄2 tsp. ground cinnamon
For the Topping:
1 cup brown sugar
3⁄4 cup all-purpose flour
3⁄4 cup (1 ½ sticks) cold unsalted butter, cut into ½-inch pieces
1⁄2 tsp. ground cinnamon
1⁄2 tsp. ground nutmeg
1⁄2 tsp. kosher salt
3⁄4 cup sliced almonds
Instructions
Preheat the oven to 375°. Meanwhile, in a large bowl, add the peaches, sugar, almond extract, and cinnamon, and stir to coat. Set aside.
In a separate large bowl, combine the brown sugar, flour, butter, cinnamon, nutmeg, and salt. Using a pastry cutter or your fingers, work the butter into the dry ingredients until only small pea-sized crumbs remain. (Work quickly so the butter stays cold.) Add the almonds and toss once more to distribute. Refrigerate until ready to bake.
Preheat the oven to 375°. Fill six 4-oz. ramekins with the peach filling, mounding it over the rim of the ramekin, as the peaches will shrink significantly in the oven. Top with a generous handful of the crisp topping.
Transfer the ramekins to a foil-lined baking sheet, and bake until the peaches are juicy and the topping is golden brown and crisp, 30 to 35 minutes. Remove and let cool before serving.